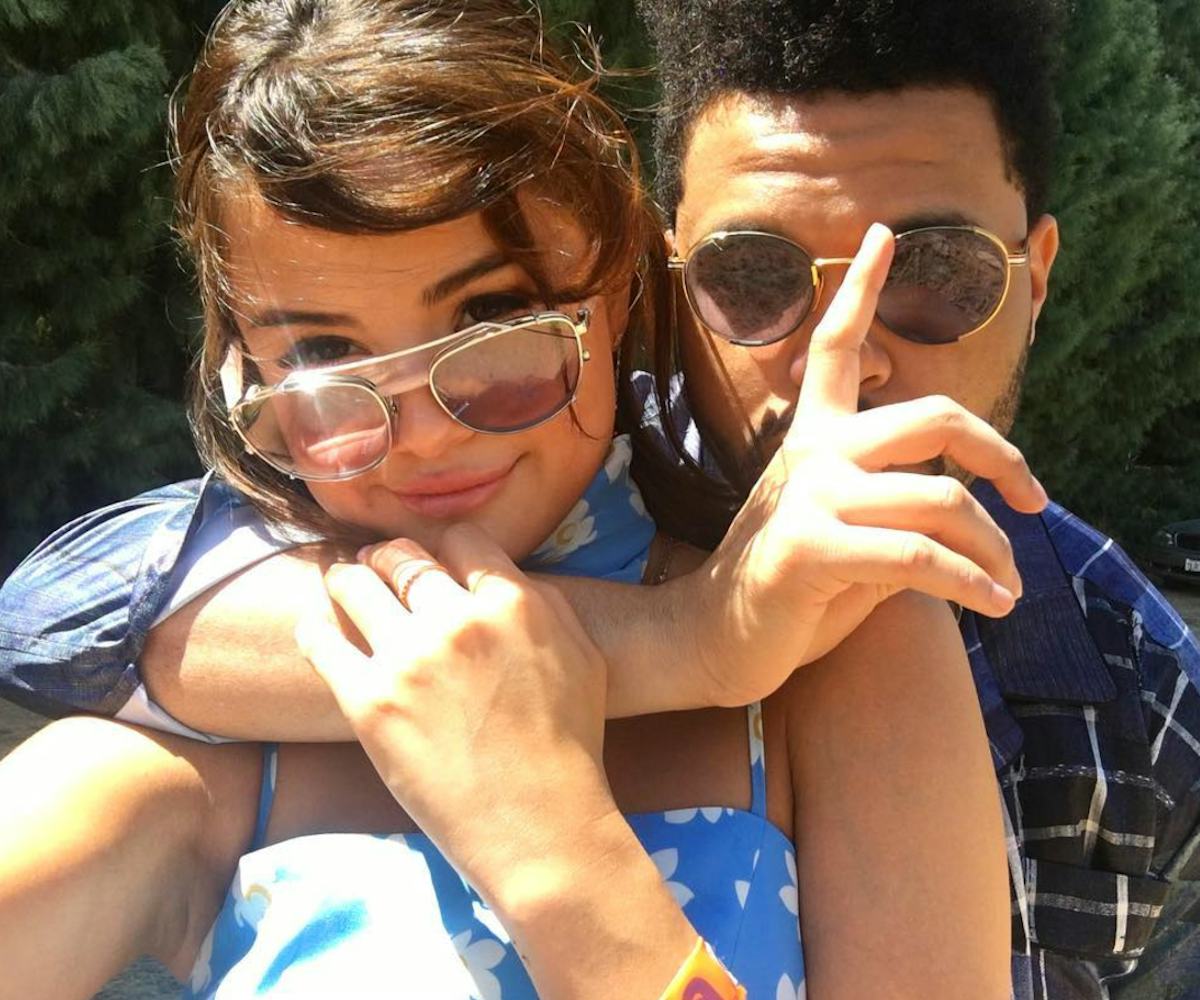 Image via @selenagomez/Instagram
8@8: Your Morning Scoop
Selena Gomez and The Weeknd are Coachella's It Couple
Today Is...
National Cheeseball Day! (Stock up)
News of the Day:
+ Shortly after Selena Gomez made her relationship with The Weeknd Instagram official, the two were seen getting close at Coachella. They held hands on the way to Travis Scott's performance Friday night, watching the show from the VIP area. They've already been around the world together, with Gomez tagging along on The Weeknd's Starboy world tour, with stops in Toronto, Colombia, and Argentina. 
+ The crowd at Future's Coachella performance on Saturday got three acts for the price of one. The rapper brought out Drake and Migos on to the stage. Future played hits from his latest albums, FUTURE and HNDRXX, while Migos played "Bad and Boujee" and "T-Shirt" off of their album Culture. This was all followed by Drake's "Gyalchester" and "Fake Love" from his new album More. Drake and Future also sang their collaborative song "Jumpman." 
+ An Arizona teen stood up to her Republican senator concerning the current administration's attack on women's rights. Sixteen-year-old Deja Fox confronted Senator Jeff Flake at a town hall in Mesa, Arizona, about Donald Trump's order to cut funding from Planned Parenthood and clinics that provide abortions, which Flake also supported. The order affects Title X funds, as well, which help low-income families and individuals gain access to health services. "I just want to state some facts," Fox said. "I'm a young woman; you're a middle-aged man. I'm a person of color, and you're white. I come from a background of poverty, and I didn't always have parents to guide me through life; you come from privilege. I'm wondering, as a Planned Parenthood patient and someone who relies on Title X, who you are clearly not, why is it your right to take away my right to choose Planned Parenthood and to choose no co-pay birth control, to access that? So if you could explain that to me, I would appreciate it." *Mic drop.*
+ She's back! Melissa McCarthy returned to SNL last night to uphold her role as White House Press Secretary Sean Spicer, and this time it was even better than before. She impersonated Spicer dressed as an Easter Bunny—which he really did during George W. Bush's presidency—attempting to defend his comments about Hitler not using chemical weapons in World War II. In the sketch, McCarthy's Spicer is unable to pronounce Syrian leader Bashar al-Assad's name, calls Passover "Jewish Easter," and violently drives a motorized Easter egg into the podium while dumping a jar of jelly beans into his mouth. Classic Spicey. 
+ Big news for David Bowie fans: There's going to be a Labyrinth sequel. A follow-up to the 1986 classic, starring Bowie and Jennifer Connelly, is already in the works, according to the Hollywood Reporter. It'll be directed by Fede Alvarez, who will also write the story along with Jay Basu, and produced by Lisa Henson, the daughter of Jim Henson, who directed the original film. Rather than remaking the movie, this sequel will be a continuation of the plot—a young woman (Connelly) searches for her brother who's been kidnapped by a goblin king (Bowie) in a giant, fantastical maze—without involving Bowie's character.
Deal of the Day:
It's last call for Gap's "Super Spring Sale," with 75 percent off on all clothes online and in stores. 
Advice of the Day:
"Riot is the voice of the unheard." —Maxine Waters 
GIF of the Day: