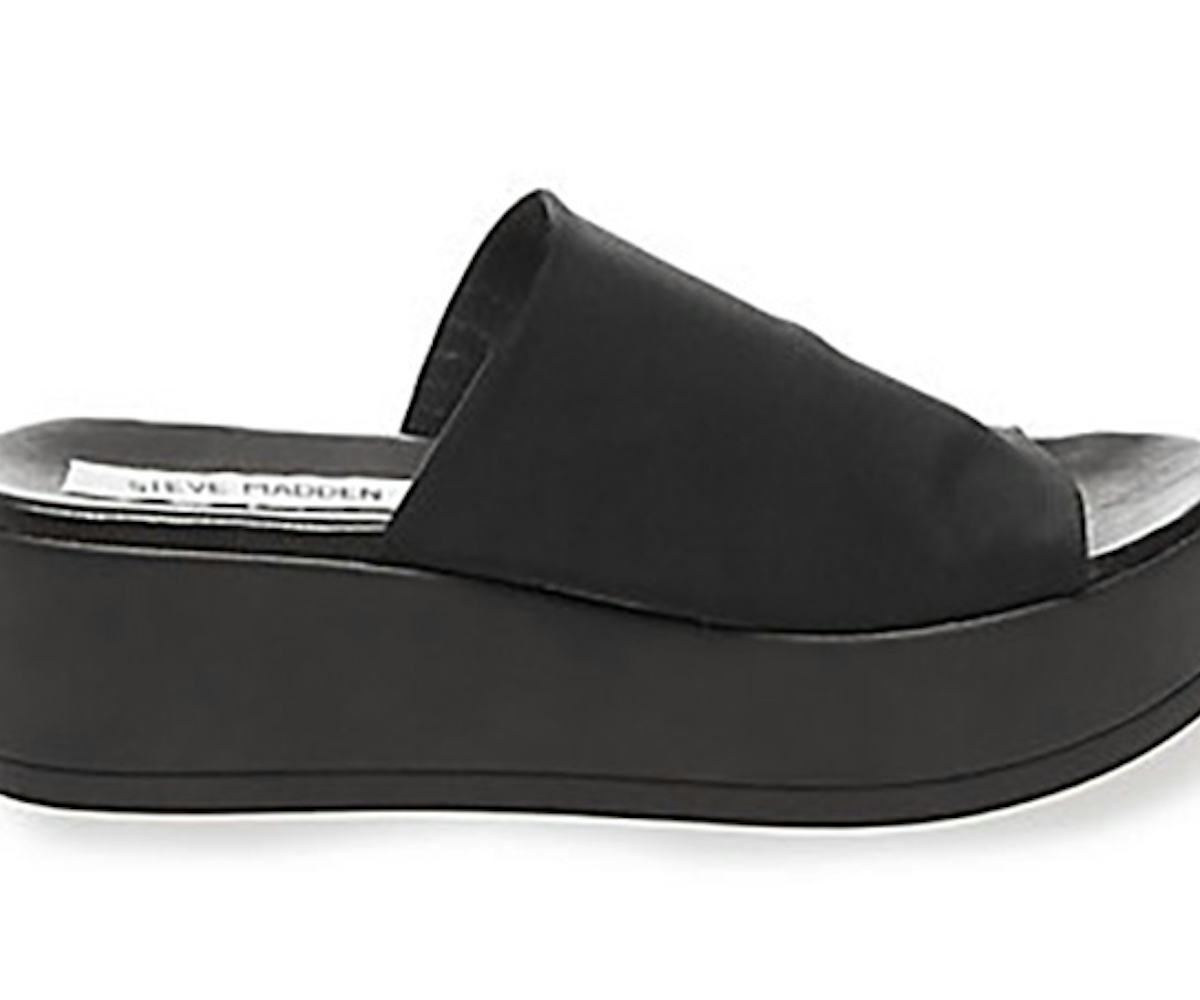 Photo courtesy of Steve Madden
8@8: Your Morning Scoop
Steve Madden is giving us some serious nostalgia
Today is...
National Day of Silence! 
News of the Day:
+ Get ready to live your '90s throwback fantasy, all thanks to Steve Madden. Remember the Slinky, those stretchy black flatform slides everyone just had to have? Well, they're back, and more glorious than ever. Snag your pair now at SteveMadden.com.
+ Another day, another Kardashian making headlines. This time, it's regarding religious appropriation. Yesterday, Kim Kardashian West tweeted out some of her new KIMOJI items, including an $18 candle that features her own face in lieu of La Virgen's (Mary, the mother of Jesus), a sacred symbol in Mexican Catholicism. I guess we'll just have to wait and see how the Twitter universe handles this one. 
+ FORM Arcosanti and WeTransfer just partnered to release a free compilation album to get us hyped for their upcoming festival, which takes place in Arcosanti, Arizona, May 12 to 14. The 18-track playlist features most of FORM's performing artists and will include tracks from Father John Misty, Noname, Kelela, How to Dress Well, Weyes Blood, Shamir, and more. The album can be downloaded at FORM's WeTransfer Plus page here.
+ Beginning today, some lucky people will be able to immerse themselves in the animated world of Gorillaz. In collaboration with Sonos, the band is creating three Spirit Houses in celebration of their new album, Humanz. These spaces will use music, art, and digital projections to create a unique experience for fans in New York City, Berlin, and Amsterdam. 
+ Every time we open Facebook it says, "What's on your mind?" Well, pretty soon, we may not even have to tell it. At the annual F8 developer conference in San Jose, California, Facebook announced that they are working on technology that would allow users to control computers directly with their brains. Freaky, right? The goal of this super-advanced technology would be to get our eyes off of our screens once in a while. 
Deal of the Day:
Calling all New York-based beauty lovers: Shen Beauty will be hosting an Earth Day event this weekend, so get ready to shop and simultaneously help save the planet. Bring in an old cosmetic jar to recycle and receive 10 percent off your purchase that day. In addition to that, select items will be 30 percent off. On Sunday, they'll be offering mini-manicures at the shop from one 1pm to 5pm. You can book an appointment through their website. 
Advice of the Day:
"Follow your instincts and do not let other people's opinion of you become your opinion of yourself." —Sarah Jessica Parker 
GIF of the Day: