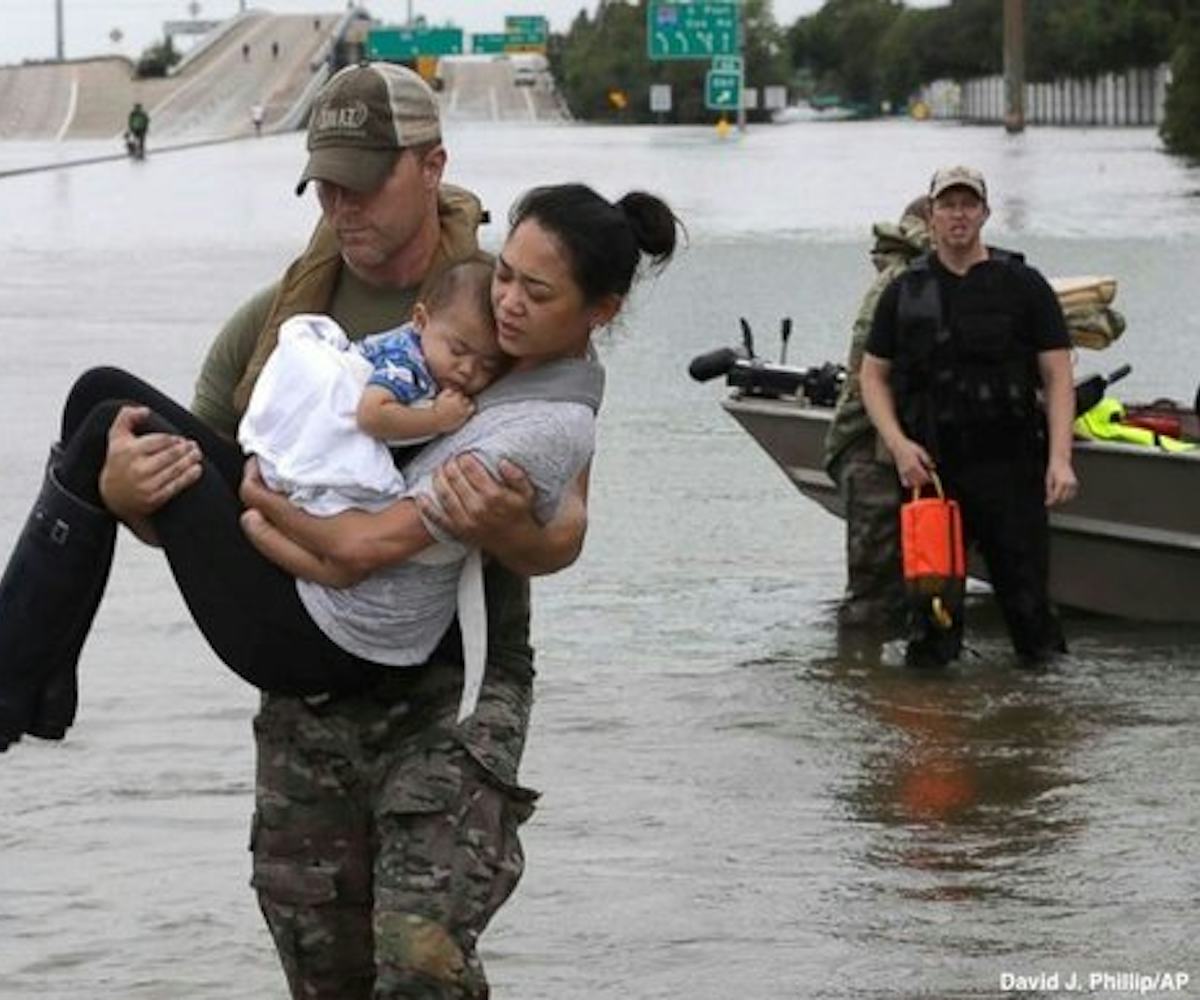 Photo via David J. Phillip/AP
8@8: Your Morning Scoop
People are turning this sexist Hurricane Harvey tweet into a viral meme
Today is...
National Matchmaker Day!
News of the Day:
+ People are turning one sexist Hurricane Harvey tweet into an unforgettable meme. The memes were created in response to a sexist tweet from TheBlaze columnist Matt Walsh, featuring a photo of a man carrying a woman and child through the hurricane captioned, "Woman cradles and protects child. Man carries and protects both. This is how it ought to be, despite what your gender studies professor says." Needless to say, the internet was not having it. See the best responses, below.
+ Calling all lazy wine drinkers and beer connoisseurs. Amazon Prime is now offering two-hour alcohol delivery service for select cities, including Chicago; Columbus, Ohio; Los Angeles; Minneapolis; New York City; Phoenix; Portland, Oregon; Richmond, Virginia; San Diego; San Francisco; and Seattle. Your winter wine shopping just got easier. 
+ Starbucks just unveiled a brand-new latte guaranteed to get you feeling good. The Tumeric Latte consists of turmeric powder and spices over hot steamed milk of your choosing. Unfortunately, the drink is only available across 200 Starbucks locations in the London area. 
+ Instagram's latest beauty trend is a bit confusing. Makeup artists and beauty bloggers are now taking to the 'gram to post photos of squiggly eyebrows and lips. See the creations below, and decide for yourself if you're bold enough to give it a go. 
+ Lush fans, brace yourselves: The brand just announced it's discontinuing some of its most popular products in order to make way for newer ones. You can shop the remaining products here while you still can.
Deal of the Day:
& Other Stories just launched its exclusive co-lab with Sonic Youth co-founder, artist Kim Gordon. The line is modeled by Gordon's own daughter, Coco Gordon Moore, and features a curated selection of organic cotton and silk pieces, all adorned with exclusive artwork by Gordon. You can shop the collection in select stores and online here. 
Advice of the Day: 
"I learned, when I look in the mirror and tell my story, that I should be myself and not peep whatever everybody is doing." — Kendrick Lamar
Gif of the Day: