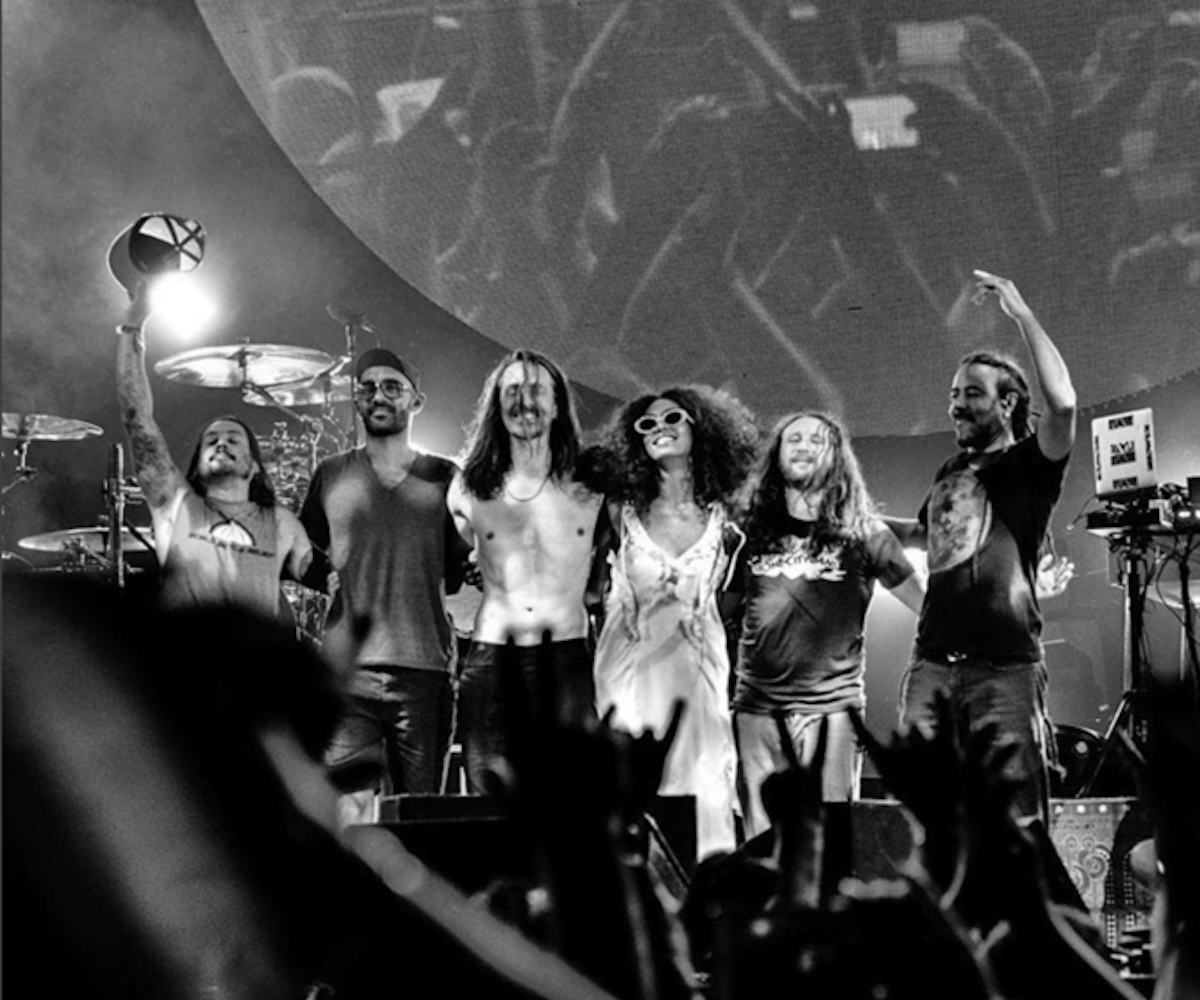 Photo via Instagram/saintrecords
8@8: Your Morning Scoop
Solange performed on stage with her teenage crush, and we can't stop crying
Today is...
National Chocolate Chip Cookie Day!
News of the Day:
+ Some of us dream about our teenage crushes forever, some of us forget all about them, and some of us—particularly, if you're Solange—get to perform with them on stage. After Solange mentioned her crush, the lead singer of rock band Incubus, in a letter to her teen self earlier this year, she got the chance to sing with him Wednesday night in New Orleans, on the track "Aqueous Transmission" from 2001 album Morning View. Watch a fan's footage of the amazing moment, below.
+ Vanessa Hudgens just debuted a bangin' new haircut, and we can't stop obsessing over it. A lot of celebs revealed dramatic haircuts as of late, but V may just take the cake with her amazing textured bob. Off to the hair salon, we go.
+ If you thought fidget spinners were a modern invention, think again. One Reddit user posted a photo of an ancient Mesopotamian "spinning toy with animal heads" found in a Chicago museum, although the museum's curator said the item may have been part of a weapon. Either way, it looks like we're about 4,000 years behind the times. Go figure!
+ Oreo rumors are the best kind of rumors, and now, we've got one of the greatest ones ever. Rare junk food Instagram, JunkBanter, posted a photo of upcoming PB&J-flavored Oreos and suggested they're coming to Kroger stores immediately. Oreo hasn't confirmed yet, but our hopes are high.
+ Get your tiaras ready because a major Disney Princess marathon is coming to theatres across the country this fall. Watch classics like Beauty and the Beast and Mulan, plus newer releases like Brave and Moana, at more than 300 AMC Theatres locations and at Hollywood's El Capitan Theatre from September 8 through October 13.
Deal of the Day:
Minimalist undie brand Brook There is having a special one-day sale tomorrow in honor of National Underwear Day. Shop 30 percent off sitewide and stock up on their comfy, USA-made, silk and organic cotton panties and wireless bras.  
Advice of the Day:
"I feel like there are so many people I admire for so many reasons that I can't look at one person's life and say, 'I want that life.' I want to make my own history." —Blake Lively
GIF of the Day: