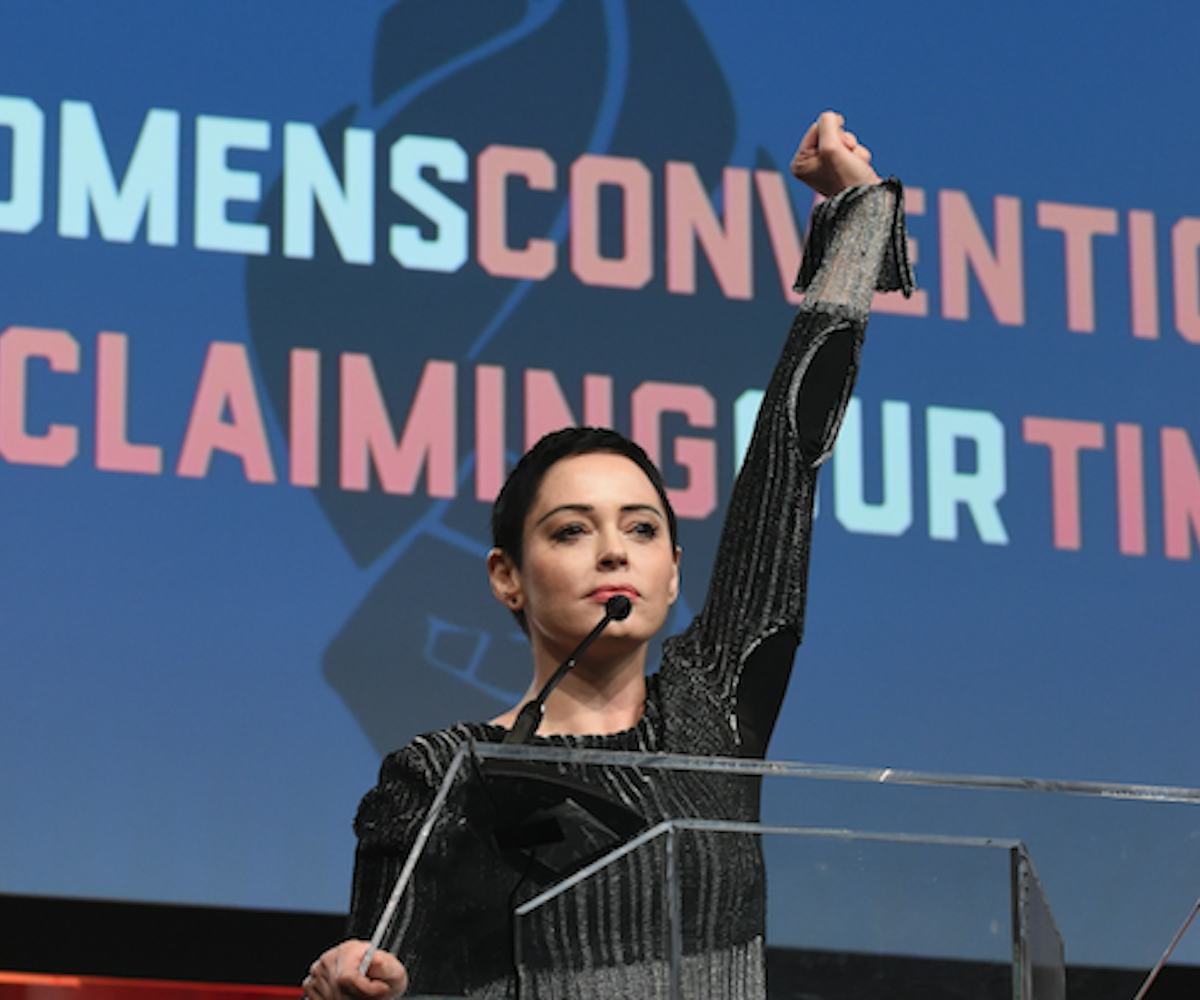 photo by Aaron Thornton/getty images
8@8: Your Morning Scoop
Rose McGowan is getting her own docuseries on E!
Today is...
National Chocolate-Covered Cherry Day!
News of the Day:
+ Rose McGowan's unflinching activism against sexual assault and abuse will now be documented in a documentary-style series for E! The entertainment network announced that McGowan will star and produce a new series titled Citizen Rose. The five-episode series will highlight different issues in society while showcasing what her life was like toward the end of 2017. Citizen Rose premieres on January 30 at 8pm with a two-hour special. The rest of the show will air in the spring.
+ If you loved the first season of Spike Lee's She's Gotta Have It, you're in for a treat. The director just announced that the Netflix series has been renewed for a second season in the announcement, below. This year is looking pretty great already.
+ Justin Timberlake is gearing up for a big comeback. Along with performing at this year's Super Bowl halftime show, the singer announced that his new album, Man of the Woods, is due out February 2 and his new single will be out January 5. His wife, actress Jessica Biel, and their children make an appearance in the album's promotional video, which you can see in full below.
+ Had a crappy 2017? BØRNS and Lana Del Rey are here to save us all—literally. Stream their dreamy new single, below. 
+ The new year just started a few days ago, but it looks like there's already a strange new food trend on the horizon. The "Crossushi" is a croissant-covered sushi stuffed with smoked salmon, seaweed, ginger, and wasabi. But not everyone is pleased with this new hybrid creation. See some of Twitter's funniest reactions to the new delicacy, below.
Deal of the Day:
DIRTY LEMON and Vogue are teaming up to make sure this year is your healthiest one yet. The fashion magazine and wellness brand just launched two new drinks, the DIRTY LEMON  x Vogue Gold and Rose Gold, which are both formulated with a blend of ginger and the brand's signature lemon elixir to support the immune system. The drinks come in a limited-edition bottle and a year's subscription to Vogue magazine. Shipments begin today through DIRTY LEMON's messaging platform for $65 a case, and you can sign up for yours here. 
Advice of the Day:
"You must do the things you think you cannot do." - Eleanor Roosevelt 
GIF of the Day: