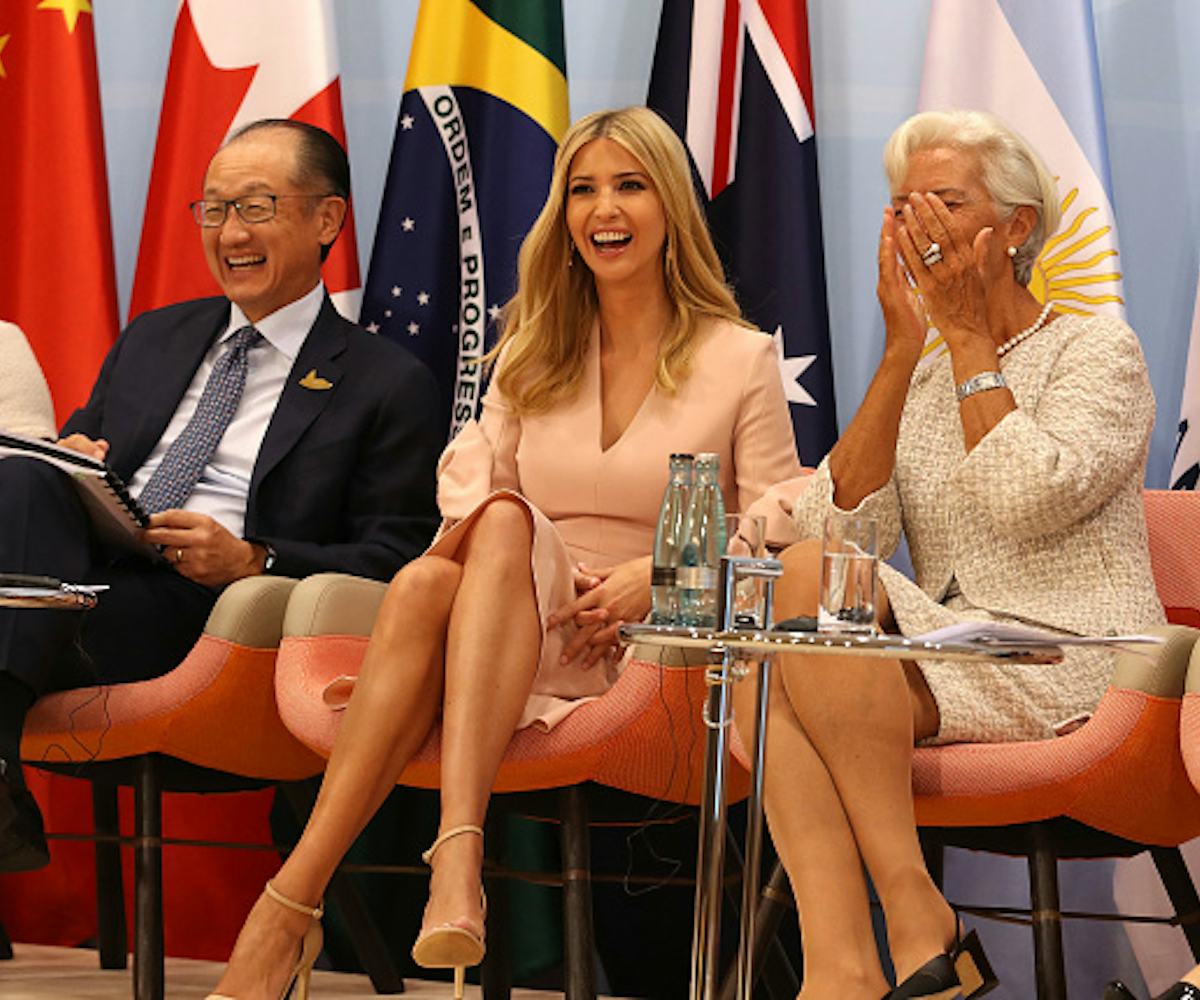 Photo by Matt Cardy/Getty Images
8@8: Your Morning Scoop
Ivanka Trump sat in for her dad at the G20 despite "staying out of politics"
Today is...
National Piña Colada Day! (After reading this, you'll probably need a drink.)
News of the Day:
+ Ivanka Trump briefly sat in for her dad during the G20 Summit, despite claiming she tries to "stay out of politics." Usually government ministers or senior officials stand in for heads of state, but this administration has decided to throw all the rules to the wayside. A White House official claims she sat in once the World Bank president started talking about African development, an area that could benefit from Ivanka's women's entrepreneurship initiative. Sure, why not. 
+ A Delta flight attendant had to subdue a passenger by breaking a wine bottle over his head. The same day Delta was accused of kicking Migos off a flight for what their manager says was racial profiling, the airline was dealing with an unruly passenger on a flight from Seattle to Beijing. Joseph Daniel Hudek IV attempted to open the emergency exit door while the plane was in flight, forcing a flight attendant to grab two full liter wine bottles and hit Hudek over the head, causing one to shatter. According to the flight crew, Hudek shouted, "Do you know who I am?" Nope. But now we do. 
+ A few dozen Ku Klux Klan members gathered in Charlottesville, Virginia Saturday. Despite the city's mayor urging people to ignore the racist group, about 1,000 people showed up to protest them. The bigots were meeting to oppose the city's plans to remove a statue of Robert E. Lee, the Confederate general. Thirty to 50 Klan members were escorted by police to and from the City's Justice Park. The protesters outnumbered and largely drowned out the tiny cohort of vile losers.
+ Emma Stone says some of her male co-stars have taken pay cuts in the name of equality. The actress, who stars as Billie Jean King in Battle of the Sexes, was discussing the wage gap with Out magazine, when she said, "I've needed my male co-stars to take a pay cut so that I may have parity with them. And that's something they do for me because they feel it's what's right and fair. That's something that's also not discussed, necessarily―that our getting equal pay is going to require people to selflessly say, 'That's what's fair.' If my male co-star, who has a higher quote than me but believes we are equal, takes a pay cut so that I can match him, that changes my quote in the future and changes my life." While that's great of the male actors, production companies—and all companies—could also just pay women more...
+ Selena Gomez is selling her tank top from the "Bad Liar" video. The '70s-inspired video was full of amazing outfits, and now you can get your hands on one. Selena's Closet is selling a tank top based on the "WOLVES" shirt Gomez wears in the basketball scene for $25. (Psst: you can get a similar one for $9.90 at Forever21.) 
Deal of the Day:
PBteen has just launched an exclusive home décor collection in partnership with ivivva by lululemon. The collection features over 40 pieces, offering everything from furniture to iPhone cases, including prints and patterns from ivivva's fall 2017 collection. Prices range from $29 to $1,175. You can find the new line at PBteen.com and ivivva.com.
Advice of the Day:
"It's a helluva start, being able to recognize what makes you happy." — Lucille Ball 
GIF of the Day: