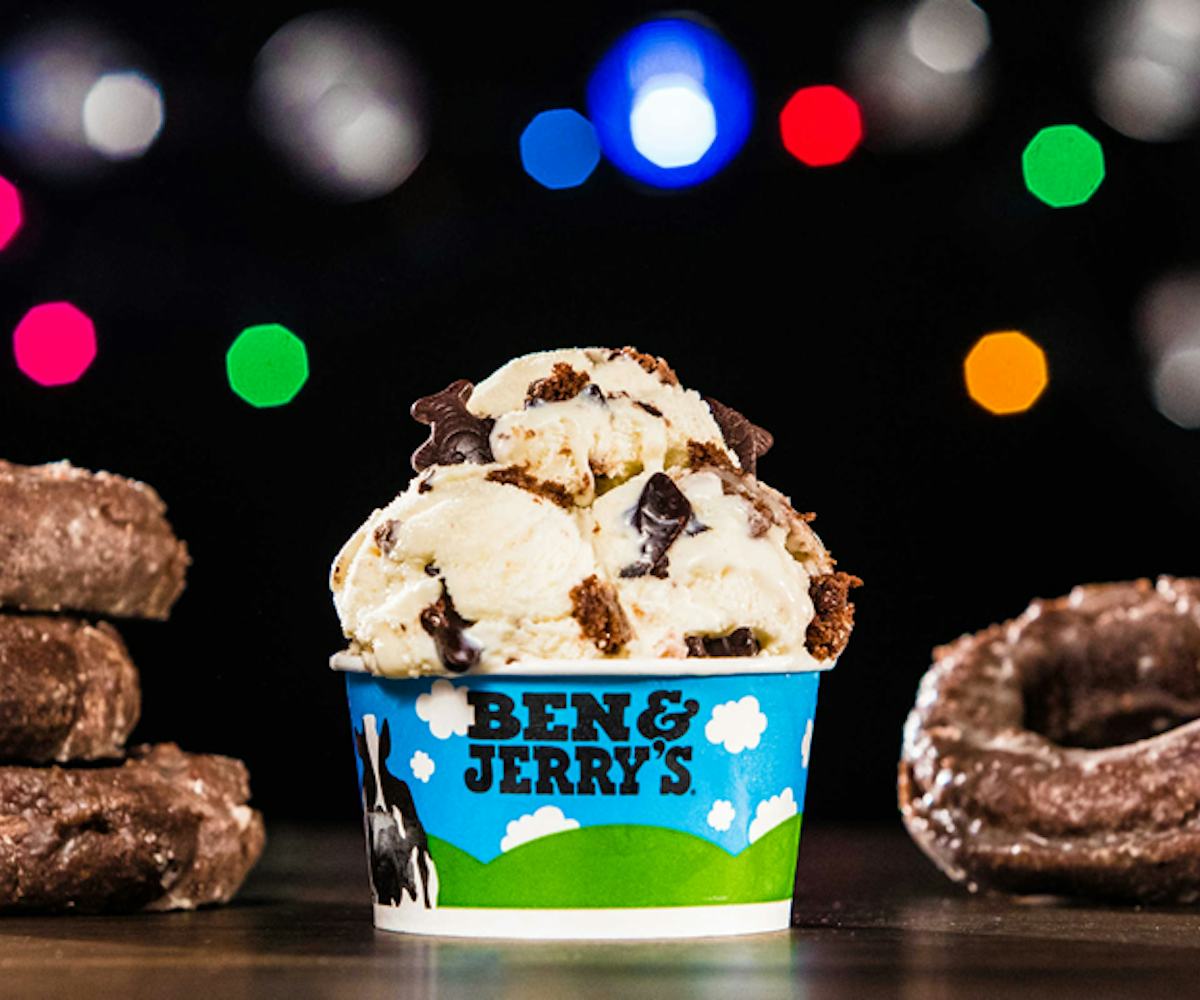 Image via benjerry.com
8@8: Your Morning Scoop
Ben & Jerry's created a mouthwatering new flavor, but there's a catch
Today is...
National Nude Day!
News of the Day:
+ This is not a drill: Ben & Jerry's just created a new flavor—and chocolate doughnuts are involved. The new flavor, "Freezer Reprise," is topped with vanilla glaze, chocolate doughnut swirl, chocolate doughnut pieces, and fudge fish. And if you think this delicious new flavor is too good to be true, unfortunately, it is. The new flavor was created in honor of the band Phish's 13-night run of shows, as an updated version of the fan-favorite flavor, Phish Food. Meaning, the flavor isn't permanent. But, if you want to try this special-edition flavor, head over to The Pennsy adjacent to Manhattan's Madison Square Garden on July 21 from 4pm to 8pm to get your hands on a sample.  
+ A new film about the eggplant emoji is in the works, because 2017 can't seem to find its chill. According to the Hollywood Reporter, the plot centers around a teenager who accidentally, uh... severs his penis during a camping trip, forcing his friends and him to rush and save the appendage before it's too late. The rights to the dark comedy were obtained by Netflix earlier this year and will be produced by Ben Stiller and Nicky Weinstock via their Red Hour Films Banner, along with others. While there is no release date for the film yet, we should be expecting this to pop up on our Netflix queue sometime in 2018.
+ Living your best princess life just became easier, thanks to this new Snow White collection by Bésame Cosmetics. In celebration of Snow White and the Seven Dwarf's 80th anniversary, the company teamed up with Disney to present a 15-piece collection, including the Storybook Palette and the Vanity Mirror, both of which will launch at Disney's D23 Expo at California's Anaheim Convention Center this weekend. And if you can't make the Expo, the Storybook Palette is slated to launch this fall, so don't forget to mark your calendars! 
+ Serena Williams is what we all aspire to be: talented, driven, and badass AF. So when the world-renowned athlete revealed to Business Insider that she attempted to deposit her first million-dollar check via her bank's drive-thru, we couldn't help but chuckle. "And I remember I went through the drive-thru to deposit my check, and then they were like, 'I think you need to come in for this," she recalls. "And so I ended up going inside."
+ This makeup artist wears her love for celebs on her face—literally. Fifteen-year-old makeup artist @emilyslooks is known for her ability to use makeup to put miniature versions of celebrities on her face. While you struggle with doing a simple winged cat eye, check out some of her incredible looks, below. 
Deal of the Day:
American heritage brand HOBO just launched their The Hobo Artisan Series, a collection geared to supporting local artisans and craftsman throughout the U.S. by inviting them to create unique, handcrafted leather goods. You can shop the exclusive sale, here.
Advice of the Day:
If you retain nothing else, always remember the most important rule of beauty, which is: who cares? —Tina Fey
GIF of the Day: