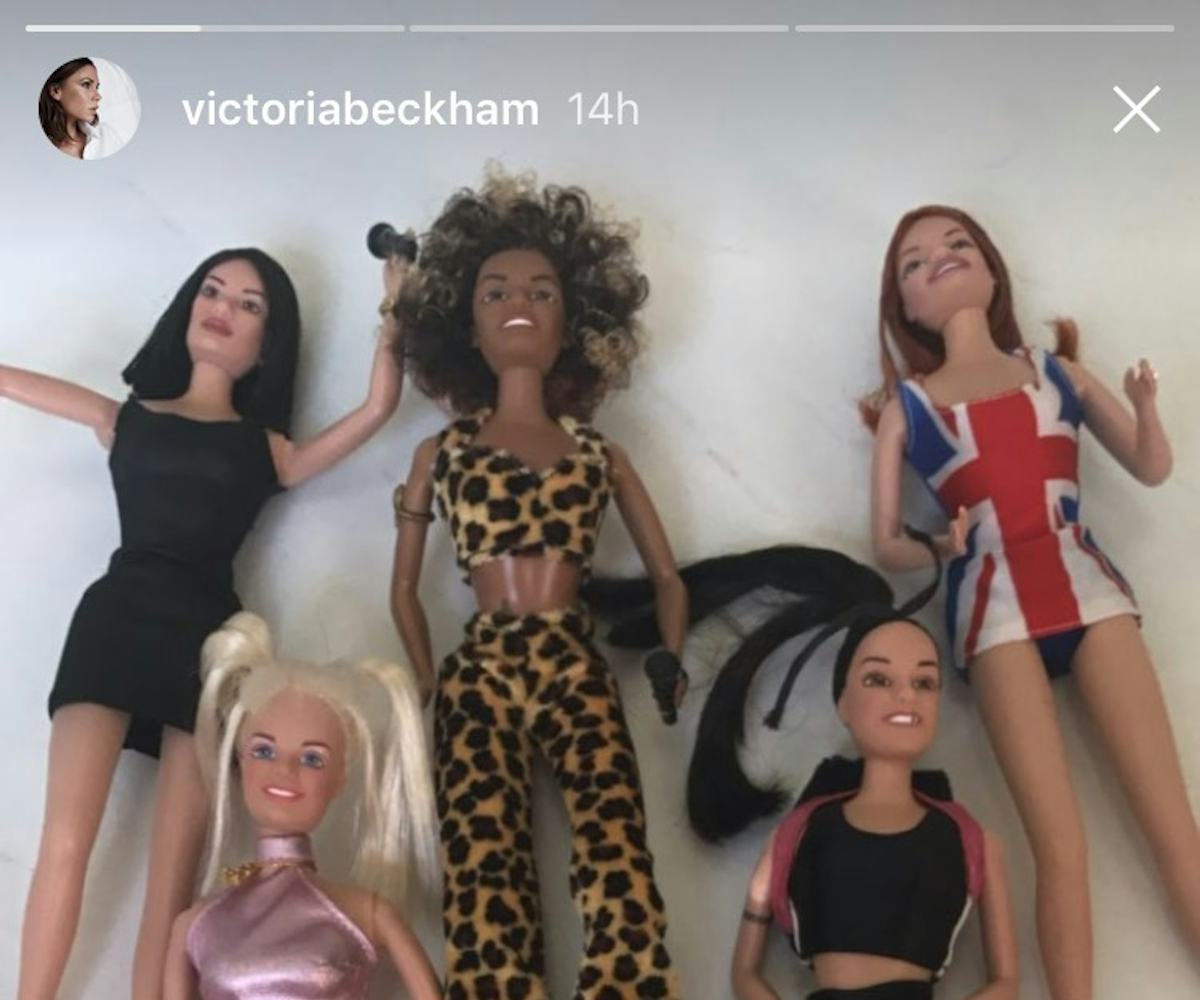 photo via instagram/victoriabeckham
8@8: Your Morning Scoop
Harper Beckham just found out her mom was a Spice Girl, and we can't deal
Today is...
National Hot Fudge Sundae Day!
News of the Day:
+  While the world is very aware of Victoria Beckham's former identity as Posh Spice, her daughter Harper only recently found out about her mother's old job. In a series of photos posted on Victoria's Instagram story, Harper discovered her mom's glorious past while playing with her own collection of Spice Girls dolls. Spice up your life, Harp! 
+  LUSH is heading to the dark side with its latest product. The brand recently launched their Jelly Bath Bomb collection, one of which is inspired by Harry Potter. The black on the outside, pink on the inside Dark Arts Jelly Bath Bomb is guaranteed to make your bath a magical experience. Other bath bombs include The Big Sleep, Green Coconut, and Marmalade, each of which will infuse your bath with different scents and colors. Washing away the stench of muggles has never sounded so fun. 
+ We all know avocado toast can be expensive, but how much are we really spending on it? Apparently, quite a bit! According to tech company Square, Americans spend close to a million dollars every month on this ultra-trendy food item. But, you know, it's so worth it. It tastes so good!
+  Alicia Keys is an easy person to admire, not least when she gives us some much-needed beauty inspiration. This weekend, Keys debuted a head of neon box braids on social media. We'd be lying if we said we weren't going to attempt to recreate her fluorescent pink, yellow, and orange plaits, though we can't promise they'll look as good on us. 
+  After finally revealing photos of Rumi and Sir Carter on July 13th, Beyoncé ventured out to attend Vic Mensa's listening party in L.A., leaving us wondering when we'd see the superstar again. Lucky for us, we didn't have to wait very long. She was spotted this weekend at another musical outing; this time, with Solange at Missy Elliott's set during FYF Festival. Missy even gave her a shoutout at the concert, yelling "Hey girl!" to her between songs. Can you say #friendshipgoals, or nah?
Deal of the Day:
Beginning today, Warby Parker is collaborating with Virgil Abloh's Off-White for a limited-edition eyewear collection. The collab offers three bold, angular styles in three sizes: small, medium, and large. The trio of sunglasses are now available at Warby Parker online and in-store, as well as in select Off-White stores. In celebration of the launch, Virgil will be signing custom frame boxes at the Warby Parker's Greene Street store this evening at 6pm. So, if you are in the area, head on over to get a signed pair of your own!
Advice of the Day:
"A man told me that for a woman, I was very opinionated. I said, 'for a man you're kind of ignorant.'" - Anne Hathaway
GIF of the Day:
xx