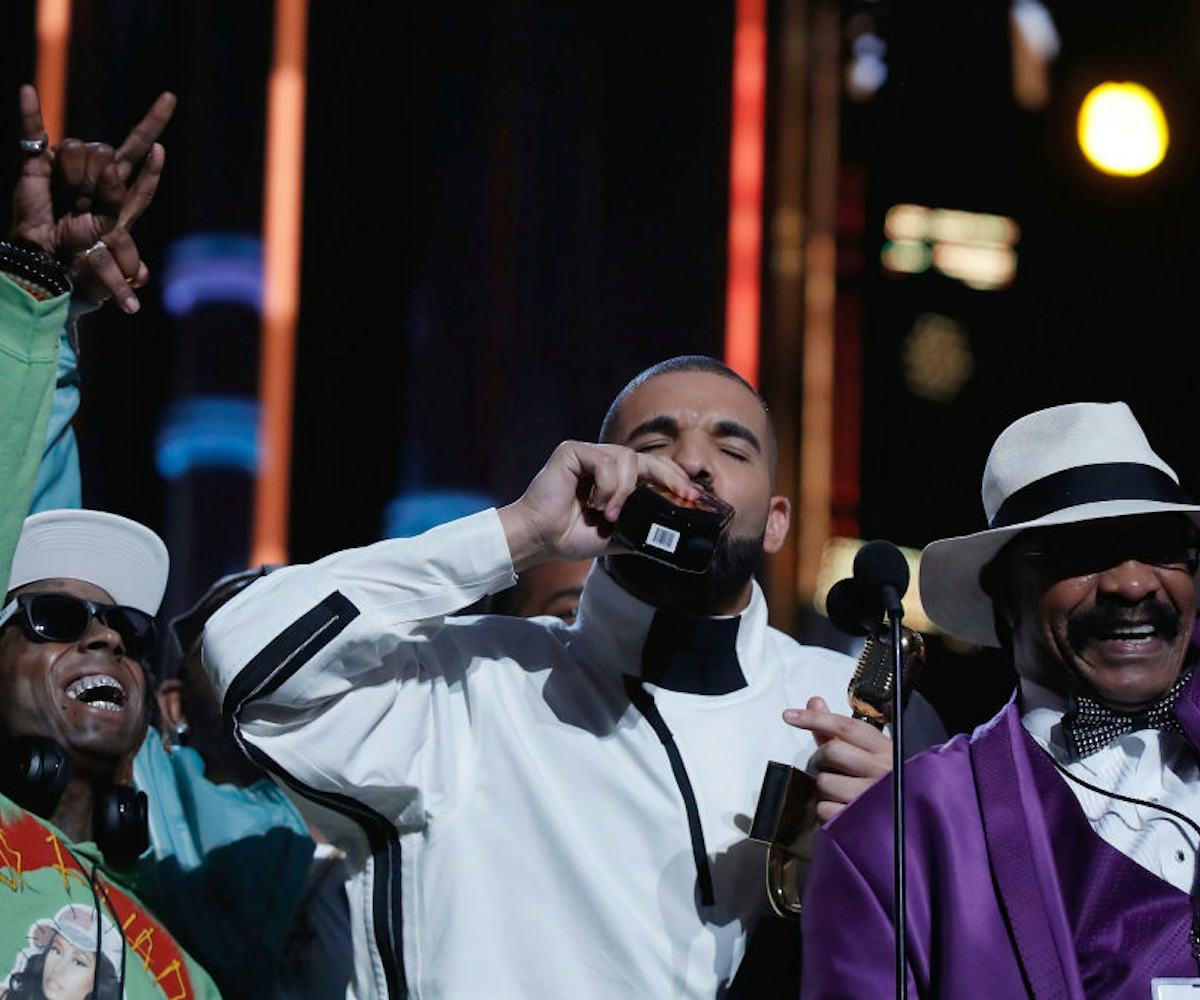 Photo by Isaac Brekken/Getty Images
8@8: Your Morning Scoop
Drake proves that Young Money is forever with his new tattoo of Lil' Wayne
Today is...
National One Voice Day!
News of the Day:
+ Drake's loyalty to Young Money is now forever embedded on his skin, thanks to his new tattoo of Lil' Wayne. The rapper slyly posted a photo on Instagram debuting the ink after wrapping up Houston Appreciation Weekend. The new ink joins Drake's growing collection, including ones of his father, mother, uncle, grandmother, and singers Aaliyah and Sade.
+ Jaden Smith's new 'do is on fire. The broody Batman was spotted walking the streets of New York City with his new flaming red buzz cut and gray camo pants.
+ Have you ever dreamed about having vodka delivered right to your door? Have you ever dreamed about having Channing Tatum deliver said alcohol? Well if you're lucky, you might just get both at the same time! The actor/vodka delivery man visited some lucky fans with Saucey, an alcohol delivery app, in order to promote his new vodka, Born and Bred, which he created after partnering up with Grand Teton Distillery. Uh, can he make a pit stop in NYC?!
+ It's a bird! It's a plane! It's a... melting Pomeranian puppy? This adorable "melting" pup went viral after Twitter user
tweeted photos of the ball of joy melting in a bathtub. We dare you not to smile. 
+ Call your dentists because Pop Rocks Pizza is now a thing. The neon-colored treat is made out of a rainbow sugar cookie crust, topped with cream cheese frosting, Pop Rocks, cotton candy, and sprinkles. I mean, after a year of unicorn Frappucinos and fruit punch pickles, nothing surprises us anymore. 
Deal of the Day: 
You can now float on Cloud Nine, thanks to these new bedding deals from cloudten. The lifestyle brand is offering a flat-rate of $120 for sheets of any color and size. The best part? Any unwanted sheets will be donated to Habitat for Humanity, and every cloudten set purchased will provide a blanket to a seriously ill child.
Advice of the Day:
"Work hard in silence, let success be your noise." - Frank Ocean
GIF of the Day: