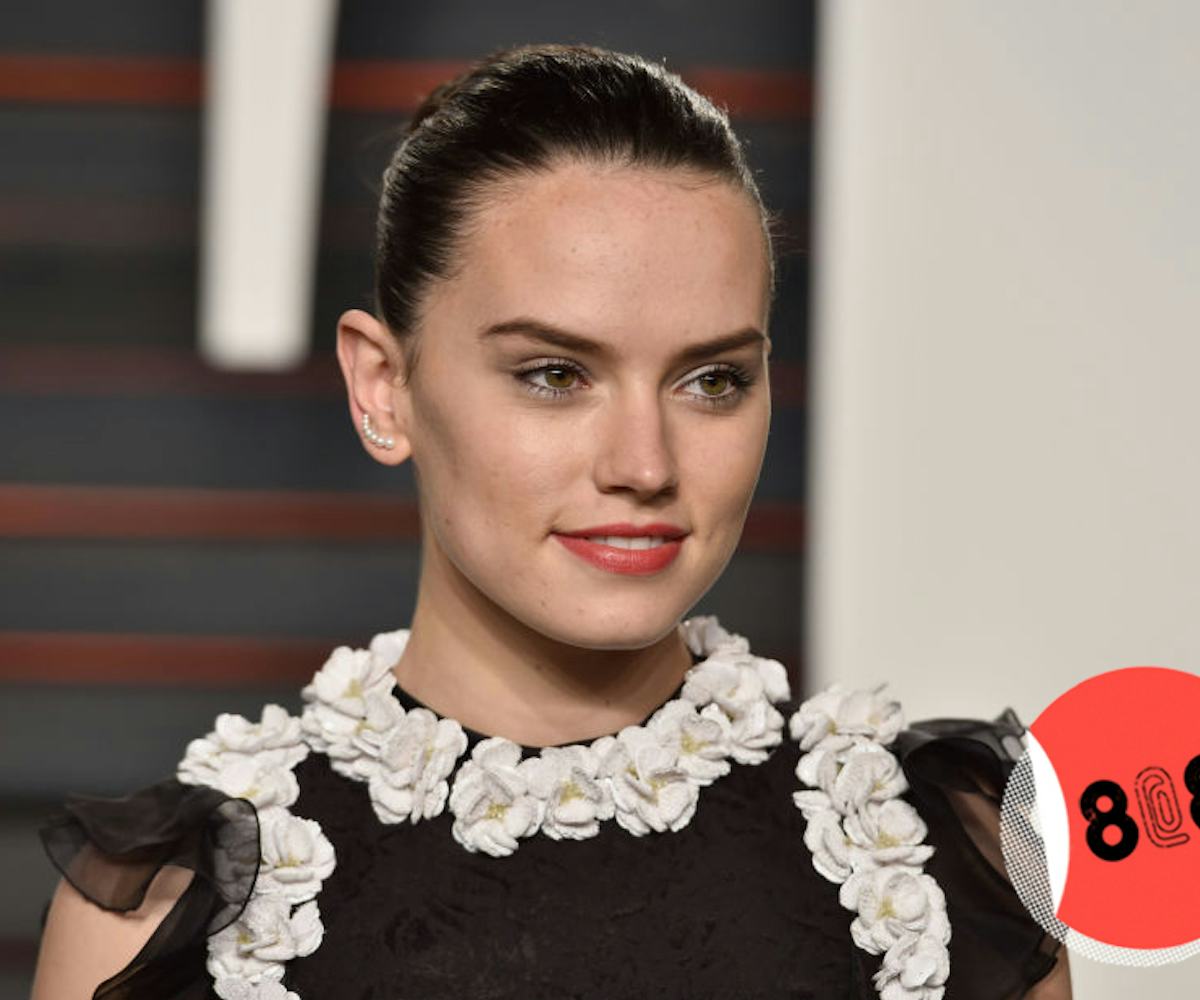 Photo by Pascal Le Segretain/Getty Images
8@8: Your Morning Scoop
daisy ridley has a message for body shamers
Today is...
Pack Your Lunch Day
News of the Day:
+ Daisy Ridley is not here for anyone's body-shaming. The Star Wars: The Force Awakens star stood up for all women when an Instagram user stated that she "sets unrealistic expectations" for fans and later said that "real women have curves." In a reply to the post, Ridley commented, "Real women are all shapes and sizes, all ethnicities, all levels of brave, have families, don't have families. I am a 'real woman' like every other woman in this world". On her own Instagram, the star went on to screenshot the exchange with a caption that called forth for everyone to "BE whoever you want to be."
+ Remember when Serena Williams filmed that amazing version of Beyoncé's "7/11" and we instantly became obsessed with her? Well, our obsession just got a whole lot deeper because the tennis champion is set to release a new documentary in June. Focused on her life—on and off the court—the film will include interviews with Willams' friends, family, and fellow tennis competitors. 
+ Michelle Obama: First lady and proponent for more diverse emojis? That's right. The Turnip Queen is suggesting new emojis for empowering girls. In a tweet aimed at the feminine hygiene brand Always, Michelle called for a "girl studying emoji." I'm not sure about you, but we're totally down for some Mrs. Obama emojis. #GirlPower
+ Commemorating March as Music In Our Schools Month, Google has launched the Chrome Music Lab—an interactive and unique set of 12 music-making widgets.  With the tech company's new release, visitors can distort their voices, program drum loops, view a spectrogram, and more. The new venture is sure to generate a higher interest and easier access for students across the country to experience and create music.  
+ Besides being one of the most talented artists of our generation and rocking a suit better than any man, Janelle Monáe turns out is also a really gifted actress. According to Complex, Monáe is set to join Empire star Taraji P. Henson and Academy Award winner Octavia Spencer in a film about black female mathematicians. Due to drop in January 2017, the film will center around a group of black women who gave NASA the important mathematical data needed to launch the space program's Friendship 7 mission. 
+ Sunflower Bean's music video for "Easier Said" is nothing short of an awesome party in the woods. Shot on film, the footage is visually pleasing with ritualistic pagan activities, flames everywhere, and Julia Cumming looking like an ethereal goddess.
Deal of the Day:
Ever wish you could combine candy with lipstick and sunglasses? Now you can with Sweet Saba's funky and playful sweets. Get your sweet fix of delightful treats on SweetSaba.com.
Advice of the Day:
"Being beautiful isn't everything... Sometimes it's interesting to show how you feel on the inside on the outside, just through expressing yourself." —FKA twigs
GIF of the Day: