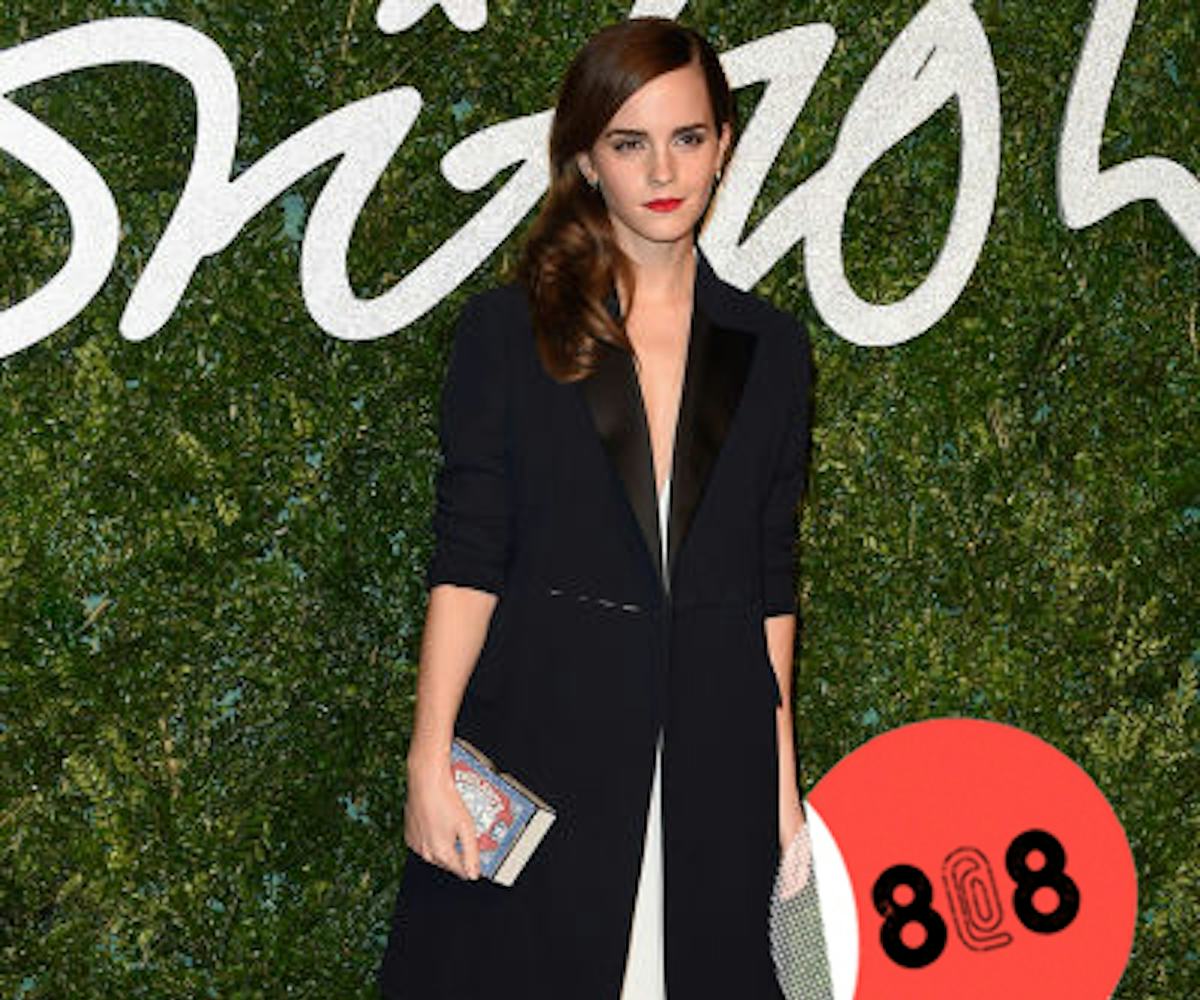 Photo by Pascal Le Segretain/Getty Images.
8@8: Your Morning Scoop
emma watson has some serious beatboxing skills
Today is...
National Awkward Moments Day!
News of the Day:
+ Emma Watson recently got together with composer and lyricist Lin-Manuel Miranda to discuss #HeForShe, the UN's gender equality initiative. The meeting quickly turned into an epic freestyle, where the actress and UN ambassador dropped a beat while Miranda freestyled about equal pay. Watch it for yourself, below. 
And here's a SHORT clip of Emma Watson beatboxing while I freestyle about #HeForShe, if you only have 3 minutes. This was so fun. Posted by Lin-Manuel Miranda on Thursday, March 17, 2016
+ Diane von Furstenberg has cloned her dog, because what else does one do when they have an extra $100,000 lying around? Apparently, the fashion designer and icon really loves her Jack Russel terrier, Shannon, so much that she had a Korean company implant her pup's DNA in a dog embryo, which led to the birth of Deena and Evita, exact duplicates of Shannon.
+ Amy Schumer was just about everywhere last year—from comedy tours to hosting SNL. We can expect even more "overexposure" this year, according to the new teaser vid for season four of her show, Inside Amy Schumer. In addition to the new season premiering on April 21, the comedian has also announced new tour dates and a book release. Check out the video below.
Get More: Comedy Central
+ Say it isn't so! Melissa McCarthy has revealed that the beloved Sookie will most likely not appear in the upcoming Gilmore Girl's revival series, telling E! that she wasn't even asked to do it. But what is Gilmore Girls without Sookie and her incredible cooking?
+ Kate Moss dances in the dark for Massive Attack. Looking dewy in a nude bodysuit, Moss is filmed swinging a lone light over her head while performing a ritual-like dance in the trippy new video for the song "Ritual Spirit." Check it out, below.
Deal of the Day:
Herschel just released the newest additions to their Mickey Mouse collection, a collab they have with Disney. The brand put out a backpack, wallet, and pouch, available in navy or white, printed with a deconstructed print of the famous mouse. The collection is now online at Herschel.
Advice of the Day:
"It sounds like a cliche but I also learnt that you're not going to fall for the right person until you really love yourself and feel good about how you are." —Emma Watson
GIF of the Day: