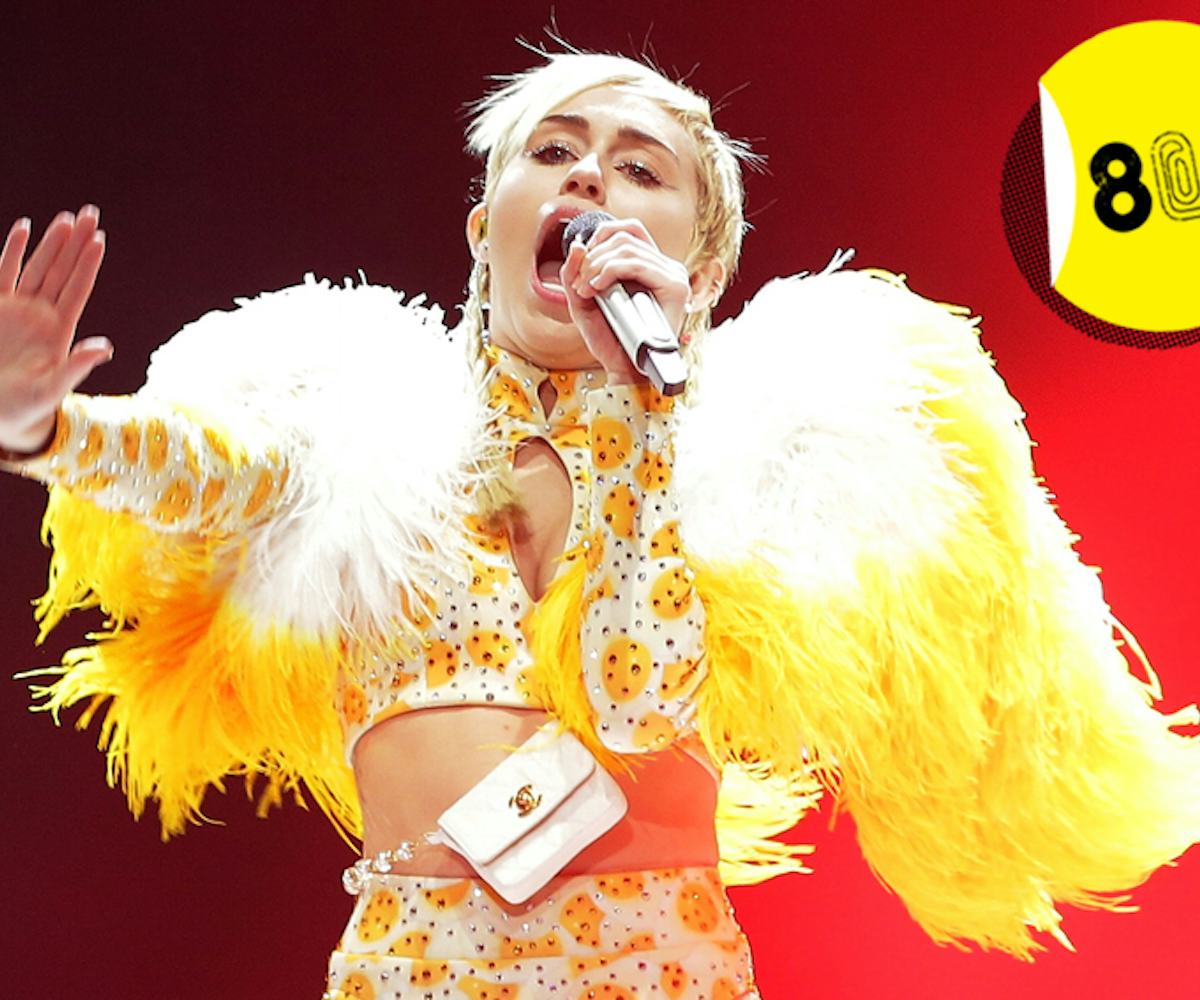 photo via getty images
8@8: your morning scoop
miley cyrus' new song will rock your monday.
Today Is…National Cupcake Day. Start preparing yourself for the bevy of frosting-filled Instagrams to come.
News of the Day:+Chances are, you've heard quite a few things about the recent Sony email leak scandal. And while there were a lot of, err, unfavorable things discussed, one thing was revealed in those emails that's amazing, to say the least. Apparently, Kanye West and his team are currently working on a feature-length film. Oh, and West is teaming up with Seth Rogen (who he recently had a pretty insane limo rendezvous with), James Franco, and Anthony Mackie to reenact the FAO Schwartz floor piano dancing scene from Big. Yeah, we told you it was major.
+If it wasn't already obvious, we're huge fans of the #FreeTheNipple movement (see: our interviews with movement figureheads Lina Esco and Rumer Willis). But we have a sneaking suspicion that even if Miley Cyrus' newest song—a cover of "Look What They've Done to My Song, Ma"—wasn't attached to the newly-released film, we'd love it anyway. Listen here.
+ICYMI, our cover girl Charli XCX was Saturday Night Live's latest musical guest. Watch her slay "Break The Rules" and "Boom Clap"—but before you do, prepare yourself for some major outfit envy: her crop tops were on point.
+GoodRead's Best Books of 2014 lists are here! (Read: It's time to play hooky and skirt all responsibilities because what could be more important than the quest for knowledge if you really think about it?!)
+What's better than an iconic supermodel pairing up with one of the industry's freshest faces? Not much. Maybe that's why Burberry recruited Naomi Campbell and Jourdan Dunn as the faces of their SS '15 campaign. Then again, it could just be because the two are incredibly amazing and talented in their own right...
Deal of the Day:
Take an extra 40% off sitewide and 60% off all clearance products as part of Barney's Warehouse Holiday Sale. No, you're not hallucinating—you read that right.
Advice of the Day:
"And in conclusion may I please remind you it does not say R.S.V.P. on the Statue of Liberty. Thank you very much." - Cher Horowitz, Clueless
GIF of the Day: