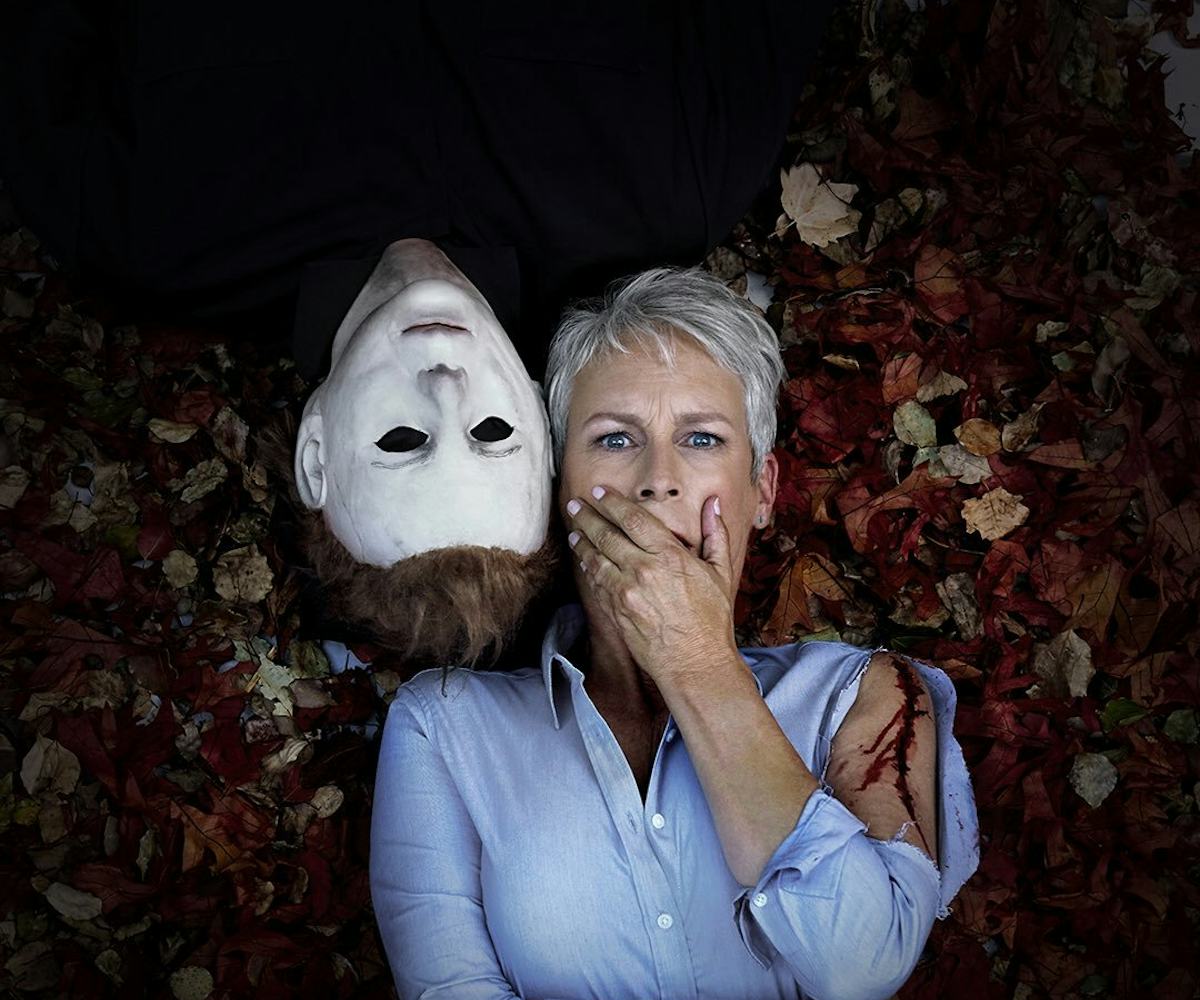 photo via twitter.com/jamieleecurtis
8@8: Your Morning Scoop
Jamie Lee Curtis' Laurie Strode can't escape Michael Myers in chilling new 'Halloween' promo
Today is...
National Cook for Your Pets Day!
News of the Day:
+ In honor of yesterday being Halloween, Jamie Lee Curtis took to Twitter to share a brand-new promo photo for the highly-anticipated reboot of the 1978 slasher classic, Halloween. In it, Curtis (as her character Laurie Strode) appears right next to infamous killer Michael Myers and looks absolutely terrified. "SOME WOUNDS NEVER HEAL," she tweeted. "Michael & I will see you all next Halloween 10/19/18." 
+ N.E.R.D. and sunglasses brand Illesteva have teamed up to create a dope capsule collection for all you, music buffs. The collaboration, set to launch November 4 during N.E.R.D's set at ComplexCon, features four oversized glasses in different color options. The shades also come equipped with a USB and exclusive content filmed by Christian Padron.
+ Brazenly disregarding beauty's often strict gender barriers, actor Ezra Miller was seen rocking a glitter berry lip (courtesy of none other than Miss Rihanna Fenty) on the red carpet while promoting Justice League in Beijing. Miller has always been a champion for free expression—telling i-D in 2015, "When I identify as queer, it simply means that I don't wish to conform to the binary system when it comes to who and how we love…"—and asserts that the identity we put forth into the world should be as close as possible to the one "we actually maintain in our personal lives." The Fenty team recently hinted that they'd be open to a men's line, and we're holding out hope that Miller will be the face of it.
+ Chance the Rapper is now Chance the... Actor? Along with hosting an episode of Saturday Night Live this month, the Chicago artist will be starring in a new murder mystery film called Sliced. It's certainly not his first stab at acting, considering that he appeared in a VICE short, titled "Mr. Happy," in 2015, but we're certainly curious to see him flex his acting muscles in the horror genre. See the trailer, below.
+ Nicki Minaj is H&M's newest holiday campaign star. The rapper announced the news on her Instagram page yesterday after teasing the upcoming capsule collection with the fashion chain during the Met Gala in May. Get a sneak peek at her campaign photo, below, and keep your eyes peeled for the collaboration this fall.
Deal of the Day:
Here's one for all of our SoCal gals: L.A.'s famed Alfred Coffee is pairing up with designer Paul Frank for a limited-edition collection. Frank has dreamt up a line of custom cup sleeves for the coffee shop along with a selection of colorful murals featuring Paul Frank original characters, Dazzle, Mika, Skurvy, and everyone's favorite monkey Julius. The collab launches today for a limited time only, so make your way to an Alfred's, stat.
Advice of the Day:
"Know your worth... take ownership of your body, and your spirit, and your mind." —Rose McGowan 
GIF of the Day: