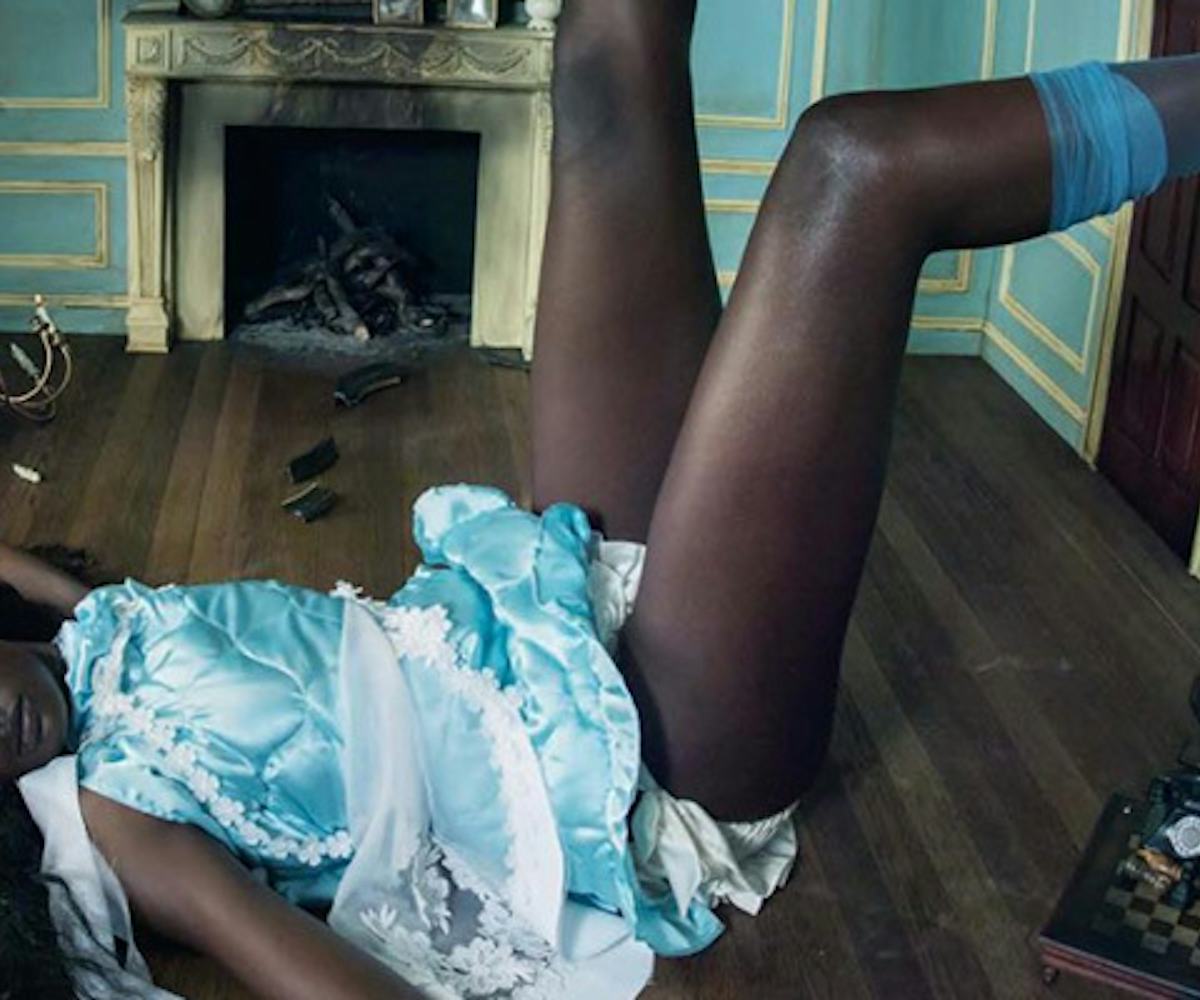 Image via Instagram/Pirelli
8@8: Your Morning Scoop
The 2018 Pirelli Calendar reimagines 'Alice in Wonderland' with all-black cast
Today is...
World Kindness Day!
News of the Day:
+ The 2018 Pirelli Calendar, photographed by Tim Walker and styled by British Vogue's editor-in-chief Edward Enninful, reimagined the story of Alice in Wonderland with an all-black cast, and it's truly stunning. RuPaul is the Queen of Hearts, Naomi Campbell is the Royal Beheader, Diddy is her accomplice, Lupita Nyong'o is the dormouse, and South Sudanese-Australian model Duckie Thot is Alice. Go down the rabbit hole with these incredible photos. 
+ In response to allegations that Republican Senate nominee Roy Moore had sexual relations with a 14-year-old when he was 32, co-creator of The Daily Show Lizz Winstead started the hashtag #MeAt14. She encouraged women to share photos of themselves as teenagers, to emphasize how young and vulnerable we are at that age, since a lot of members of the GOP defended Moore's behavior.  "I was on the gymnastics team and sang in the choir," Winstead wrote. "I was not dating a 32 year old man."
+ If winter weather is already drying out your skin, Nordstrom just added a new Korean beauty brand that might be able to help you out with that. Huxley incorporates prickly pear seed oil into every product for extra hydration, according to Allure. The brand offers a wide selection of serums and creams to help you survive until spring. 
+  Gal Gadot is refusing to star in the Wonder Woman sequel unless producer Brett Ratner is cut from the project. The producer has been accused by six women of sexual harassment and abuse. Ratner's company, RatPac Entertainment, co-produced the first Wonder Woman film. Some people pointed out that it's great she's leveraging her negotiation power this way, and it'd be even better to see some men in Hollywood do the same. 
+ Reality television star and entrepreneur Khloé Kardashian teamed up with eyewear brand DIFF  for a limited-edition vintage-inspired aviator frame. Named Koko, the $85 oversize pair will continue DIFF's mission to give back, by providing a pair of reading glasses to someone in need with each pair bought. Shop the style starting today here.
Deal of the Day:
Nicola Formichetti released a capsule collection with his brand Nicopanda and Urban Outfitters which is available online now. There's a lot of colorful camouflage and sheer, monochromatic looks. Plus, a puffy coat and scarf which we need now because, sadly, it's already feeling like full-on winter in many parts of the country. Brrr! 
Advice of the Day:
"That is the key to navigating this life—don't take it too seriously. That's when the party begins." —RuPaul 
GIF of the Day: