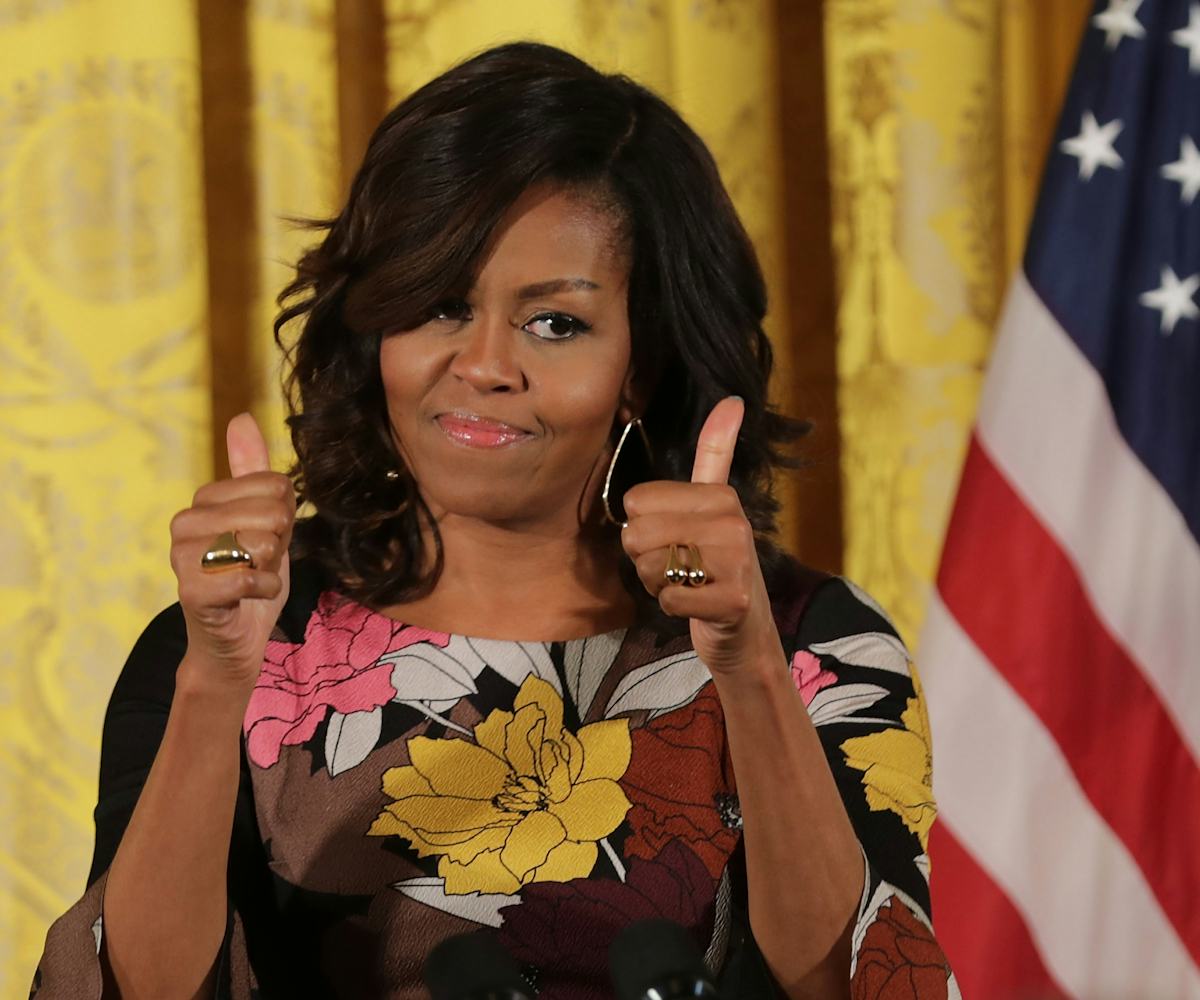 Photo by Chip Somodevilla/Getty Images
8@8: Your Morning Scoop
FLOTUS finally responds to those begging her to run for POTUS
Today is...
National Fast Food Day! Go get yourself a burger.
News of the Day:
+ In the days following the election of Donald Trump, people have been calling on Michelle Obama, one of the best First Ladies this country has seen, to run in 2020. After a zealous fan yelled out, "Run for president," during a speech addressing Veterans' homelessness yesterday, FLOTUS responded amusingly, "You be quiet back there," with a finger wag to match. It's not a yes, but it's not exactly a no, either… Luckily, there is ample time for her to change her mind.
Audience member to FLOTUS: Run for president! @FLOTUS: Be quiet back there. (Laughter) pic.twitter.com/0yBV2flWc1 — BuzzFeed (@BuzzFeed) November 14, 2016
+ As the presence of hate on the internet seems to grow day by day, various social media networks have been searching for new tactics to drown the negativity out. Taking a cue from Instagram, Twitter has released various features to combat harassment and provide support for targeted accounts in the form of an expanded mute button. Now, Twitter allows users to not only mute specific accounts, but also "keywords, phrases, and even entire conversations you don't want to see notifications about." Just in the nick of time.
+ All has been quiet on the A Wrinkle In Time production front since filming began two weeks ago. But Storm Reid, Deric McCabe, Rowan Blanchard, and director Ava DuVernay took to Twitter to announce the film's release date in the best way possible: an on-set #MannequinChallenge. Swapping out Rae Sremmurd's Black Beatles for some classic Disney orchestrations, the entire cast and crew stood frozen for two full minutes to announce the film will be out on April 6, 2018. With all the effort they put in, don't forget to mark that date down on your calendars.
+ It's felt like a lonely and quiet month with the absence of Joanne the Scammer's boisterous antics consuming social media timelines. Perhaps having sensed our longing for her, Ms. Prada is teaming up with Super Deluxe to release "Get Out Of My Caucasian House" doormats. And if you aren't sold just yet, 50 percent of proceeds will go to the ACLU. A win-win for all. 
+ In honor of her upcoming album, Nelly Furtado has released her first single, titled "Pipe Dreams," about the false hopes of dreams when entrapped in a personal fantasy. Stream the track here. The Ride is out on March 3.
Deal of the Day:
In collaboration with L.A.-based brand Solé Bicycles, Wildfox has created "A Wild Ride," a limited-edition collection of beautiful bicycles with custom petal and intricate leather detailing. Upgrade your ride on Wildfox's website and at retail sites.
Advice of the Day:
"We have to talk about liberating minds as well as liberating society." - Angela Davis
GIF of the Day: