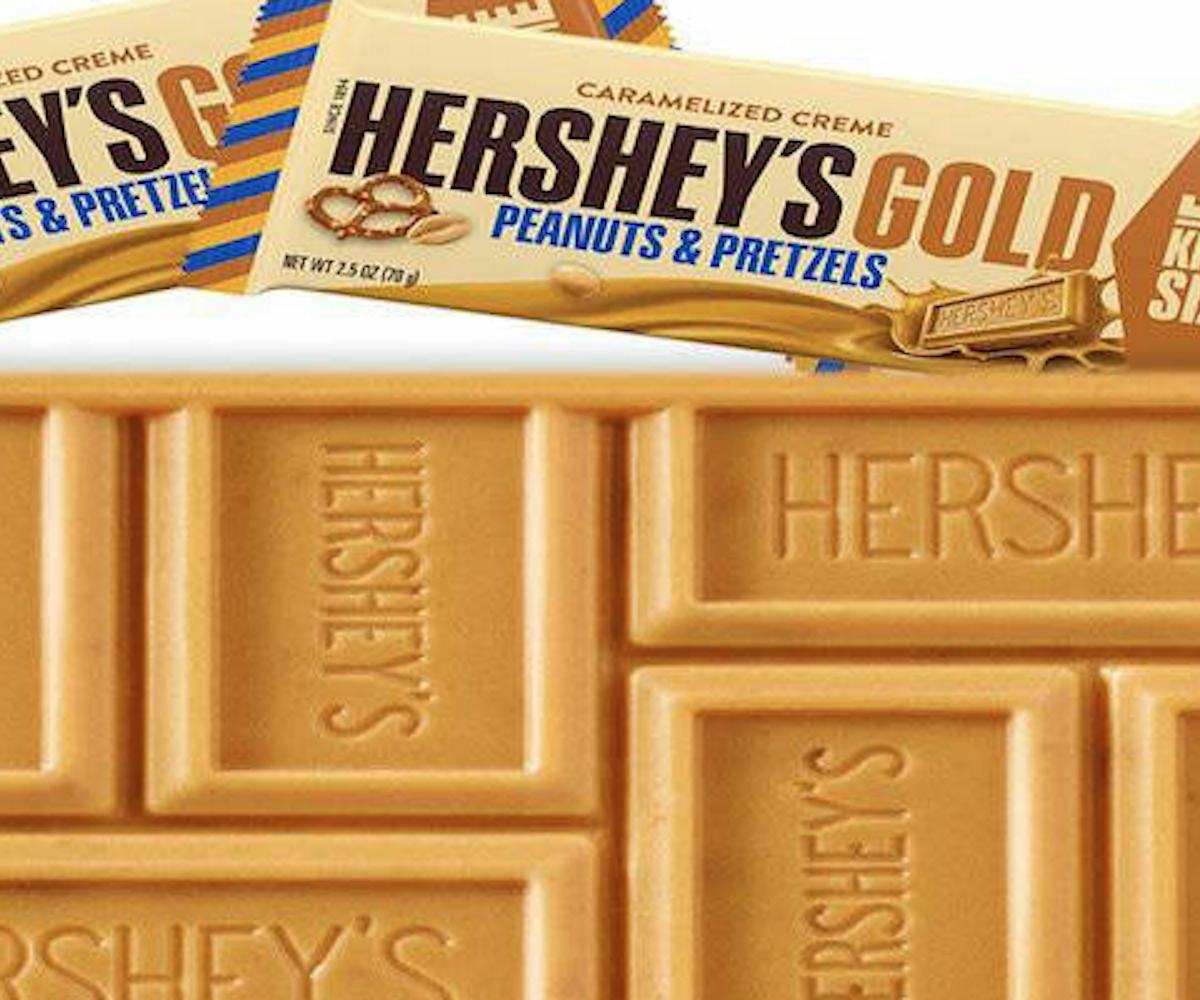 Photo courtesy of The Hershey Company
8@8: Your Morning Scoop
After 20 years, Hershey's is releasing a new flavor
Today is...
National Sandwich Day!
News of the Day:
+ This is big: Hershey's is releasing a new flavor after 20 years—and it's not chocolate. The Hershey's Gold Bar is the fourth flavor to be added to the current lineup and is made of a "caramelized creme" and stuffed with peanuts and pretzels, which should give it that perfect sweet-savory mix. It hits shelves December 1, so make sure to be on the lookout.
+ After a seven-year break, music group N.E.R.D. is back in full force. Not only did they release new music with Rihanna, they've also teamed up with Adidas to create an 88-piece unisex training gear capsule. Inspired by each member's individual style, Korean artist Buzcha created a series of camouflage print t-shirts, hoodies, shorts, and more, set to release on November 6. You can check out the collection in person at select stores, Adidas flagships, the Billionaire Boys Club Japan Flagship, and, of course, online. 
+ In other fashion news, New York-based hip-hop yoga studio Y7 has teamed up with Alala to create a five-piece athleisure collection, and it's one you'll definitely want to get your hands on. The pieces are completely wearable, in and out of the gym, and look super-comfy. Shop the full collection here. 
+ Have you ever wondered what it would be like to live inside a life-size Lego house? Lucky for you, Airbnb just announced one of its coolest "Night At" contests ever. Four lucky guests will be given the opportunity to stay in the world's first LEGO house, built in Denmark. Constructed with over 25 million LEGO bricks, the house features multicolored waterfalls, LEGO armchairs, LEGO robots, and a pet cat. Check out photos of the house, below, and enter to win here! 
+ A new affordable makeup line just hit the shelves. COL-LAB was inspired by eight different YouTube beauty gurus and includes an extensive line of blushes, highlighters, shadows, brushes, and more. Check out a few of our favorites, below, and shop online or at Sally Beauty. 
Deal of the Day:
Sweetgreen and Mission Chinese Food's Danny Bowien have paired up to create the "Tiger Bowl," and it might be one of our favorite food collaborations of the year. The dish contains organic spinach, wild rice, cucumbers, sesame roasted tofu, and more, all topped off with a savory Tiger Dressing. The bowl is only available until January 3, so make sure to hit up your local Sweetgreen sometime before then.
Advice of the Day:
"It's never too late—never too late to start over. Never too late to be happy." —Jane Fonda
GIF of the Day: