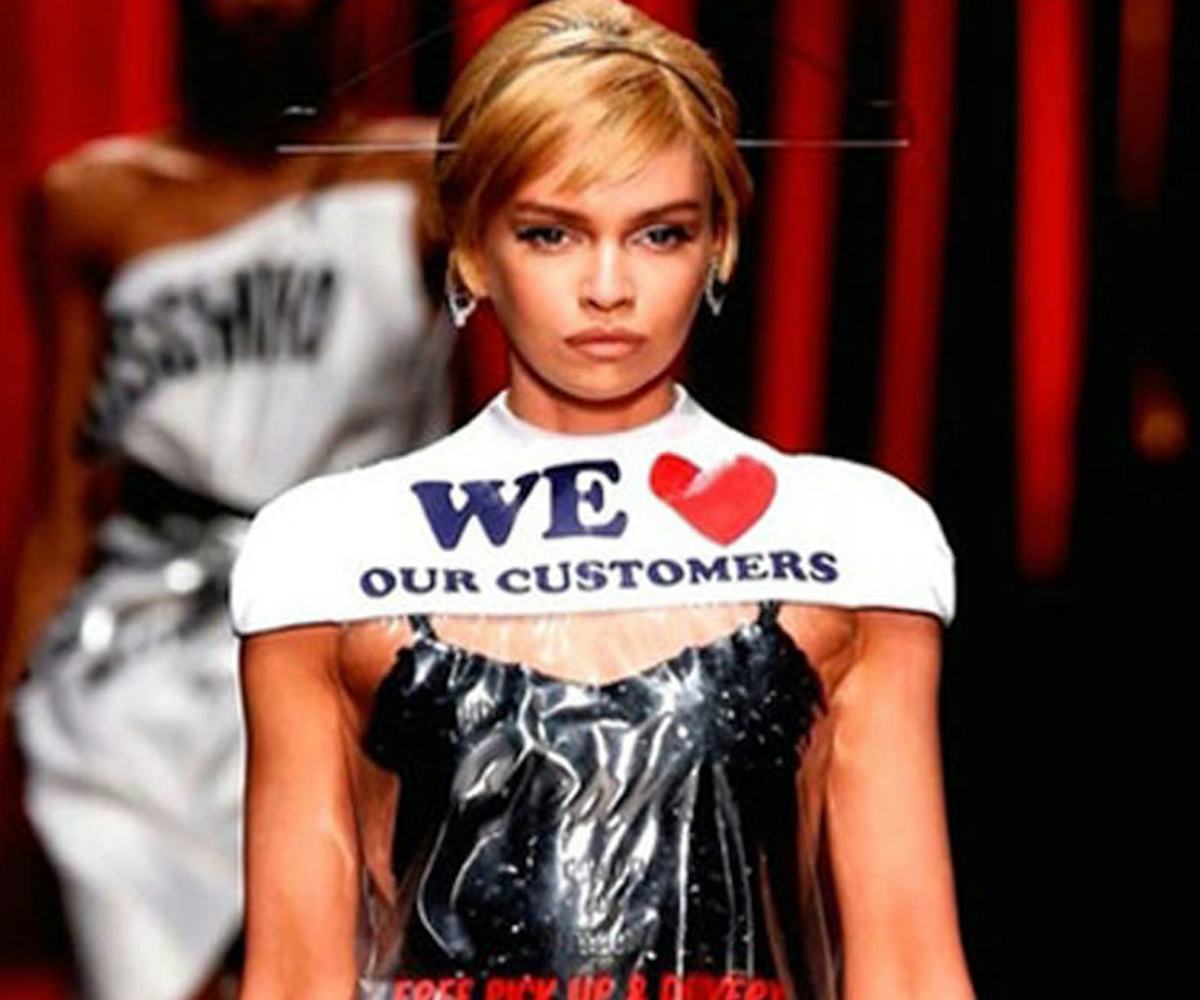 Photo via Estrop/Getty Images
8@8: Your Morning Scoop
Moschino's new dress is basically a $700 dry cleaning bag
Today is...
National Cappuccino Day!
News of the Day:
+ Moschino just repurposed one of the most common everyday objects, and it's... unique, to say the least. The brand released a $700 dress, and it's essentially a floor-length copy of the plastic covering you would get at your dry cleaner. They even incorporated a hanger component across the front that says "We <3 Our Customers." While Jeremy Scott and Moschino are constantly hitting us with the craziest and most unexpected fashion pieces, we definitely did not see this one coming. Check it out in all its glory here and below. 
+ The all-new gender-neutral clothing line Shades of Black is launching today, and it's a game-changer. The line features simplistic and contemporary everyday pieces that are suitable for everyone, regardless of gender identity or pronoun. Maintaining a stylish yet comfortable charm, the brand uses high-quality silks, fabrics, and denim to keep you warm all winter long. Check out the new collection of tees, pullovers, jackets, and more, here.
+ Pastry lovers, get ready: Starbucks and Italian bakery chain Princi just announced a new collab, and it'll certainly get your mouth watering. The partnership will offer customers freshly made items including focaccia sandwiches, Margherita pizzas, and tiramisu. The first bakery is already open in Seattle, but keep your eyes peeled for more locations set to open next year in New York, Chicago, and Seattle. 
+ R&B duo Rhye just released a unique new visual for its song "Taste." Using dance to convey emotion (and choreographed by dancer Noelle Marsh), the video documents the pain and anguish one might experience in the face of a broken relationship. Check it out, below. 
+ We've seen a lot of funky nail trends in 2017, but Essie's new leather nail polish line might be the coolest one yet. The brand collaborated with designer Rebecca Minkoff to create a set of four leather-effect nail polishes that channel four of Minkoff's most iconic leathers. What exactly is leather-effect nail polish you ask? It's a glossy matte finish that incorporates just a tiny hint of shimmer. Available for $13 each, the polishes are set to hit shelves later this month. 
Deal of the Day:
The creators of the best bed sheets out there, Brooklinen, just came out with a brand-new Twill Collection that's made to transport you to a cozy cabin in the woods. Available in five different colorways, these new sheets give off a lightweight yet luxe worn-in flannel feeling, and who wouldn't love that? Check out the new sheets online at Brooklinen starting tomorrow. 
Advice of the Day:
"You're allowed to be both a masterpiece and a work in progress simultaneously." —Sophia Bush
GIF of the Day: