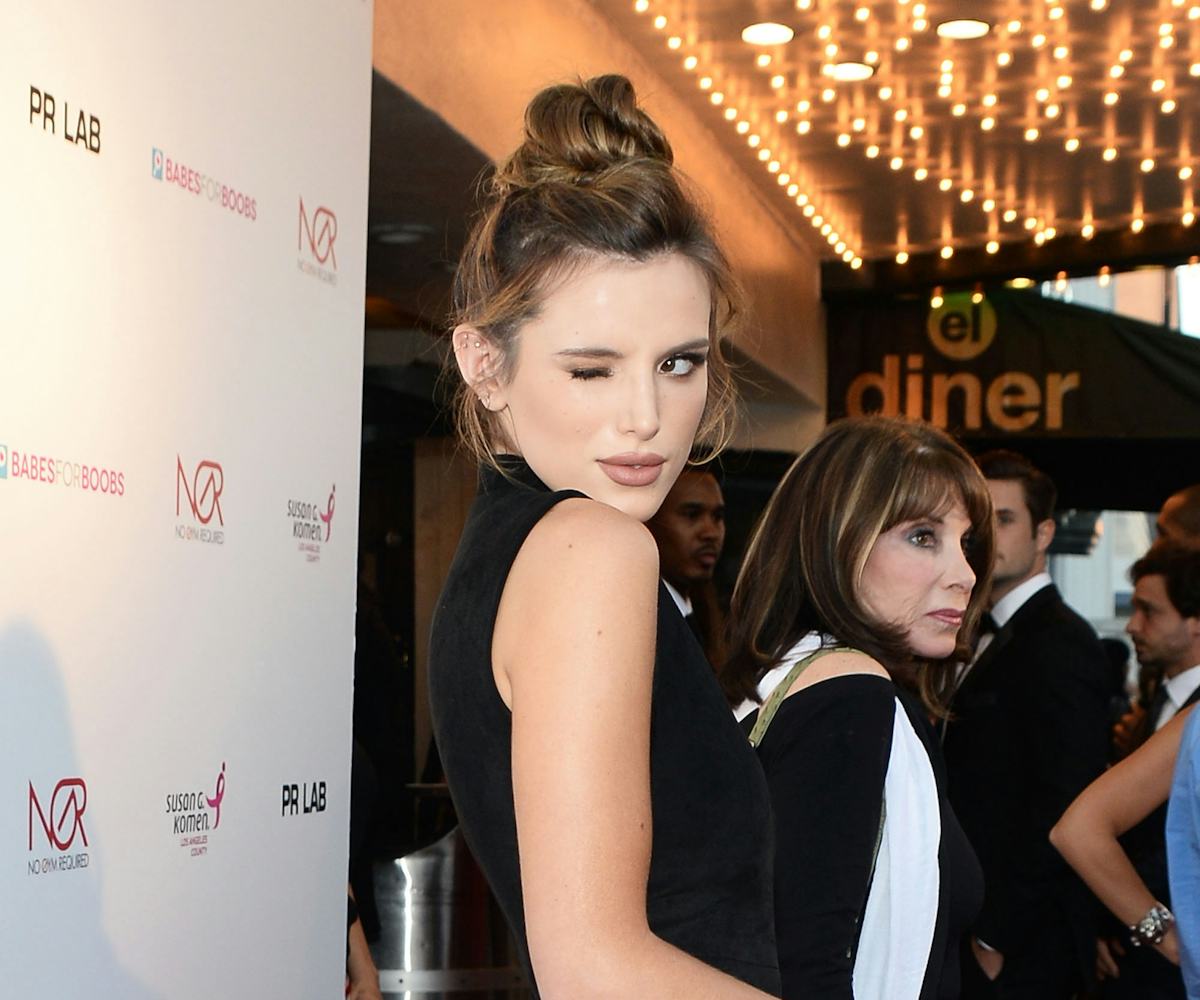 Photo by Matt Winkelmeyer / Getty Images
8@8: Your Morning Scoop
Bella Thorne bares it all
Today is...
News of the Day:
+ Bella Thorne's moving on from Disney in a big way—a Hugh Hefner way. The star posed for a '70s glam-inspired spread in Playboy's November issue that will leave you with serious hair and wardrobe envy. Between wearing Bowie-esque frocks and silk dresses, the actress revealed to the magazine that she's tired of slut-shamers and expectations placed upon her by the public. Speaking of the hate she gets for her personal style, the starlet told the magazine, "There's this effort to try to shame a woman's sexiness by pulling a cover over it, but I'm a woman who loves skin. I love skin on me, I love skin on girls, I love skin on guys. If you're confident enough to show off your body, you should. Be confident." 
+ Women are seeking out justice worldwide. Women in Argentina set out on a "woman's strike" in Argentina yesterday, following the rape, torture, and murder of 16-year-old Lucía Pérez. The brutal assault, which happened earlier this month, sparked women nationwide to come together, fight, and organize what they're calling "Black Wednesday." The strike's organizers requested that women in their workplaces stop working for an hour to demand an end to "machista violence." A legacy of "femicide" is rearing its ugly head in the South American country, with crimes against women having increased by 78 percent since 2008—less than ten years ago. Support your Argentinian counterparts and check out the facts behind the case here.
+ Need a staple sock to pair with your FENTY X PUMA sliders? Rihanna's got your back. The singer paired up with Stance once again to release a new sock collection that "juxtaposes the beauty and elegance of Japanese culture with the modern street-wear and punk movements." The singer, designer, and overall boss conceptualized the line as a meeting of punks and poets, all of which takes place on your toes. Check out the styles and pick up a few of the pieces here.
+ Who knew a song that opens with a child reciting a Catholic prayer—the Our Father, specifically—could go so hard? Dublin transplant Rejjie Snow did, apparently. The rapper, who shares a producer with Chance the Rapper and Vic Mensa, recently released his rap ballad "Pink Beetle." The track seamlessly blends heavy themes, like those of fate and religion, with modern chill rap vibes. Listen to the track below.
+ Queen Bey fans rejoice, Tidal has released the full performance of "6 Inch" and "Haunted" from her Tidal X 1016 benefit concert last weekend, so you can get the full experience even if you weren't there. And by full experience, we mean an up close and personal view of the moment when she gracefully kept performing through her earring slicing her ear open (you know, the performance that caused the hashtag #CutForBeyonce). Of course, you'll need to sign up for Tidal in order to watch.
Deal of the Day:
If you're like us and are starting to feel the effects of the seasonal transition on your skin, you might want to check out Wildcare's new Empress Cypress Hydrosol antioxidant moisturizer. Made up of wildcrafted plants grown by small family farms (hello, ethical sourcing), this moisturizing water will rid you of those flaky patches you find popping up just in time for Halloween. Check out the newest addition to the Wildcare family here.
Advice of the Day:
"Just chill 'til you die, pretty much" —Aidy Bryant
GIF of the Day: