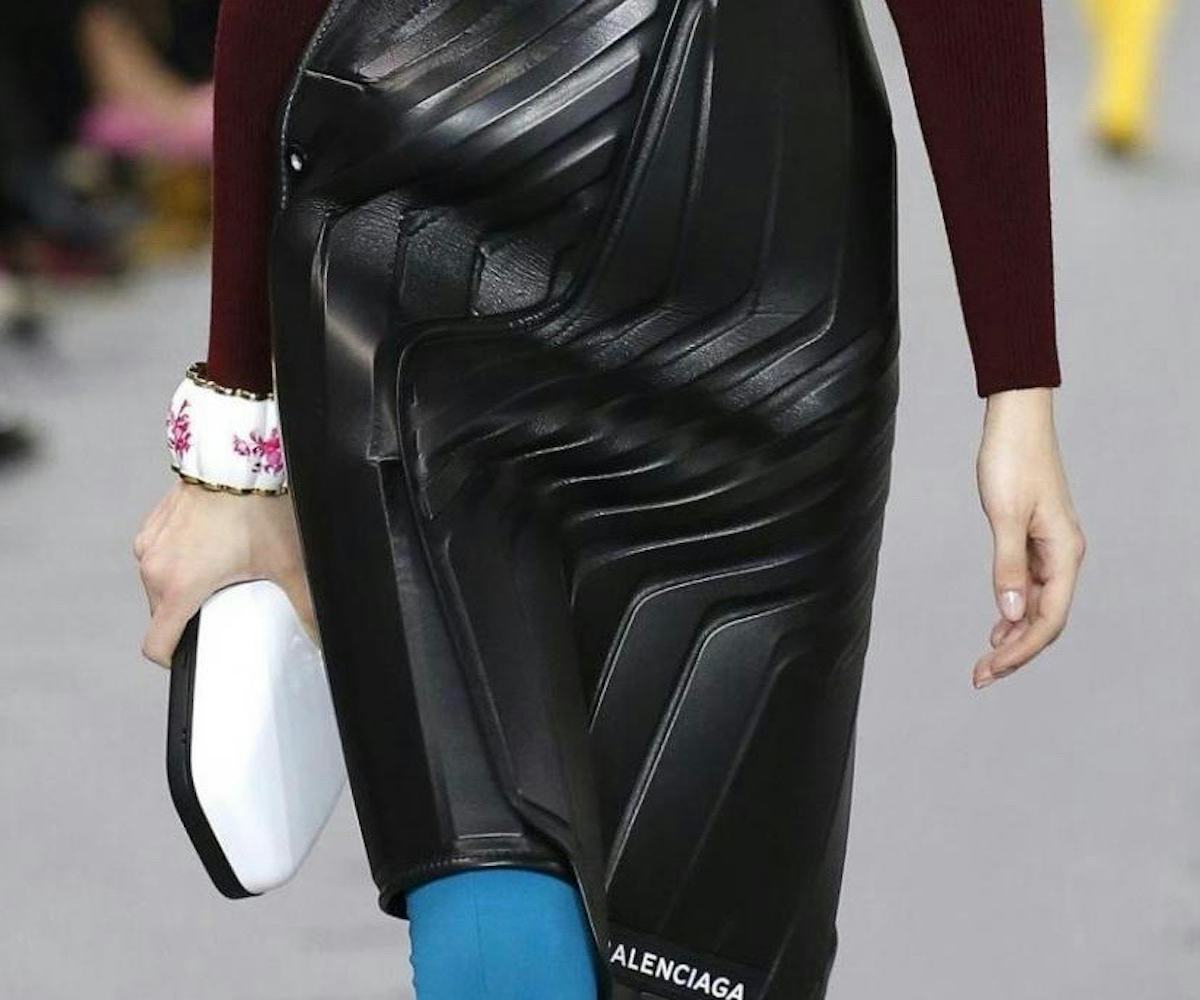 Image via Twitter/@wildeyeq
8@8: Your Morning Scoop
Balenciaga's new skirt looks a lot like a car mat
Today is...
National American Beer Day!
News of the Day:
+ Demna Gvaslia has been killing it at Balenciaga. The latest and greatest manifestation of his genius? This embossed leather skirt (part of his Fall/Winter 2017 women's collection) that looks like an actual car floor mat. For a casual $2,495, you can purchase the piece on Lyst or, as recommended by the internet, you can head to your local auto shop for a $20 alternative.
+ Trying out the latest beauty trend is often irresistible, but the "glitter tongue" is one you really shouldn't try at home. Makeup artist Jacinta Vukovic came up with the idea after applying glitter to her lips went awry. Glitter (as we all should know) is indigestible, meaning that swallowing can lead to serious stomach aches and constipation—so save yourself the misery and keep the shine out your mouth!
+ Good news for all you, ballers on a budget, out there: McDonald's is bringing back its Dollar Menu! Well, sort of. According to Business Insider, we can expect a new and improved value menu full of tempting fast food goodies, miraculously priced at $1, $2 and $3, come early 2018.
+ This just in: '70s-inspired leather brand Hobo is launching a Leather Lounge hosted by Artists & Fleas in SoHo today. The product lineup is set to include an assortment of vintage-inspired, one-of-a-kind leather accessories for both girls and guys. They're even partnering up with the amazing Jemima Kirke on a limited number of bespoke handbags to help raise funds for the #LiveTheCode initiative, which aims to raise awareness for arts education in the homeless community.
+ Also in exciting accessory news, independent footwear brand No.One has been making sneakers like no one else. Each pair is handmade in the brand's Venice, California, studio. Bespoke sneakers? Yes, please. The brand just released the Amber Baby Bull Bravo, an update to its OG classic Baby Bull shoe. Get your pair here before they all sell out.
Deal of the Day:
Sometimes our shoebox studio apartments aren't the best place to host a viewing party—especially for something as big as the Season 2 premiere of Stranger Things. Thankfully, The Gregory Hotel is offering rooms at special rates (starting at $249), so you can binge-watch in style. Each room comes complete with a Google Chromecast (the only way to binge-watch), curated Stranger Things-themed snacks and drinks, and a light-up tapestry perfect for communicating between the real world and the Upside Down. 
Advice of the Day:
"Your imagination is your reality." —Diana Vreeland
GIF of the Day: