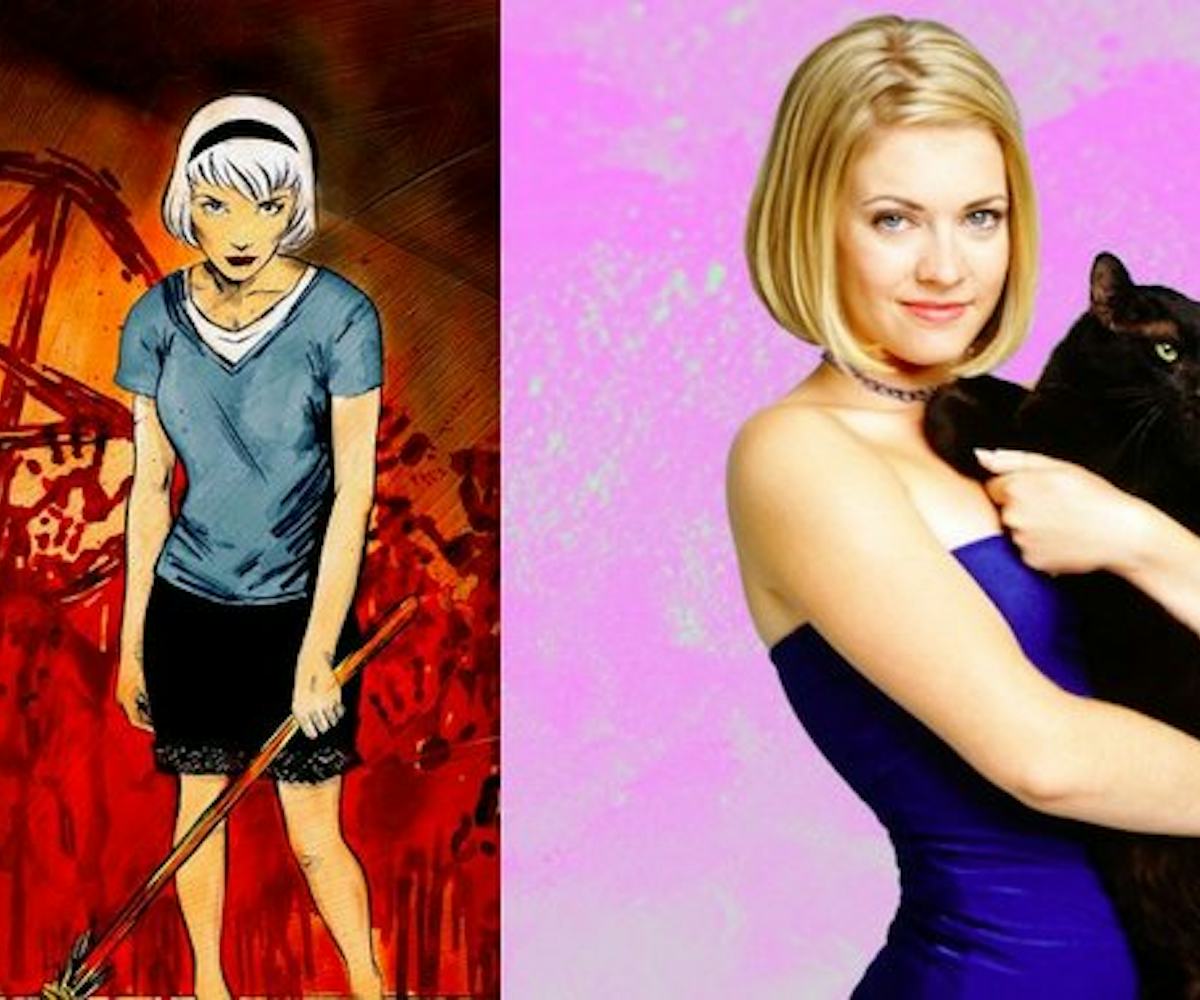 Photo via twitter.com/JarettSays
8@8: Your Morning Scoop
A chilling 'Sabrina the Teenage Witch' series is coming to TV
Today is...
National Ice Cream Cone Day!
News of the Day:
+ A horror reimagining of Sabrina the Teenage Witch is coming to TV. Titled The Chilling Adventures of Sabrina, the show will draw inspiration from cult favorites like Rosemary's Baby and The Exorcist. Probably the most horrifying thing about this adaptation, though, will be the likely erasure of TV history's favorite talking animal: Salem, Sabrina's wisecracking black cat. 
+ Khloé Kardashian and Emma Grede's size-inclusive denim line, Good American, just launched a new collection. What's more, Season 4 includes a comfy new addition, sweats. Available in black, white, and red—with sizes ranging from 00 to 24—the sweats are available here.
+ The Guerrilla Girls' decades of hard work has definitely paid off—a new art gallery focusing on women artists is opening this month. Sara Kay, the founder of the Professional Organization for Women in the Arts, is opening the Sara Kay Gallery in New York's Lower East Side on September 28. The gallery's inaugural exhibit will feature works from Audrey B. Heckler's personal collection, so set your calendars.
+ Move over, Justin Bieber, there's a new king of tour merch. Harry Styles kicked off his first solo tour earlier this week and, to commemorate this occasion, debuted T-shirts, pins, notebooks, and sweatshirts emblazoned with "Treat people with kindness." Other products include a heavy dose of millennial pink, as well as limited-edition tees for each individual tour date. Unfortunately, the merch is not available online yet.
+ BECCA's fan-favorite highlighters are now available in mini sizes. Along with being half the price of a regular-sized highlighter, the brand also added a new limited-edition shade called Vanilla Quartz. Get one of each here.
Deal of the Day:
With a change in seasons comes a change in wardrobes, which might leave you feeling like you have absolutely nothing to wear. Thankfully, J. Crew understands our need for new staples and has come through with a sale of up to 40 percent off of their fall favorites. Empty your wallet ASAP, here.
Advice of the Day:
"Don't try so hard to fit in, and certainly don't try so hard to be different… just try hard to be you." — Zendaya
GIF of the Day: