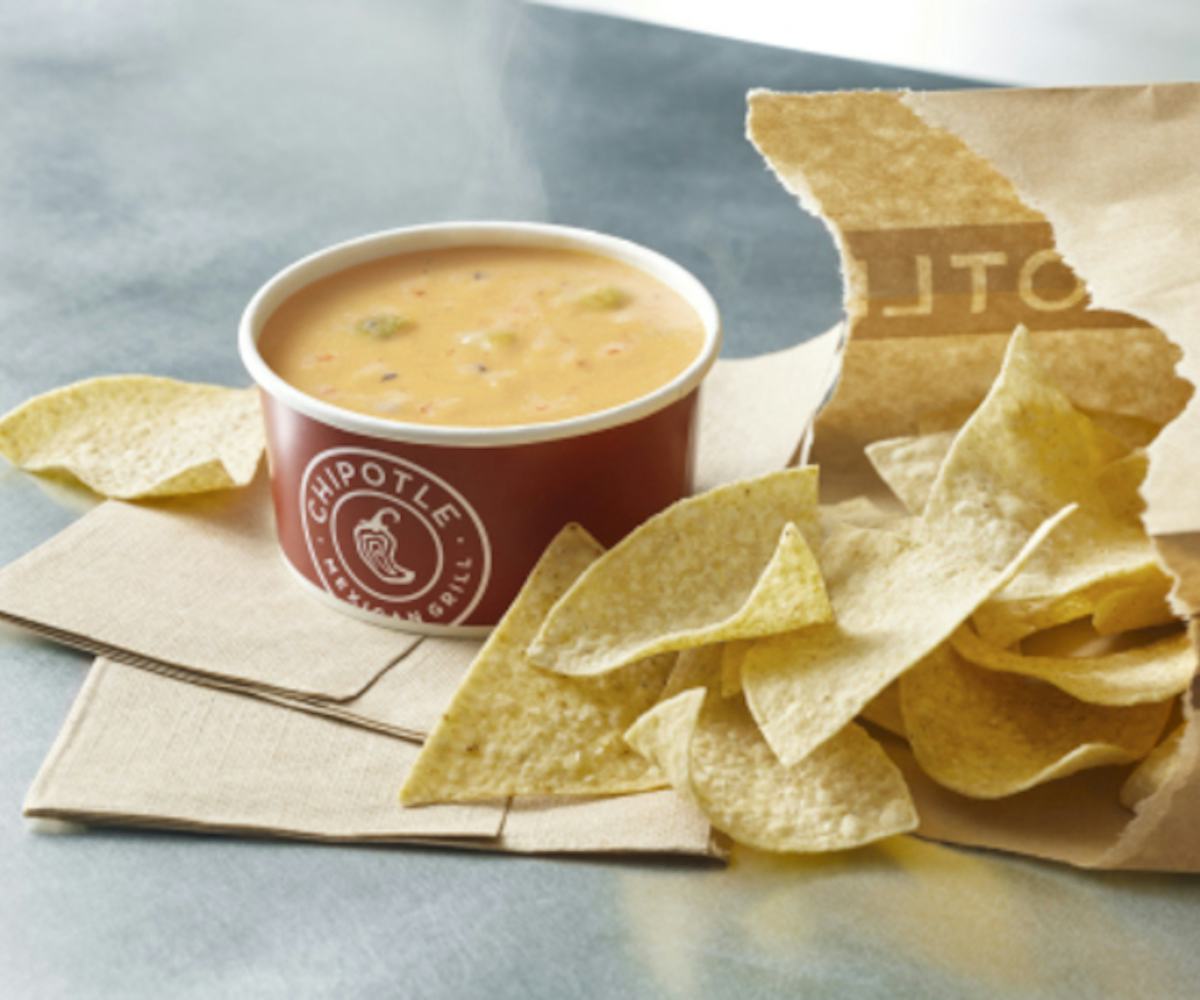 photo via chipotle.com
8@8: Your Morning Scoop
Chipotle is officially adding queso to its menu
Today is...
National U.S. Bowling League Day!
News of the Day:
+ Chipotle has officially announced that it will be adding queso to its menu nationwide. Beginning September 12, you'll be able to get your hands on the cheesy concoction, made from aged cheddar cheese, tomatillos, tomatoes, and several varieties of peppers. Prices may vary slightly by city but range from $1.25 for an add-on to an entrée to $5.25 for a large side order. You can find out more info here. 
+ Harry Potter's original Hogwarts letter is now available to purchase. Movie memorabilia collector Prop Store is holding an insane auction on September 26 in London, which includes the original letter Daniel Radcliffe used in the first Harry Potter film. So, if you're a fan with a casual $4,000 laying around, this may be your chance to snag the one-of-kind item. You can see the letter and other auction items here. 
+ If you're in need of bold new lipsticks for the fall season, NYX's latest release has got you covered. The beauty brand just unveiled its Liquid Suede Cream Lipstick Vault II pack, featuring 24 waterproof shades that dry matte. You can get your hands on the pack here. 
+  Ariana Grande, Pharrell Williams, The Roots, Cage the Elephant, Justin Timberlake, and countless other artists will be performing at a free concert to benefit Charlottesville. A Concert For Charlottesville is produced by Live Nation, Starr Hill Presents, and the University of Virginia and is slated to take place on September 24 at UVA's Scott Stadium. Ticket requests can be made here until September 11. A limited number of IRL tickets will also be available at the box office at John Paul Jones Arena on September 15. Attendees are encouraged to donate to the Concert For Charlottesville Fund.
+ Starbucks lovers could soon be turning to McDonald's to get their coffee fix. The fast-food chain gave their McCafé line an upscale makeover by debuting a new line of espresso drinks, including an americano, a caramel macchiato, and vanilla cappuccino. The drinks will be available for $2 for a limited time.
Deal of the Day:
Lou & Grey just unveiled a brand-new line. Lou & Grey FORM is the brand's new cozy athleisure line perfect for any activity—including running, cycling, walking your dog, or relaxing. The collection ranges from $49.50 to $69.50. Shop it here.
Advice of the Day: 
"Hate speech and freedom of speech are two different things." — Leslie Jones
Gif of the Day: