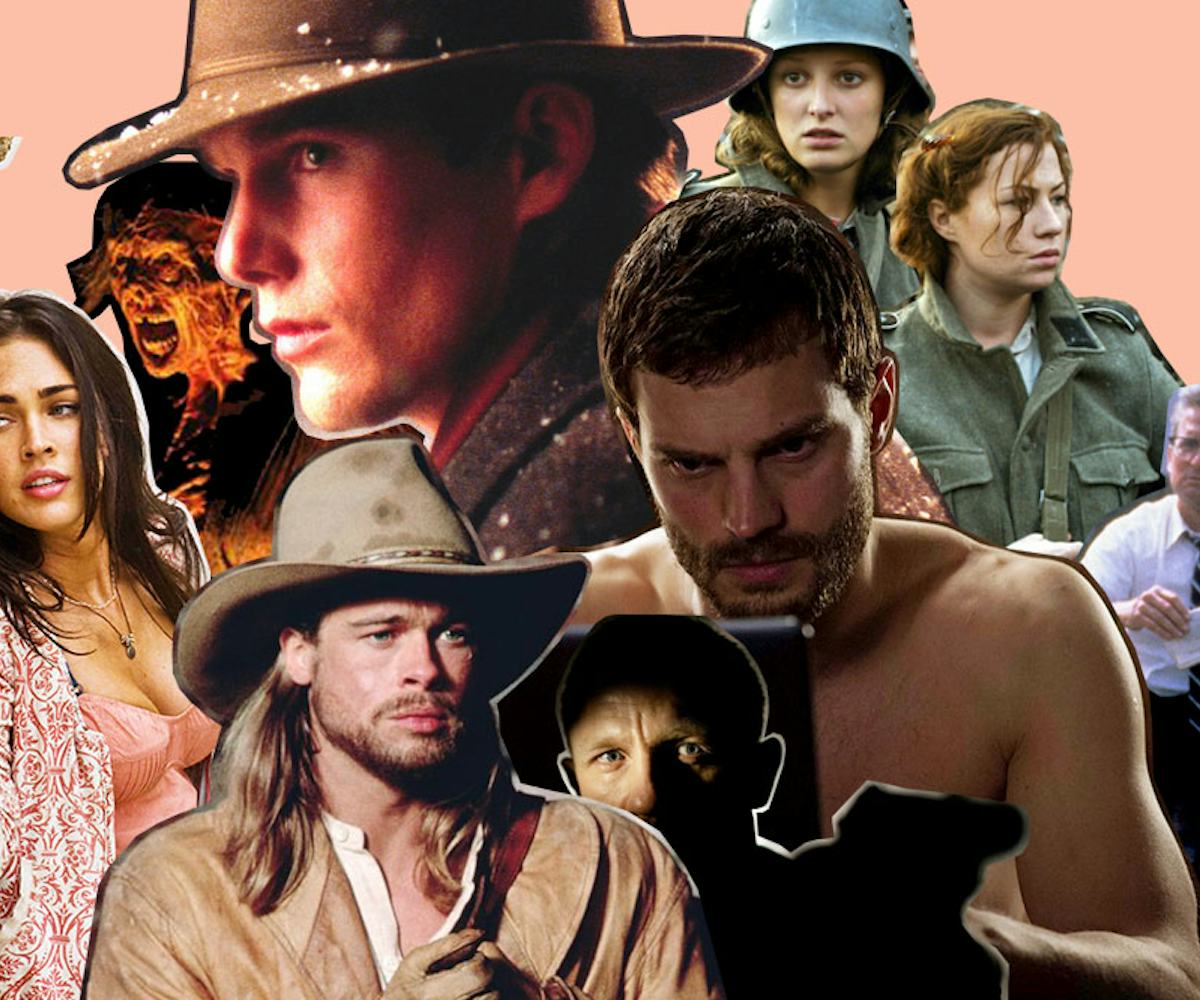 Collage photos via Warner Bros., Sony Pictures, MGM, Newmarket Films, Dreamworks, BBC and Universal
You'll Fall For These 8 Fall Movies That Will Get You Ready For The Fall
Last month we ran a fall movie preview, which was a post highlighting movies that would be released this fall. This post however, while having to do with both movies and the fall, is somewhat different. It is a post about the movies, eight to be exact, that are somehow related to the seasonal qualities of fall, not the temporal ones. You know, leaves changing color, drinks getting warmer and more cinnamon-y, and pumpkin patches. They are not of the summer, or of the winter, or even of the spring. Each of the following movies are so quintessentially fall, it's pretty much the first thing you think about when you read their titles.  
Falling Down
Taking place over the course of a blistering, smoggy day in Los Angeles, this movie will make you glad that it's no longer 90 degrees outside. Michael Douglas stars as William Foster, a disgruntled and recently laid off engineer who is having a really bad day. All he wants is to get home in time for his daughter's birthday party, but after his car breaks down in a traffic jam, things only get worse from there. What begins as a bleak, black comedy, descends into a scary commentary on alienation in a rapidly changing world, made all the more prescient given the "angry white male" narrative that has engulfed current U.S. politics.
Legends of the Fall
Nothing says fall like the last word in the title of this romance novel come to life. Brad Pitt and his hair play Tristan, one half of a duo of brothers who fall in love with the same woman against sweeping backdrops and swelling string arrangements. The movie, which also stars a luminous Julia Ormond and a stately Anthony Hopkins, wears its epic aspirations on its sleeve, spanning World War One, through Prohibition, and all the way to the 1960s. This was the movie that cemented Brad Pitt as a leading man and launched him to global superstardom, and therefore played at least some part in creating Brangelina (RIP).
Olympus Has Fallen
After your trip to the apple orchard, bake yourself an all-American apple pie and check out this generic but enjoyable action movie about terrorists taking over the White House. Gerard Butler plays down-and-out former Secret Service agent Mike Banning, the country's last hope when the president (Aaron Eckhart) is kidnapped and 1600 Pennsylvania Avenue falls under siege. The sequel, London Has Fallen wasn't nearly as well received, ostensibly putting an end to the Has Fallen franchise.
Skyfall
Although they are summer blockbusters at heart, the last few James Bond movies have been released on October, an injection of brawn in a movie season typically reserved for brain. This, the best of the Daniel Craig Bond flicks, sees James at his broodiest, and features the Bond villain in a pantheon full of them, courtesy of Javier Bardem. His introductory monologue remains one of the most frightening moments in all 24 Bond movies.
Downfall
If ever you needed a reminder not to dress up as anything Nazi-related for Halloween (we're looking at you, Prince Harry) you can do no better than watching this hyper-realistic portrayal of Adolf Hitler's final days in his bunker, as the Allied Forces converge on Berlin and his country is brought to its knees. Austrian actor Bruno Ganz gives a remarkable performance as the German dictator, made all the more terrifying when you realize this monster of a man was nothing more than a human being.
Transformers: Revenge of the Fallen
While we struggle to find a frivolous connection between this movie and the fall season, you can struggle to come up with a good reason to watch this overblown mess of a sequel that is basically just a bunch of CGI robots blowing stuff up for no other than to take your money. Can we skip this one?
The Fall
This BBC crime series, in which Gillian Anderson hunts a serial killer played by Christian Grey himself, aka Jamie Dornan, isn't technically a movie, but with both seasons available on Netflix, you can stream all 12 episodes one after the other, giving off the sensation that it's one giant film. Plus Anderson's fiery red hair reminds us of fall foliage, so there's that.
Snow Falling on Cedars
What is a movie with 'snow' in its title doing on a fall movie list? That is a great question that we aren't prepared to answer yet, but if you are dreading winter's forward march, we recommend you watch this sumptuously shot story of Japanese man on trial for murder in 1950s Pacific Northwest, and the newspaper man (Ethan Hawke) who is in love with his wife. It's a little melodramatic, yes, but the snowy landscapes are plain gorgeous, earning the movie an Oscar nomination for Best Cinematography. Winter is coming, and this movie will get you pumped for it.