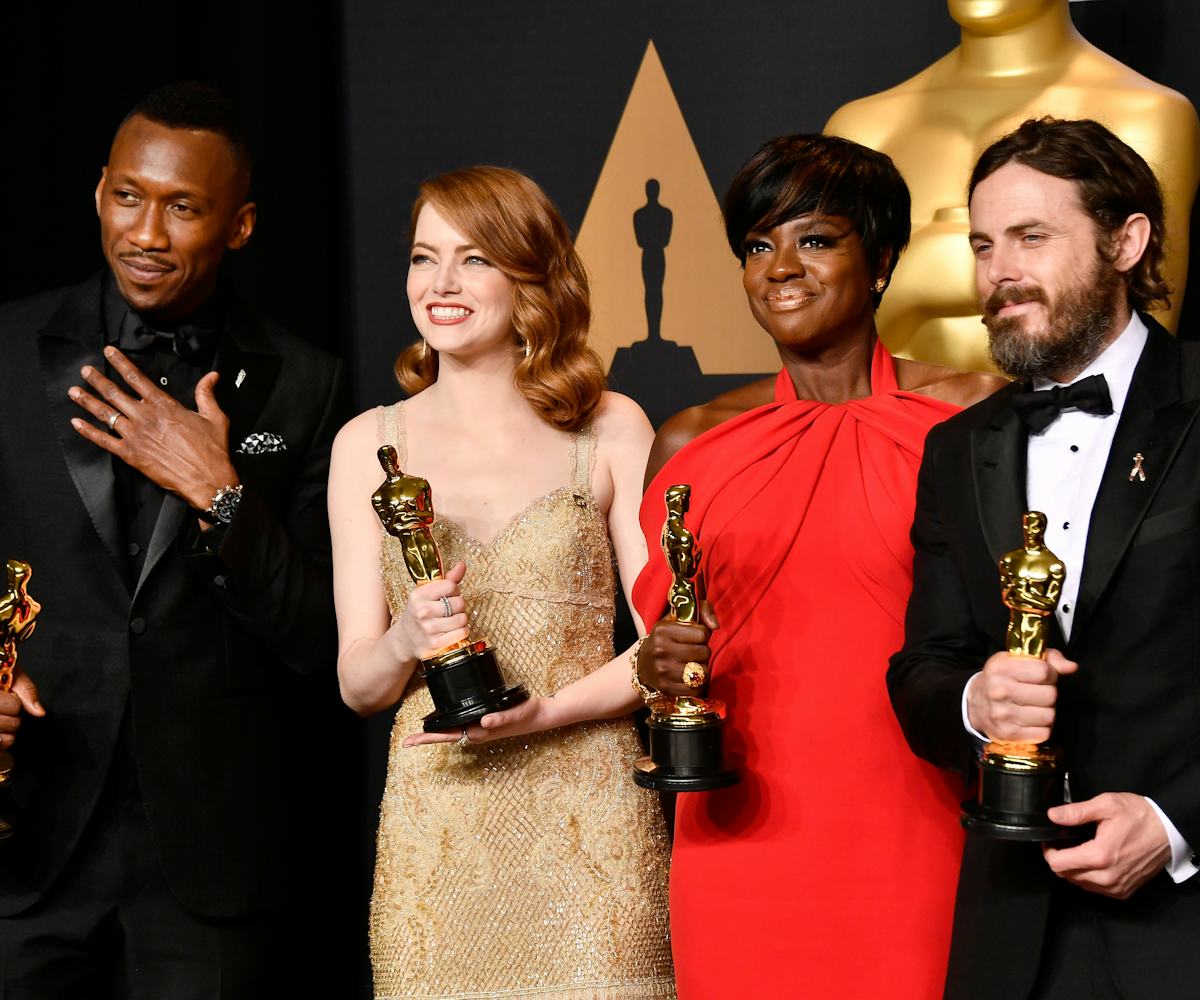 Photo courtesy of Frazer Harrison / Getty images
Diversity Was The Real Winner Of Sunday's Oscars
This is what progress looks like
The 89th Academy Awards have officially wrapped up, and while all anyone will be talking about all week is that insane ending, some other things of note happened that are worth mentioning. As expected, Moonlight and La La Land were the night's big winners, but the Academy did a good job in spreading the love all around.
There were no surprises when it came to the night's acting awards, with Best Supporting going to Mahershala Ali (Moonlight), and Viola Davis ( Fences). When accepting his award, Ali thanked his many acting teachers over the years. "I want to thank my teachers, my professors," he began. "One thing they consistently told me […] was that it wasn't about you. It's not about you, it's about these characters, you are a servant. You're in service to these stories and these characters."
Emma Stone and Casey Affleck took home the other major acting awards of the night, for La La Land and Manchester By The Sea respectively. While neither came as a shock, both actors seemed genuinely stunned by their wins. During his acceptance speech, Affleck ducked any mention of the sexual assault allegations that have plagued him in the past, but the internet wasn't willing to let the actor off the hook that easily.
The night's other major awards went to Zootopia for Best Animated Feature, and O.J.: Made in America for Best Documentary. Best Foreign Film, meanwhile, went to the Iranian drama The Salesman. Director, Asghar Farhadi, decided not to attend the ceremony in protest of Donald Trump's anti-Muslim policies and had his producers read a statement on his behalf instead. "My absence is out of respect to the people of my country and those of the other six nations barred entry into the U.S," he said. "Dividing the world into the us and our enemies categories creates fear."
As expected, La La Land swept the night's major music categories, while both Arrival and Hacksaw Ridge fared well in the technical categories. Best Screenplay went to Kenneth Lonergan for Manchester By The Sea, while Best Adapted Screenplay went to Barry Jenkins and Tarell Alvin McCraney for Moonlight. 
But the night's real winner was diversity. After last year's Oscars revealed the glaring lack of diversity in Hollywood, this year's iteration featured the most diverse group of winners ever, including the first Best Picture winner featuring an all-black cast. Hopefully, that progress doesn't get lost in the aftermath of that bonkers finale.
See your full list of 2017 Oscar winners below.
Best Picture
ArrivalFencesHacksaw RidgeHell or High WaterHidden FiguresLa La LandLionManchester by the Sea**Moonlight
Best Actor in a Leading Role
**Casey Affleck, Manchester by the SeaAndrew Garfield,Hacksaw Ridge
Ryan Gosling, La La Land
Viggo Mortensen,Captain Fantastic
Denzel Washington, Fences
Best Actress in a Leading Role
Isabelle Huppert,Elle
Ruth Negga, LovingNatalie Portman,Jackie
**Emma Stone, La La LandMeryl Streep,Florence Foster Jenkins
Best Actor in a Supporting Role
**Mahershala Ali, MoonlightJeff Bridges,Hell or High WaterLucas Hedges, Manchester by the SeaDev Patel,LionMichael Shannon, Nocturnal Animals
Best Actress in a Supporting Role
**Viola Davis, FencesNaomie Harris,MoonlightNicole Kidman, LionOctavia Spencer,Hidden FiguresMichelle Williams, Manchester by the Sea
Best Directing
Denis Villeneuve,ArrivalMel Gibson, Hacksaw Ridge**Damien Chazelle,La La Land
Kenneth Lonergan, Manchester by the SeaBarry Jenkins,Moonlight
Best Animated Feature
Kubo and the Two StringsMoanaMy Life as a ZucchiniThe Red Turtle**Zootopia
Best Adapted Screenplay
ArrivalFencesHidden FiguresLion**Moonlight
Best Original Screenplay
Hell or High WaterLa La LandThe Lobster**Manchester by the Sea20th Century Women
Best Foreign Language Film
Land of Mine (Denmark)
A Man Called Ove(Sweden)
**The Salesman (Iran)
Tanna(Australia)
Toni Erdmann (Germany)
Best Documentary Feature
Fire at SeaI Am Not Your NegroLife, Animated**O.J.: Made in America13th
Best Original Song
"Audition (The Fools Who Dream),"La La Land"Can't Stop the Feeling," Trolls
**"City of Stars,"La La Land
"The Empty Chair," Jim: the James Foley Story
"How Far I'll Go,"Moana
Best Original Score
Jackie**La La Land
LionMoonlightPassengers
Best Cinematography
Arrival**La La LandLionMoonlightSilence
Film Editing
Arrival**Hacksaw RidgeHell or High WaterLa La LandMoonlight
Costume Design
Allied**Fantastic Beasts and Where to Find ThemFlorence Foster JenkinsJackieLa La Land
Makeup and Hairstyling
A Man Called OveStar Trek Beyond**Suicide Squad
Production Design
ArrivalFantastic Beasts and Where to Find ThemHail, Caesar!**La La LandPassengers
Sound Editing
**ArrivalDeepwater HorizonHacksaw RidgeLa La LandSully
Sound Mixing
Arrival**Hacksaw RidgeLa La LandRogue One: A Star Wars Story13 Hours: The Secret Soldiers of Benghazi
Visual Effects
Deepwater HorizonDoctor Strange**The Jungle BookKubo and the Two StringsRogue One: A Star Wars Story
Best Documentary Short
Extremis
4.1 MilesJoe's ViolinWatani: My Homeland**The White Helmets
Best Animated Short
Blind VayshaBorrowed TimePear Cider and CigarettesPearl**Piper
Best Live Action Short
Ennemis IntériuersLa Femme et le TGVSilent Nights**SingTimecode