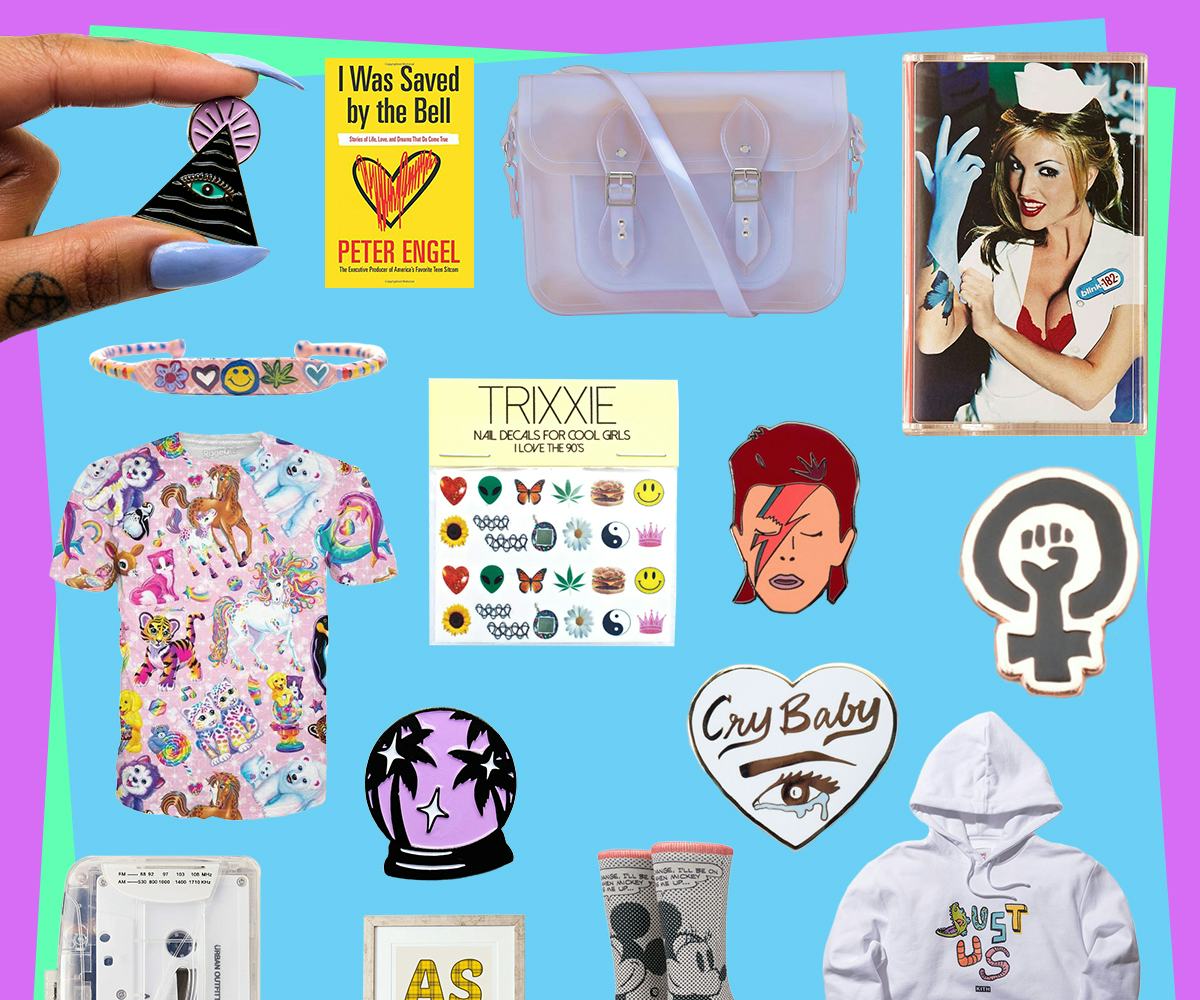 Unwrapped: '90s-Inspired Gifts That Are All That And A Bag Of Chips
'Tis officially the season for gift-giving. For us, it's 31 days of gift giving; for a month, we'll be providing gift ideas for everyone on your list—from your hard-to-please parents to your '90s-loving BFF and even your spoiled pet. Filled with creative picks that got our pulses racing, our Unwrapped holiday gift guides will make Christmas shopping a breeze this holiday season.
Where there's a millennial, there's '90s nostalgia. It's the era everyone longs for aesthetically. Socially? Well, today is messy, but the '90s were messier. But lo, since no one really wants to turn back time, we will simply gift the power of that magical decade instead. It's our own way of having our cake and eating it, too. Plus, you really can't go wrong with a '90s-inspired something for someone because, like, you're buggin' if you don't like the '90s. So be young, be dope, and be proud. Embrace the teen spirit within and give it to others. It'll be the best beans you spend all season long.
I Was Saved by the Bell by Peter Engel, $16.95, available at Amazon.
Go behind the scenes of the iconic TV show Saved by the Bell. Engel was one of the show's developers, and his anecdotes are eye-opening and humble. Fun Fact: Jessie Spano was originally supposed to be addicted to speed, but that was later changed to caffeine. Enticed now?
Susan A, Happy Bracelet, $98, available at NYLON Shop.
It may not be a Shrinky Dink, but it sure has the allure of one. Thankfully, this will last longer.
Urban Outfitters, Clear Cassette Player, $38, available at Urban Outfitters; blink-182, Enema of the State Cassette Tape, $13.98, available at Urban Outfitters.
What's your age again? Old enough to have seen the demise of the cassette player, the rise of .mp3s, and now the reemergence of the cassettes. All those small things were bound to get lost anyway. Now you'll look real hip and with it while jamming to one of the best '90s albums out there.
Kith, Kith x Rugrats Just Us Hoodie in 'White,' $150, available at Kith.
Live your Pickles family fantasy without sacrificing 2016's ultimate fashion necessity: the hoodie. Reptar Bars not included.
Lisa Frank, Character Collage T-Shirt, $39.99, available at RageOn!.
It doesn't get more '90s than Lisa Frank.
Trixxie, I Love The '90s Nail Decals, $8.40, available at Dolls Kill.
Nailed it. Literally.
Clockwise from top left: Robin Eisenberg, Mystic Eye Enamel Pin, $10, available at The Hoodwitch; Little Arrow, Cry Baby Pin, $10, available at WILDFANG; Felt Good Co., Feminist Fist Pin, $10, available at WILDFANG; Sleepy Mountain, Bowie Pin, $10, available at WILDFANG; Robin Eisenberg, Crystal Baller Enamel Pin, $10, available at The Hoodwitch.
Don't say it, pin it.
A Spring Bear, As If Movie Print, $13.05, available at Etsy.
If your walls could talk, they'd say...
The Cambridge Satchel Company, The 11" Melissa x CSC Satchel in 'Holographic,' $140, available at The Cambridge Satchel Company.
The Jelly shoe craze may not be a thing anymore, but the material is, and it makes for the perfect bag. 
Disney x Stance, Tick Tock Minnie, $20, available at Stance.
If you thought you'd go through a '90s roundup and not encounter Disney, you'd be wrong. Kick it old school with these comfy gems.
Check out more of our Unwrapped gift guides here.