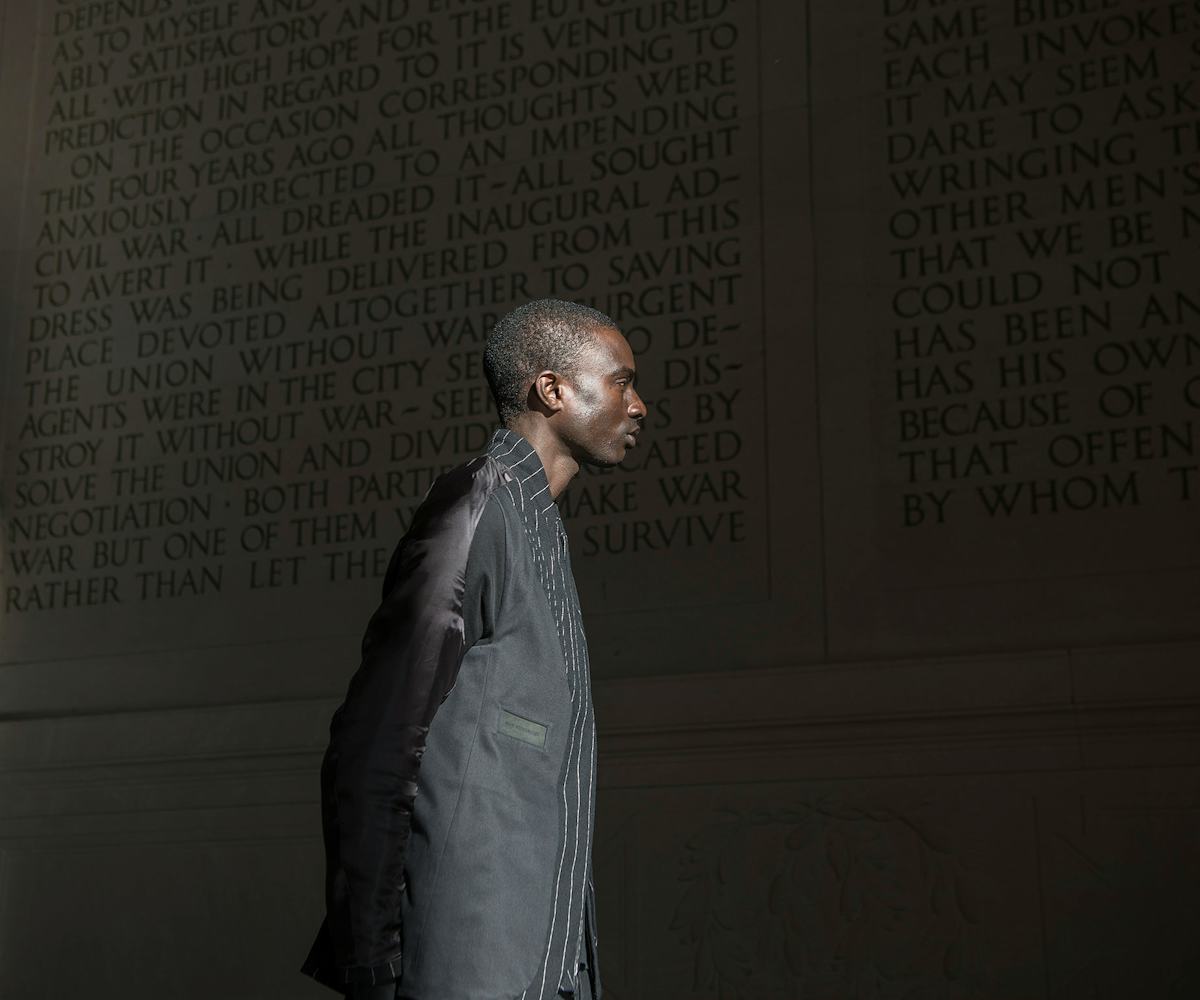 Photo courtesy of Abasi Rosborough
How Abasi Rosborough Makes High-End Clothes For The Masses
""Everything is meant to work with everything else"
New York is out to destroy your clothes. Anyone who's spent prolonged time in the city jockeying for position on the subway or dodging a stranger's falling latte understands that, but beyond the physical peril, there's also the ever-present risk of being the butt of the joke in a cynical, fashion-obsessed environment. Abdul Abasi and Greg Rosborough, the founders of NYC-based label Abasi Rosborough—now in its eighth season—understand that even high-end, progressive menswear needs to be able to survive the day-to-day rigor of the city as well as the alternating environment.
"One thing we always challenge ourselves to do is the Grocery Store Test. I lived in Bed-Stuy [in Brooklyn, New York] and people would clown you if you're wearing funky clothes," says Rosborough, who is wearing all AR before he heads over to the brand's factory space in Manhattan's Garment District. "So the Grocery Store Test is: 'Is this conceptual enough that we find it interesting, but you can still wear it into a grocery store in Bed-Stuy and not get clowned for what you're wearing?' It's this commercial versus critical angle of finding where it fits in."
Abasi and Rosborough met at FIT in the mid-2000s, coming from drastically different backgrounds. Abasi was a missile and attack helicopter technician for the U.S. Army stationed in the Netherlands, while Rosborough was a student manager for the University of Arizona's basketball team who got his foot in the door for a team design meeting with Nike after he was unimpressed with the uniforms the athletic giant had created and submitted his own. The two went separate ways after school but maintained a mutual respect for each other's different styles that ultimately manifested in the brand's 2013 launch. 
"He is willing to probably take more risks than I am in a design idea or something like that, and then I'm maybe the more practical one, so I'm like, 'Yes, but we need to wear this on a daily basis.' That's the tension point that I think breeds interesting things," says Rosborough.
That balance between intricate statement pieces that you're fearful to wear on a weekday, and the other end of the spectrum—the heritage-indebted, buffalo plaid-smothered collections that seem to be created for an urban hunter archetype that doesn't exist yet—is at the core of what makes Abasi Rosborough such a fascinating brand. Their pieces are dignified and detailed without coming off as cluttered, and you'd be hard-pressed to find two items that clash if you reached into the closet eyes-closed. 
"Everything is meant to work with everything else, it's like a modular system, all the details in the pants mimic the details in the shirt mimic the details in the jacket," says Abasi. "Because that's the way we dress in an urban environment; you're peeling layers on and off, and there are all these microclimates." 
Unsurprisingly, Daiki Suzuki, who founded the innovative label Engineered Garments that blends Japanese sensibilities with American menswear, was a mentor to the designers. Abasi worked at the label after graduating from FIT, and said that the experience taught him about the "amount of love and soul and emotion that's put into garments," and the beauty of natural fibers. 
"Right now, especially, there's athleisure and all this techno-synthetic, Fri-fit, nylon whoop-de-whoop. And all that stuff is well and good, but a) doesn't age well, and b) once it's in a landfill, it takes hundreds of thousands of years to degrade, so we like the idea of creating something that's made from nature for the natural body."
Suzuki himself praised their reimagining of the suit beyond simply making it seem more futuristic, as well as their steady vision.
"I liked their philosophy of not following trends and working more on pattern making," Suzuki says. "They have their own ultimate theme to challenge and keep improving and adjusting designs."
The emphasis on real usage by real people is evident in dozens of small details on garments, from curved side seams that mimic the contour of the wearer's obliques to the brand finally solving the enduring menswear crisis of whether to get a two or three button suit (the answer: one button, which they've turned into a magnetic closure on their jackets going forward).
With seven collections completed, the brand sees their upcoming Spring/Summer 17 one, Epoch, as the close of their first chapter. 
"The first seven collections are this introduction of our design language, our alphabet, what we're about," says Abasi. "And now that feel like that's comfortably in the world and founded we want to take it to the next level."
But part of running a menswear brand that's suited for the way people actually lead their lives involves more than just crafting garments optimized to actually be worn; it involves being a part of the messy, angry, divisive world that we all inhabit. They have several initiatives that offer steep discounts if people adopt shelter animals or donate their previous suits to charity, and have been just as disgusted by the descent of American politics as everyone else.
Just before the 2016 election, Abasi Rosborough put out an editorial, titled "Dissension," that features model Aly Ndiaye in pieces from their Autumn/Winter 16 collection cast against pillars of the American government including the Lincoln Memorial and Capitol Building. It also features quotes from Lincoln, Thomas Jefferson, and John Adams about the potential downfall of the American way of life, which are terrifying now and will likely get even scarier in the future. 
"It was an emotional conversation, 'How're you feeling about the election?' And our friends too were like, 'I'm pissed off, I'm disgusted, it makes me lose passion for this country.' You just feel disconnected, and the word that kept coming up against was 'dissension,'" Rosborough says, noting that they used the five stages of grief as inspiration for the direction. "We have a country with a lot of smart and interesting people, and this is what we've got."
AR plans to continue questioning and challenging these institutions, and incorporating these ideas into their work in the AW17 collection, also dubbed "Dissension," which Abasi says is "somewhat of a radical departure from what we've done before."
"It's the first time we've taken on a more contemporary subject matter. We were very inspired by the whole protest movement, Standing Rock, Black Lives Matter," Abasi adds. "What is the uniform of the common man? What is the uniform of the protestor?"
These themes may sound difficult to employ in elevated menswear, but AR has never shied away from a challenge. Their first goal upon starting the label was to reinvent the suit, a centuries-old icon of American menswear that had become a symbol of the joyless nine-to-five slog. In addition to solving the button debate, they made it reversible, removed the shoulder pads, and used knit materials to give the sleeves more flexibility.
The suits have been a decisive hit for Abasi Rosborough, and the founders have ambitious goals for where they want to see the menswear staple go in the future. Rosborough hopes that in 10 to 15 years the suit as currently designed is completely rethought, while Abasi echoes that sentiment in even bolder words.
"If you're going to be different because you're improving on something, I think the idea is for it to be the actual next wave," he says. "It's like you have an iPhone, but then you're going back to your flip phone. We're saying that this should be the new standard, and you should only look to get our suiting or something similar."
With an emphasis on making progressive clothing for actual humans and raise an ingrained awareness of the world around them, it's hard not to picture these goals coming to fruition; even harder than it is to picture yourself wanting to wear a suit on the 1 train.