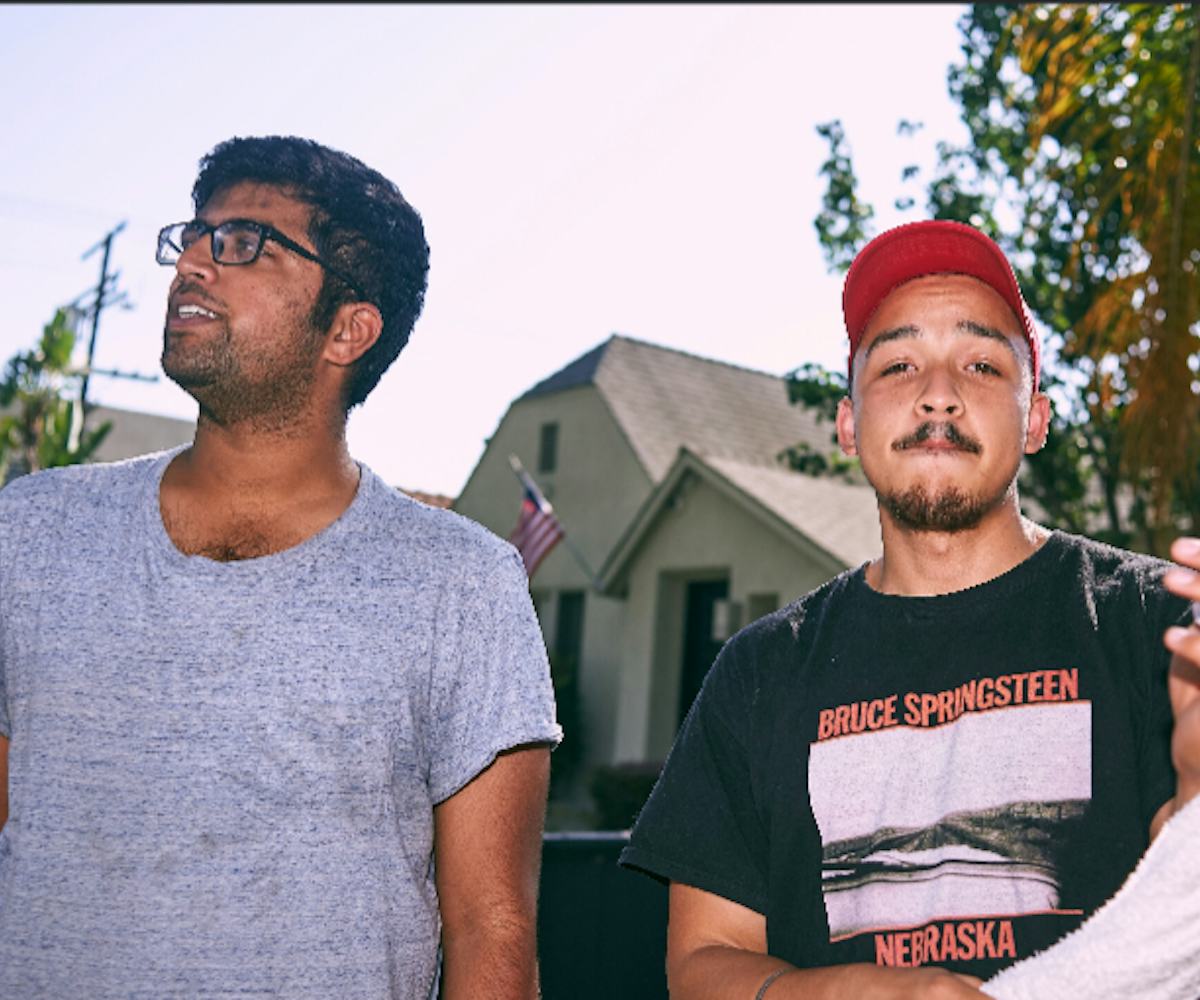 Photo by Will Azcona
Abhi//Dijon Are Paving Their Own Path For Their Post-Grad Lives
"If anyone knows we exist, that's awesome"
Everything about the trajectory of Abhi Raju and Dijon Duenas coming together is the work of serendipity. The 20-somethings met as high schoolers in the DMV but weren't initially friends. Their shared interest in listening to music brought Raju and Duenas closer together, and eventually influenced them to create their own. During the latter part of 2014, the internet was buzzing about Abhi//Dijon's moody R&B tunes that have a warm demeanor with a touch of innocence. Last year, there was a bit of lull, though. The time that passed between the release of the duo's EPs made many of us wonder, what happened to Abhi//Dijon? What we didn't realize was that they were busy tying up the loose ends of their college careers. 
They've now graduated, relocated to Los Angeles, and released their latest project, Montana EP, which embodies the direction Abhi//Dijon wanted their music to take. Instead of radiating warmth, coziness, and self-indulgence, Raju and Duenas wanted to channel paranoia and pettiness within the five songs. The vibe is a balance of heaviness and softness and fills out the emotional landscape that Abhi//Dijon envisions.
For instance, "Ignore" is about "a very shitty person being shitty to something they don't understand, a person's personal growth," while "End" plays out as a letter from a worrisome mother talking to her child. The standout is "Red Light," a song that both of them describe as "strange." "Everything else is scattered fragments of thoughts and ideas and conversations," adds Duenas. 
Since they started taking music seriously, Abhi//Dijon has gone from the low-key audience of Pigeons & Planes readers to the huge global reach of NPR. "If anyone knows we exist, that's awesome," says Raju.
We spoke to the duo about the origins of their relationship with music, balancing passions with professions, and mapping out the rest of their post-grad lives. Learn all about them from the discussion, below.
How did you get into music? What kind of stuff did you start listening to, and how did you develop an interest in creating your own?
AR:
For me, I grew up on a lot of Indian music and a lot of old classic rock type stuff. I started to play in bands in middle school, and I think that's where my interest in music started. 
DD:
I was from a military family, so I moved around a lot. I didn't get into making music until I was 16 in Washington state. My mom's from Maryland, and I would come and visit her all the time—that's how Abhi and I got to know each other—but we really didn't start making music together until senior year of college. It was a really spontaneous thing. I wasn't in bands or anything like that, I just made beats. I don't know how it happened... boredom in the suburbs? That's how it happened, boredom in the suburbs.
In another interview, I read that you guys don't just listen to one genre, but a ton of different types of music. I found it interesting as someone who's also a person of color, that you can have such diverse taste and appreciation for different types of music, but also that real love for R&B. 
AR:
Even when we're making music, it's not like we're making R&B tunes. I just think that the way melody and emotional feeling comes out, it's just more rooted in R&B. We're definitely influenced by we grew up with all types of music. We have very different tastes, we probably like everything between us.
DD:
The days before making music, I grew up on strictly R&B and rap because that was the nature of my family. I'd be moving between my parents, and my cousins only watched BET and things like that. But by the time Abhi and I started linking up in late high school, we were only listening to Animal Collective and things like that. It's all about harmonic stuff and melodies... it's interesting because I think it's an "our generation" thing; I went from super hip-hop—like crazy hip-hop—to, by the time I started making music, R&B music, which is a thing I think you see people of color doing. 
Could you tell me about the timeline of putting the Montana EP together?
AR:
We started our EP literally right after our last one, right when we graduated [from] school. At that point, [Dijon] was supposed to be a teacher, I was supposed to be in IT. I think we kind of were like, "Let's just put 100 percent into this music thing." That's when we started working on
Montana
. We finished two or three songs in December and January. I think the whole EP was done by March. The last six months have just been us waiting for it to be released. It's a big weight off of our shoulders.
DD:
The whole career thing... You know, the internet renders music-making kind of weird. When we first started making music, we had a few friends who blogged and that's how we kind of got any traction at all. It throws you off because we weren't sure what to do. We meet a lot of kids now who are signed and things like that and they know what to do, but things were thrown at us a little too fast. I don't think we realized the implications. We wanted to do the EP, but after we had a few songs done, we went through a recalibration of our sound and what we wanted to do and if we're going to put the 100 percent into it. I think that's what also contributed to waiting to drop it for a while is being able to know once we release it, we have to be behind it. With this one, we're like, "Let's wait." We always have an idea of what the next thing's going to be, trying to stay ahead of ourselves. Otherwise, we'd get into a funk and get low about it because the hype is there and the hype's not there. You said you were around since "Twelve," and that's the 11th song we ever made together. It wasn't like viral, but the hype that came around that was overwhelming.
AR:
Especially because we uploaded it with no intention of anyone hearing it. It was for us. We didn't think anyone was going to hear it. So to have people that you listen to reach out to you is like a "you can actually make music." Especially senior year of college, that was a strange time for that to be happening.
What was the creative vision behind Montana?
DD:
It's a pretty strange EP. Abhi and I have a particular direction we want our music to go in, and 
Montana 
is a nice primer for that. We're slowly letting go of things and working to get it bigger.
Montana
's an exit from the mentality of two kids in college who are maybe making music or maybe not making music. Now, it's more like, "This is us making music." For us, it's an introduction.
AR:
I feel like people before were into the thought of making lo-fi beats inspired by the '90s. That's cool, but I never grew up on any '90s stuff, and
Montana 
is our way of showing people that we're still rooted in whatever we did, but we're trying to take a step toward songs and songwriting. Like Dijon said, we are actually making music. It's a step in the direction that we want people to associate us with, for sure.
DD:
It's a lot darker and I think that's not an accident. We're not bummers who are like, "Life's a drag," but I think there's something disingenuous about us making very cheeky, cheery stuff. A lot of the stuff we try to focus on here is a little more minimal. We hide behind stuff, but this one, we go all the way. Some of the songs we wanted to make and we know that we're going to get better. We wanted to make some stuff we never heard before. We're particularly proud of "Often" because it's a very weird micro song. It's more a direction that's still retaining melody and weight, but also makes it sound kind of cool.
Do you both like living out in L.A.? Is it better for your creativity?
AR:
It's definitely nicer than being in Maryland because it's so quiet in Maryland. All the suburbs do is manifest boredom and make it intense. Out here, there's so much to do. In terms of music, the one thing that's both a positive and a negative is that there are so many people trying to be creatives that it's sometimes overwhelming but also inspirational at the same time. 
DD:
It's exactly what you said. Sometimes it's overwhelming. Something that doesn't come out in our music and it really shouldn't, is that we're hyper-competitive to a fault. That's where it's good and bad. You see a lot of kids doing really cool shit and part of it's positive, but it always comes back relative to what we're doing. It's a devilish thing, sometimes, you get really hyped and excited to just do it. Some days, you're like, "It's a bummer, everybody's doing it." I do miss the East Coast; I went back recently. You learn to miss the habits you get into, some of the boredom you miss because I'm not bored here, I'm always stimulated. It's a wild time. Going back home, you realize that boredom probably triggered us being so creative. Sometimes you have to force it because there's so much to do. It's been a nice move.