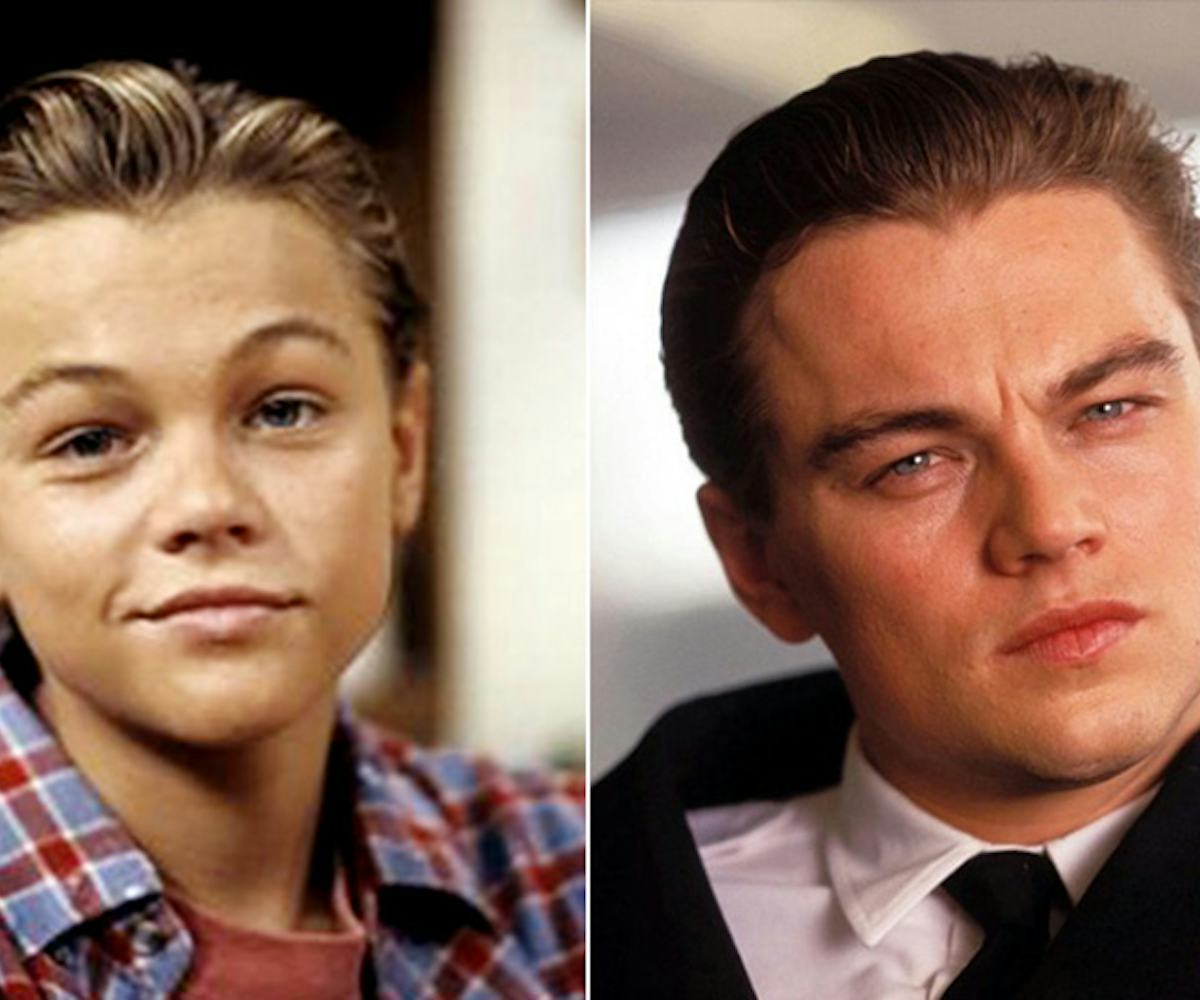 Photo: Courtesy of Warner Bros. Television; Courtesy of DreamWorks SKG.
This Might Be Our Favorite Tumblr Yet
meet actual teen vs. adult teen.
There are many Tumblrs out there—more than enough to fill a single lifetime, for sure—but not all stand out. The ones that do, though—like Ann Foster's Actual Teen vs. Adult Teen—are captivating, hilarious, and, most importantly, smart. After realizing the age discrepancy between Joseph Gordon-Levitt's characters, she got to thinking about other actors who kept playing teens well into their actual adult years. "I started it a few years ago, thinking there would be like five or 10 actors to feature," she tells us over email. "Little did I know it would be such a fascinating wormhole to fall into!"
Well, we fell into it, too, and decided to reach out to Foster for a bit more commentary on some of her favorite posts. It's all very illuminating and highlights that old Picasso quote: "Youth has no age."
Joseph Gordon-Levitt
"I was surprised to find Joseph Gordon-Levitt, aged 24, playing a teen in 2004's Brick, looking nothing like the teen I'd been so happy to see represented five years prior. I think this was my first post."
Left: 18-year-old Joseph Gordon-Levitt playing 16-year-old Cameron in 10 Things I Hate About You.
Right: 24-year-old Joseph Gordon-Levitt playing 16-year-old Brendan in Brick.
Mae Whitman
"Then once you start leaning into this, you find wackadoo things like Troian Bellisario on Pretty Little Liars being older than the guy who plays Ezra, the teacher. When I see ads for new teen shows, I always eagerly Google the actors' ages for new posts and I'm always bookmarking pages where old yearbook photos of stars are shared."
Left: 16-year-old Mae Whitman as Ann on Arrested Development.
Right: 26-year-old Mae Whitman as teenage Bianca in The DUFF.
Bianca Lawson
"And of course, legendarily, Bianca Lawson was a teen on Buffy when she was 17, and 15 years later was still playing a 17-year-old on Pretty Little Liars and American Horror Story? Like, how is that even possible?? Although, she looks like a teen at age 31, unlike, for instance, Trevor Donovan's Teddy on 90210 like…what?"
Left: 18-year-old Bianca Lawson plays 17-year-old Kendra on Buffy the Vampire Slayer.
Right: 31-year-old Bianca Lawson plays 17-year-old Maya on Pretty Little Liars.
Leonardo DiCaprio
"Through dialogues with my readers, I've learned interesting things about why adult teen casting is so much more prevalent in the U.S. than in the U.K. It's partly to do with Labour Law, and partly because the U.K. is a smaller country, so it's easier for kids to film a role and go home after.
"But an even more common conversation is that actual teens watch these shows and see 25-year-olds playing high schoolers, which can make the IRL teens feel like they're somehow inadequate. One teen reader wrote me to say she felt badly she looked so much younger than teens on TV, but this blog has helped reassure her that her appearance is what teens are supposed to look like.
"I find showing the pictures of squishy-looking actors in their teen years helps make everyone feel a bit better about how they looked at age 16. Like, if you had cast 16-year-old Leonardo DiCaprio and Kate Winslet in Titanic, nobody would have believed it because they both [would have] looked 12."
Left: 17-year-old Leonardo DiCaprio as Luke in Growing Pains.
Right: 28-year-old Leonardo DiCaprio as 17-year-old Frank in Catch Me If You Can.
Stacey Dash
"I got a message from an overseas reader who had always just assumed American teens were very old-looking compared to teens in other countries, but now she knows it's because the actors are all 25."
Left: 18-year-old Stacey Dash as Michelle on The Cosby Show.
Right: 28-year-old Stacey Dash as 16-year-old Dionne in Clueless (a role she reprised on the TV show until she was 33…Stacey that is, not Dionne, who stayed a teen).
Shailene Woodley
"Shailene maybe could have pulled off the teen role if the filmmakers never gave her a soccer mom 'do—emphasizing her real age."
Left: 16-year-old Shailene Woodley as Amy on The Secret Life of the American Teenager.
Right: 22-year-old Shailene Woodley as 16-year-old Hazel Grace in The Fault in our Stars.
Dylan O'Brien
"Dylan O'Brien was one of the younger cast members when he started on Teen Wolf, a show that now inexplicably boasts both other actual teens acting opposite adult teens, including Dylan, in their mid- to late-20s."
Left: 16-year-old Dylan O'Brien in his junior year yearbook photo.
Right: 21-year-old Dylan O'Brien as 16-year-old Thomas in The Maze Runner.
Lucy Hale
Left: 16-year-old Lucy Hale as Hadley on The OC.
Right: 23-year-old Lucy Hale plays 17-year-old Aria on Pretty Little Liars.
Zac Efron
Left: a picture of 17-year-old Zac Efron from 2004.
Right: 21-year-old Zac Efron as 17-year-old Mike in 17 Again.