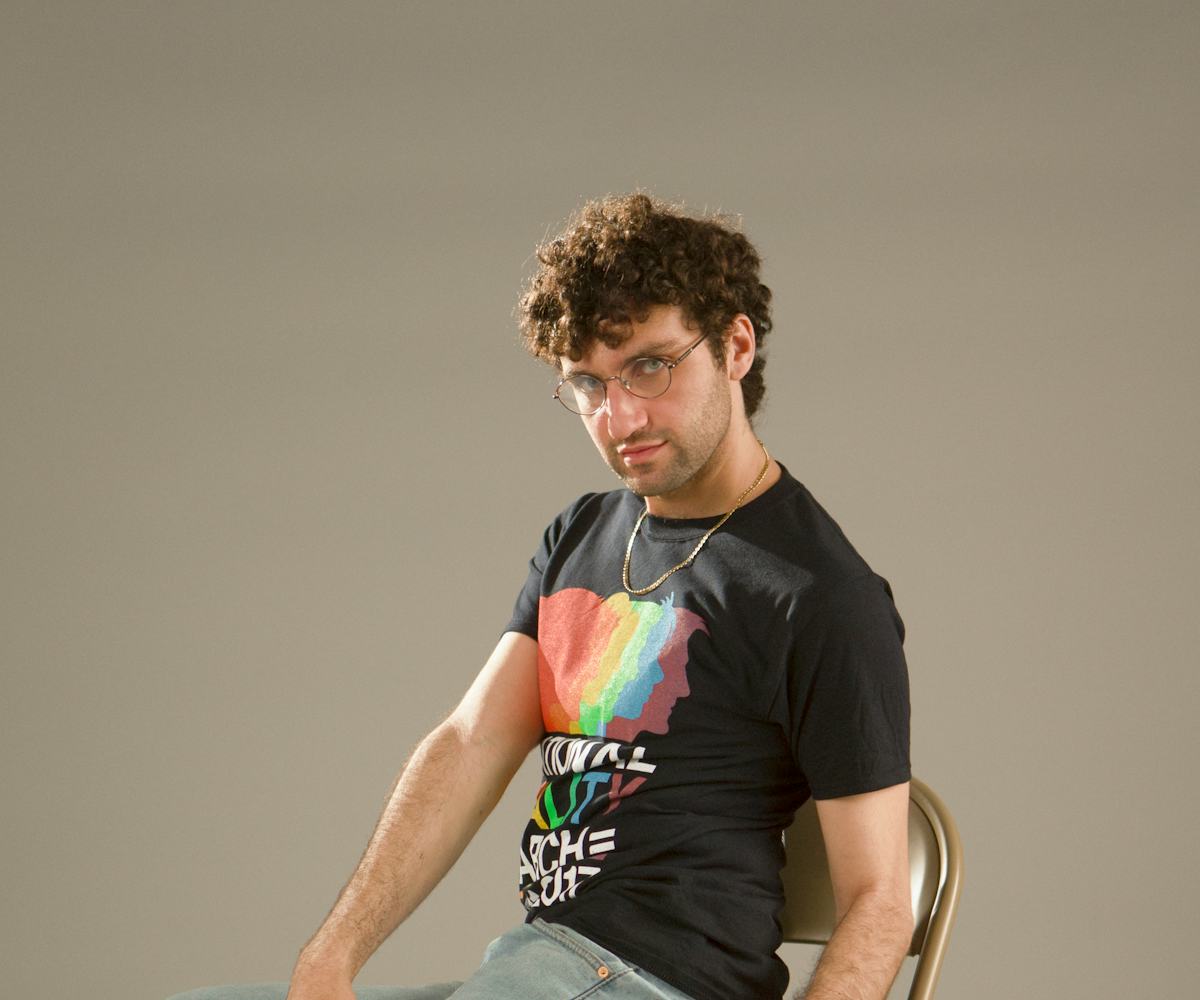 Photo by Logan Jackson of You Do You
Getting To Know Adam Eli, An LGBTQ Activist Making Waves
Leave no gay stone unturned
At 24 years old, New York City's Adam Eli is on the forefront of activism in the LGBTQ community. Always busy organizing a rally, march, or a gathering, Eli's involvement with this year's Pride Month is no exception: Along with the newly revamped Grindr, he has taken on the task of organizing buses to D.C.'s Equality March, and he staged a rally at Stonewall with Gays Against Guns earlier this month. Eli's personality on social media is strong, effervescent, sincere—and he is an even brighter light in person. Recently, at the You Do You studio, Eli and I had an energetic portrait and interview session, leaving no gay stone unturned. With a Barbra Streisand tee in tow and "Born This Way" playing softly in the background for atmosphere, we talked about everything from activism and social media to, yes, Barbra.
What is the biggest misconception about activism?
That our generation does not care. People want to help and show up, they just don't always know how. As an activist, I try to create easily accessible ways for people to contribute. Then I use social media to spread the word.  
Is there a specific instance that inspired you to be an activist?
My history teacher in ninth grade showed us the film Hotel Rwanda. Something in me shifted. I came home for Shabbos dinner, and my mother immediately asked what was wrong. That year I organized two buses from my high school to Save Darfur: Rally to Stop Genocide in Washington, D.C.
Speaking of buses to D.C., tell me a bit about your recent experience organizing bus rides to the Equality March with Grindr. 
My friend Rooney and I partnered with Grindr to bring 200 queers back and forth from New York to D.C in a single day for the Equality March. Since the Save Darfur Rally, I had dreamed of leading buses to D.C for another protest. It was late January and the warmth of the Women's March was starting to fade when the Equality March was announced. I knew this was my chance and started planning immediately. Could I organize a nationwide historic LGBTQ march on Washington from my studio apartment? Probably not. Could I organize a safe, free, easily accessible, inclusive way for the NYC LGBTQ community to attend the march? Absolutely.  
Based on your social media presence, Judaism plays a large role in your activism. Can you tell me a little about that? 
Elie Wiesel once said, "To be Jewish is to assume the burden of the past, to include it in concerns for the present and future." The Jewish people have a long history of persecution. My great grandfather was forced to leave Russia because of the pogroms. My grandmother lost all of her aunts, uncles, and cousins in the Holocaust. The Jews know what it is like to be persecuted. Therefore, I believe, we have the responsibility to stand up for anyone anywhere who is being mistreated because of who they are.  
It seems like social media is a pretty amazing tool for a contemporary activist; how important do you consider it to be in the current state of the world? 
Social media is one of the most important tools the resistance has. Social media is about self-expression, sharing information, crafting identity and community. It's all things that existed long before Wi-Fi, now we just have unprecedented access to all of them. If used effectively, the power of social media is limitless. 
Any tips on how to use social media effectively? 
Everyone expresses themselves and communicates differently. Therefore everyone is going to use social media differently. My big rule for myself is, "Do not post unless it is hopeful or a direct call to action." My other social media rule is, "Do not tell anyone else how or what to post."  
What celebrities do you think are doing a good job of using their fame for activism? 
I love when Amy Schumer talks about gun control. I wish more high-profile people spoke about gun control and gun violence. 
Who do you think are the coolest women in the world?
Amal Clooney and my little cousin Madison.  
What first comes to mind when I say "Barbra Streisand"?
Iconic legendary queen who is talented, brilliant, incredible, amazing, showstopping, spectacular, never the same, totally unique, completely not ever been done before. 
What are you working on right now that excites you?
I am a Social Media Marsha—instead of Marshal!—at Gays Against Guns. We just had a Memorial Rally marking one year since the Pulse massacre at the Stonewall Inn. I facilitated all of the social media from the rally. Our next meeting is coming up, and I am excited to hear what our next big project will be.   
Any words of wisdom for people looking to follow in your footsteps?
Be authentic, and the rest will follow. Doing and posting things because you think that is what other people want did not work for me. If it is not real, it will not work. 
This story is a collaboration between NYLON and You Do You.