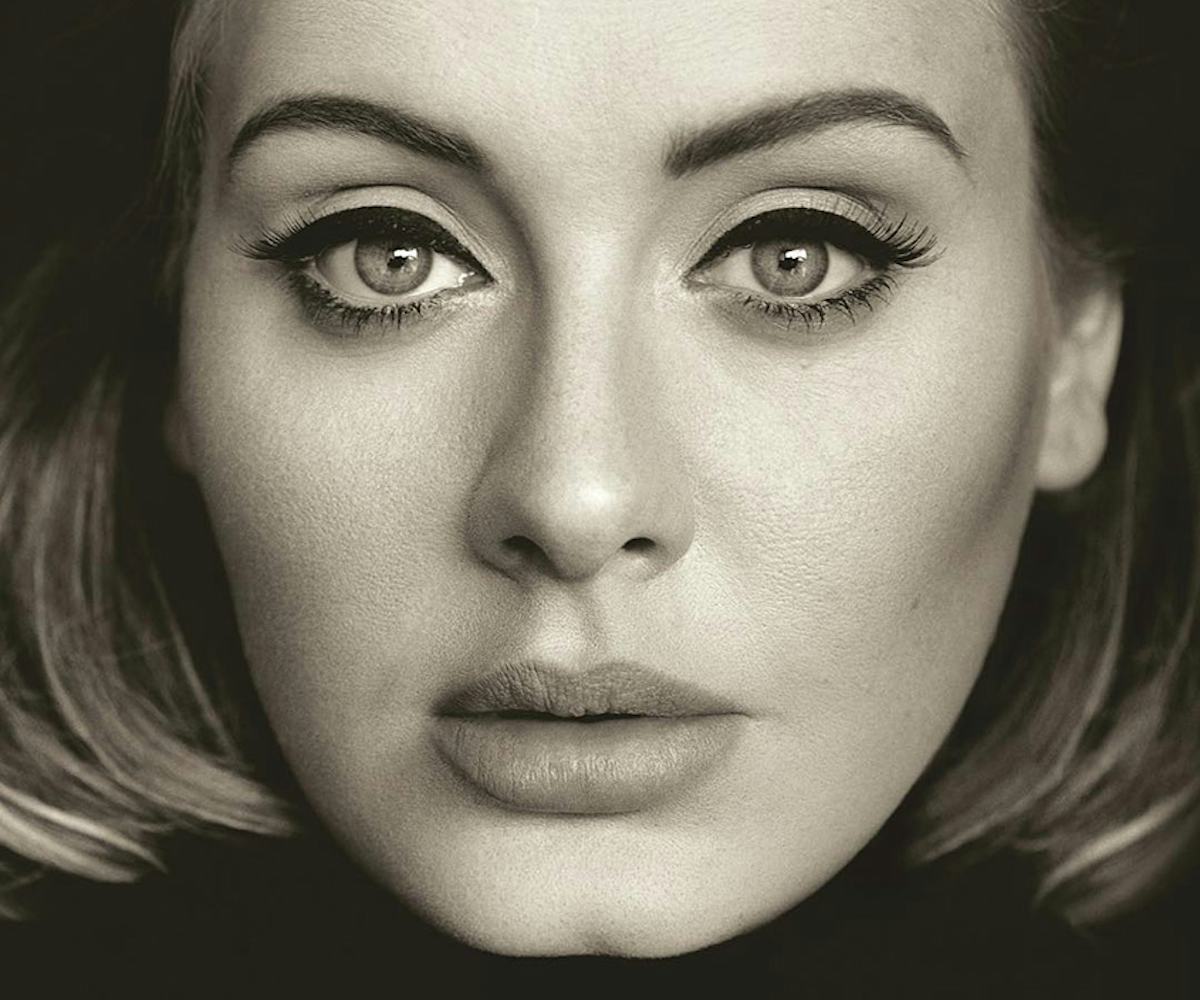 Photo: Courtesy of Columbia Records.
Adele's New Album Is Something To Move To
Hello, it's here. Adele's third, highly anticipated studio album 25 hit the proverbial shelves this morning and from first listen, it's, well, good. The disco album she was rumored to be making is nowhere in earshot, but there's a decidedly more uptempo vibe to the whole thing. It's a welcomed decision on her end, and thankfully, doesn't distract the listener from the things we all thrive off of: Adele's lyrics.
You have, at this point, committed "Hello" to memory. (If you've really been twiddling your thumbs, waiting for the follow-up to 21—the album "that just gets me, you know?"—you've memorized "When We Were Young," the second preview she teased.) Both tracks were (and are) standard Adele: embedded in the present with a strong, moving yearn for the past; one's a bit regretful while the other is more complacent. The rest of the album's songs (11 in total) are a healthy mix of making up and moving on. There are still breakup elements, but the days of 21 (and the sheer grandiosity of 21) are in the past.
"Send My Love (to Your New Lover)" finds Adele at her most upbeat. Thanks to Max Martin, the man behind pop heavyweights like "Teenage Dream" and "Oops…I Did It Again," Adele turns what could've been a moving piano track into something more like a middle finger to her ex. We've got money on this being her next single. Another contender is "Water Under the Bridge;" it should've been in the soundtrack to a Nora Ephron rom-com. That, or "Sweetest Devotion," the song that features her son, Angelo.
The rest of the album stays in its lane. Adele's 25 is a solid LP. It's worth the hype, but had she come out with it before 21, it wouldn't have packed the same punch. Adele's got nostalgia (nowstalgia?) working on her side. She's been gone—almost literally—for nearly half a decade. Unlike her Top 40 peers, she truly retreated from the spotlight, lived, learned, and sat down to make sense of it all for this project. The age 25 is a pivotal one. It's the halfway point between the "youthful abandon" part of your 20s and the "getting your head back on" part of your 20s. Twenty-five is the year for making up. This album captures that spirit perfectly, but the heartache people identify Adele with is not what's driving this album. It's moving, yes, but at times forgettable. This isn't a bad thing. This album will see success and break records, but folks banking on the catharsis of 21 will be left looking around for something like it.