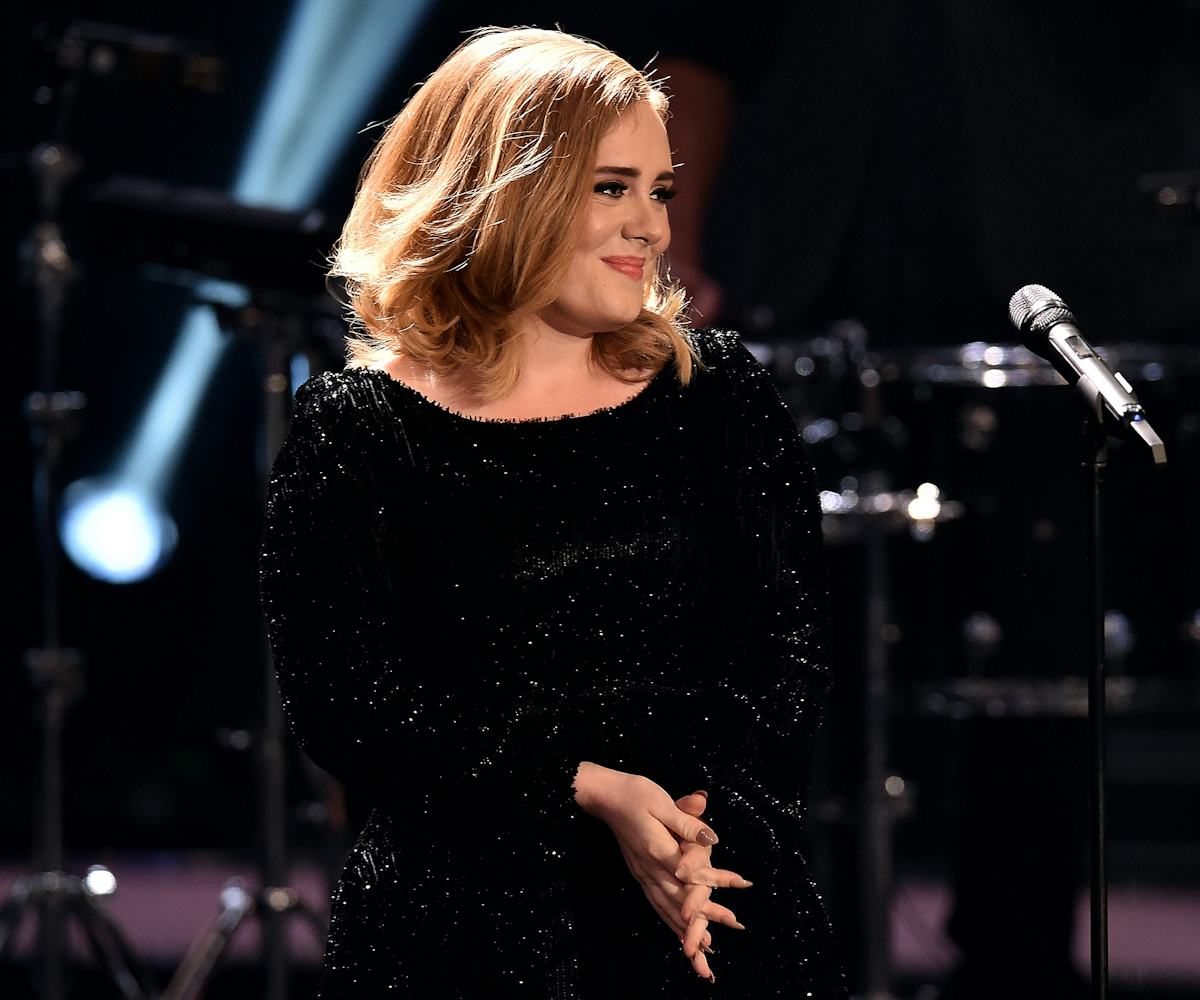 Photo by Sascha Steinbach / Getty Images
Adele Really Wants You To See Her Perform Live
if you live in New York or Los Angeles
Befitting her record-breaking album, Adele has just announced a North American tour that will do its best to give North Americans a chance to see her perform it live. Especially if those North Americans live in New York or Los Angeles.
After wrapping up an already-announced European jaunt, the singer's first North American tour in five years, in support of 25, will begin on July 5 in St. Paul, Minnesota, and wrap up on November 15 in Mexico City, which is now a North American city because Adele says so.
But the real stunner here is the six consecutive shows that Adele is performing at the Staples Center in Los Angeles in August, and the six shows she's playing at New York City's Madison Square Garden in September. Even Toronto is getting four consecutive dates in October, which is traditionally Drake month. This is a tad concerning, since much of Adele's 2011 tour was canceled thanks to bouts with laryngitis, a chest infection, and a vocal cord hemorrhage. But keep in mind, that was before Adele developed the power to bend the universe to her will. 
Tickets for the tour go on sale on December 17 (that's this Thursday!), and you can see the complete dates below.
July 5                          St
Paul, MN                      Xcel Energy Center
July 6                          St
Paul, MN                      Xcel Energy Center
July 10
Chicago, IL                       United Center
July 11
Chicago, IL                       United Center
July 13
Chicago, IL                       United Center
July 16
Denver, CO                       Pepsi Center
July 17
Denver, CO                       Pepsi Center
July 20
Vancouver, BC                  Pepsi Live at Rogers Arena
July 21
Vancouver, BC                  Pepsi Live at Rogers Arena
July 25
Seattle, WA                       KeyArena
July 26
Seattle, WA                       KeyArena            
July 30
San Jose, CA                     SAP Center at San Jose
July 31
San Jose, CA                     SAP Center at San Jose
August 2
Oakland, CA                     Oracle Arena
August 5
Los Angeles, CA               Staples Center
August 6
Los Angeles, CA               Staples Center
August 9
Los Angeles, CA               Staples Center
August 10
Los Angeles, CA               Staples Center
August 12
Los Angeles, CA               Staples Center
August 13
Los Angeles, CA               Staples Center
August 16
Phoenix, AZ                      Talking Stick Resort Arena
August 17
Phoenix, AZ                      Talking Stick Resort Arena
September 6
Auburn Hills, MI               The Palace of Auburn Hills
September 7
Auburn Hills, MI               The Palace of Auburn Hills
September 9
Philadelphia, PA                Wells Fargo Center
September 10
Philadelphia, PA                Wells Fargo Center
September 14
Boston, MA                       TD Garden
September 15
Boston, MA                       TD Garden
September 19
New York, NY                   Madison Square Garden
September 20
New York, NY                   Madison Square Garden
September 22
New York, NY                   Madison Square Garden
September 23
New York, NY                   Madison Square Garden
September 25
New York, NY                   Madison Square Garden
September 26
New York, NY                   Madison Square Garden
September 30
Montreal, QC                     Bell Centre
October 1
Montreal, QC                     Bell Centre
October 3
Toronto, ON                       Air Canada Centre
October 4
Toronto, ON                       Air Canada Centre
October 6
Toronto, ON                       Air Canada Centre
October 7
Toronto, ON                       Air Canada Centre
October 10
Washington, DC                 Verizon Center
October 11
Washington, DC                 Verizon Center
October 15
Nashville, TN                     Bridgestone Arena
October 16
Nashville, TN                     Bridgestone Arena
October 25
Miami, FL                          AmericanAirlines Arena
October 26
Miami, FL                          AmericanAirlines Arena
October 28
Atlanta, GA                        Philips Arena
October 29
Atlanta, GA                        Philips Arena
November 1
Dallas, TX                         American Airlines Center
November 2
Dallas, TX                         American Airlines Center
November 4
Austin, TX                         Frank Erwin Center
November 5
Austin, TX                         Frank Erwin Center
November 8
Houston, TX                      Toyota Center
November 9
Houston, TX                      Toyota Center
November 14              Mexico City, DF                Palacio de los Deportes
November 15              Mexico City, DF                Palacio de los Deportes