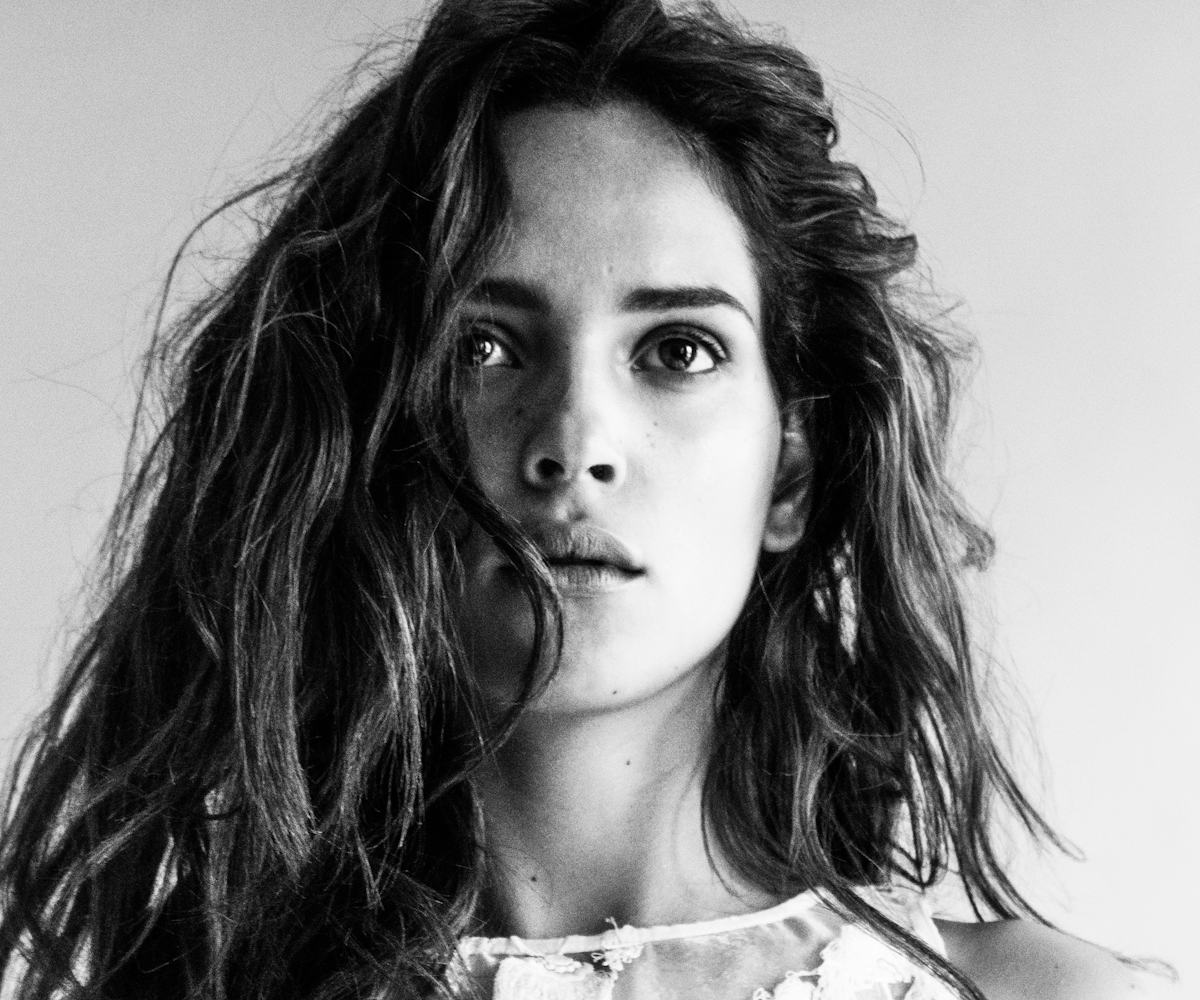 Photographed by Sarah Kjelleren. Styled by Wendy McNett.
Actress Adria Arjona Went From New York To The Emerald City
We caught up with the 24-year-old actress
The following feature appears in the March 2017 issue of NYLON.
Actors have been known to practice certain rituals moments before they perform. Game of Thrones' Kit Harington, for example, likes to kiss a crucifix three times, eat exactly three Haribo gummies, and knock back three slugs of water before going onstage. Adria Arjona, a rising star who's appeared in the likes of Narcos and True Detective, relies instead on some therapeutic cursing. "Every time before I go onstage, I just go, 'Fuck it.' Whatever happens happens, and it's okay," she says. "I'm not going to try and micromanage my life, my craft—nothing. So fuck it. Just go forward and jump." 
It's a mid-January afternoon, and Arjona and I are having lunch at The Smile, a cozy, bustling café in New York City's NoHo. Arjona, ebullient and cracking wise, radiates a distinct kind of health and curiosity. To wit, she lobs dozens of follow-up questions in response to whatever she's asked, transforming a typical interview into a stimulating conversation that bounces between the typecasting of Hispanic actors, the intrigue of biopics, and whether vegetarians have superior immune systems.
This trip to New York is a homecoming of sorts for the 24-year-old actress, who lived in the city for four years and attended the Lee Strasberg Theatre & Film Institute. While it's not where she first got her acting kicks—that would be Miami, where she spent a good chunk of her childhood—New York's school of hard knocks gave her the grit and determination to thrive in the often unforgiving world of show business. "New York made me grow up," she says over a trio of vegetable crudités. "It made me suffer a little, which made me stronger. Thanks to New York, I can travel the world and do everything that I can. It gave me balls." 
Now a Los Angeles resident, Arjona has been applying the lessons that she's learned to her starring role as Dorothy on Emerald City. The NBC show, which premiered in January, is based on the fantastical tales of L. Frank Baum and reimagines his Land of Oz as a bloody, occasionally majestic dystopia where magic is outlawed. But self-doubt almost stopped Arjona from auditioning. "I really didn't want to go in for [the part]. I thought, 'I'm not really Dorothy, dude. I'm brown,'" says Arjona, who is half Puerto Rican and half Guatemalan. "But you know, I went in and I decided to fight it. This role gave me a really beautiful slap in the face."
Arjona's lifetime has been a kind of preparation for the role of Dorothy. Her father, Ricardo Arjona, is a venerable Guatemalan singer-songwriter, and she spent much of her childhood on the road with him. "Traveling and seeing other cultures triggers something in your little brain," she says. "Because you not only get to appreciate where you come from, but appreciate other cultures. You're not comparing them, but living with them." Constant travel also made the idea of "home"—central to Oz lore—knotty for Arjona, too. "It was a weird connection I had with Dorothy, and every time she would mention 'home'—where is home? Where your heart is," Arjona says. "It wasn't the story itself, but that story line, that tiny little phrase that got stuck in my brain." 
This year will also find Arjona starring in The Belko Experiment, a psychological thriller in which office employees are suddenly pitted against one another in a sinister social experiment that forces them to either kill or be killed. She's currently hunkered down in Australia, where she's filming scenes for Pacific Rim: Uprising, the Guillermo del Toro-produced sequel to his 2013 robots-versus-monsters blockbuster. Long-term, Arjona says she has aspirations to direct films herself. "I make the craziest movies in my head, especially when I run," she says, noting that she has a particular interest in biopics.
The conversation inevitably turns to goals and intention, and how to best use what we know and what we do for a living to effect more immediate change in the world. She shares a story about attending Comic-Con, where she encountered a young Emerald City fan who was Mexican and refused to speak Spanish. Arjona, who says she "[raises] my flag super proudly," signed the young fan's poster in Spanish, and urged her to translate the message and next time around have a conversation with Arjona in Spanish. "People say, 'Oh, you have a voice [as an actress],' but I had never experienced it until then," she says. 
Representation is central to her worldview. "This is literally what I speak about every single day to my Hispanic actor friends: Put your freaking head up. Times are changing. We can be anything we want to be. We don't have to be prostitutes, we don't have to be maids. We can be anything," she says. She looks up from her tea, smiles knowingly, and offers yet another empowering, expletive-filled mantra: "Let's be powerful Hispanic women. Let's kick these bitches' asses."
Top by Allina Liu. Hair: Sunnie Brook at The Wall Group using Oribe. Makeup: Nina Park at The Wall Group using Chanel.