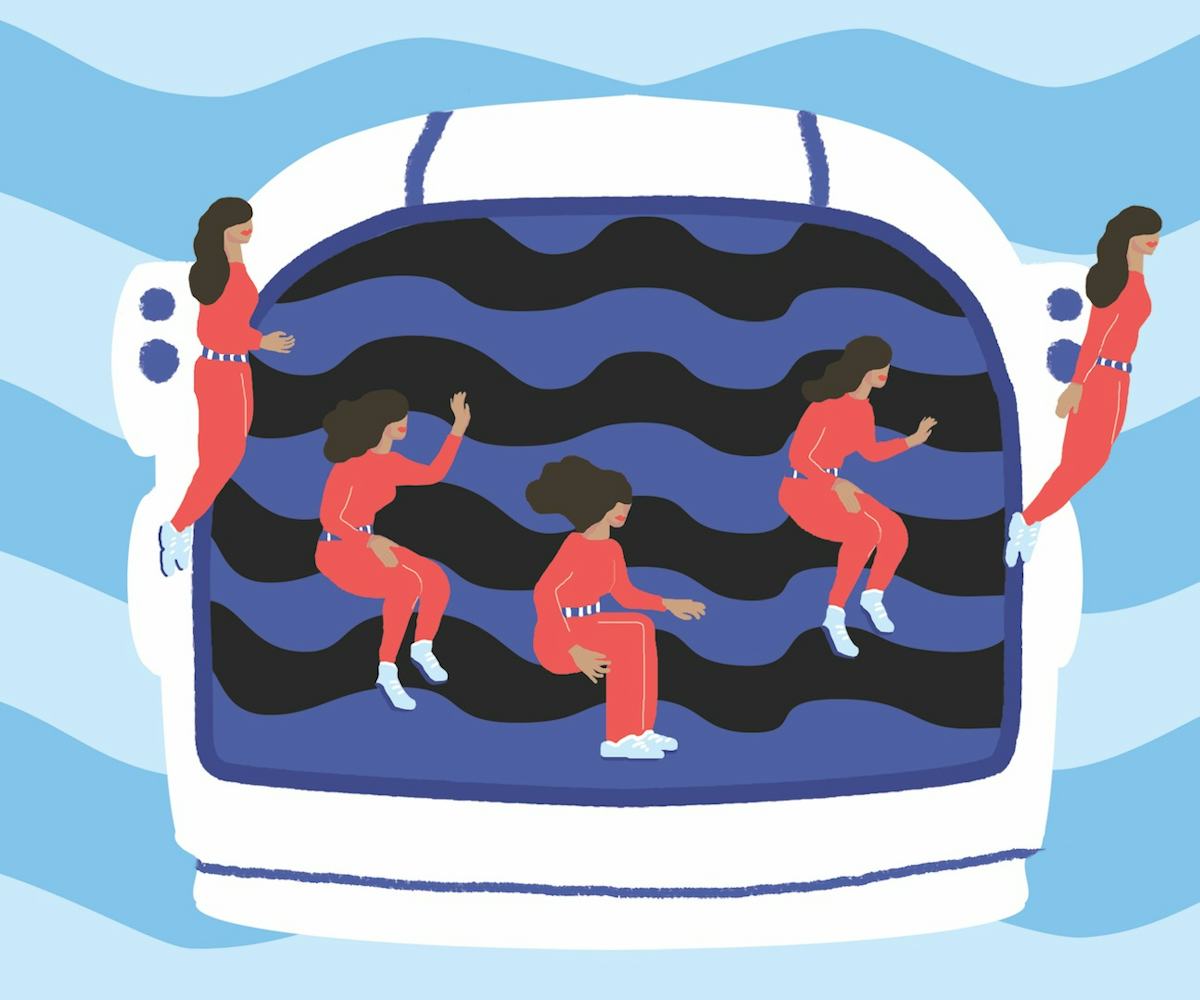 Illustrated by Franziska Barczyk.
Celebrating America's Starry Legacy At Adult Space Camp
The following feature appears in the November 2016 issue of NYLON.
You can't miss it—the Saturn I test vehicle rises high above the trees, stark white against the blue Southern sky. Its home is the U.S. Space & Rocket Center, located just outside of Huntsville, Alabama. But why, you ask, is there a rocket center in rural northern Alabama? Well, there's a nearby former chemical arsenal and munitions factory that was built for World War II, the perfect site for the scientists and engineers brought to the U.S. to work on America's space program after the war. But the simplest answer is, there was plenty of room here. So America built something.
The U.S. Space & Rocket Center, as anyone who drew a childhood breath in the '80s or early '90s knows, is also the home of Space Camp. The youth camp officially opened in 1982, an adult version launched in 1985, and the basics are this: You receive a jumpsuit, simulate being an astronaut, and get to use a machine that makes you feel like you're bouncing on the moon.
I was a camper here when I was six, and now I have found myself back again, because apparently you're never too old for Space Camp. This session, my fellow campers are from all over the United States: Tennessee, Georgia, Virginia, California, Arizona, Massachusetts, and Pennsylvania are all represented. This is not an unusual mix—Space Camp draws in people from all 50 states (and almost 70 other countries) every single year. I suppose the appeal of Space Camp makes sense considering our country's eternal pride in and fascination with our space program, dating back to the space race of the mid-20th century. America has always celebrated its innovative, pioneering spirit, and few things embody that quite like our scientific forays into the universe's great unknown.
As the first order of business, we are split into two groups, Team Challenger and Team Columbia. My team, Columbia, includes a young engaged couple, a pair of sisters, a documentarian who looks so much like Parker Posey I do a double take, several co-workers on a team-building excursion, and a young man crossing a life goal off his bucket list. Team Columbia is fearlessly led by Monique Davis, who has been an instructor at the camp for five years.
Click through the gallery to read the rest of this feature.
Our orientation begins ahead of schedule; it seems grown-ups who attend Space Camp tend to arrive early. There are only two firm rules for adult campers: no peanuts on campus, and please do not get naked, because kids might show up. We are also told about a nearby hotel bar, for those interested in socializing after-hours. One of the best things about adult Space Camp is being treated like an actual adult.
Over this weekend-long experience, we are to perform two "missions," with everyone getting a chance to be an astronaut on the ship, or a scientist in mission control. My first assignment is to run the GNC, or Guidance, Navigation, and Control—basically to check the weather and track the ship's simulated movements.
Oh yes, the ship. The mock control room, spaceship, and International Space Station are filled with screens, switches, and buttons, and each team has, essentially, free rein to run around and get a feel for the mission. We fully indulge the impulse to touch everything, and send selfies back to jealous family and friends.
After a few get-to-know-you exercises, it's on to the multi-axis trainer. Meant to simulate what it might feel like to spin out weightlessly in space, the trainer is a chair within a ring within a ring within a ring; it reminds me of a futuristic version of da Vinci's Vitruvian Man. The initial release of the chair is comforting, like being rocked in a hammock. But then Davis kicks on the power, and it's 45 seconds of flips and twists. Yet there's no nausea—your stomach stays in the same place the whole time. It's slightly disorienting to step down, but no worse than wearing a pair of new glasses. Still, sleep feels very earned come nighttime.
We begin day two with breakfast at 7:30 am, then head down to the one-sixth gravity chair—basically the main attraction. Your weight on the moon is one-sixth of what it is on Earth, and this machine re-creates the feel of the lunar atmosphere. You're seated in a chair like one you'd find on a roller coaster where your legs are loose, only it's attached by large, taut springs to a runner on the ceiling. It's beyond dreamy to hop along the fake moonscape, and otherworldly to watch your teammates float; Davis says a lot of kids ask how much it costs. I almost ask myself.
We are then ready to embark upon our first mission. Davis runs the simulation, and takes it pretty easy on us. It's a little intimidating, but when you're wearing a headset and reporting on numbers, you can't help but feel professional. We overshoot the shuttle landing, but we'll get another chance in the afternoon.
Next, we move on to the museum to watch a Jennifer Lawrence-narrated IMAX movie, A Beautiful Planet. Incredibly, one of the astronauts in the film, Samantha Cristoforetti, was a Space Camp graduate herself. In fact, five Space Camp graduates have become real-life astronauts, and they're all women: Cristoforetti, Christina Hammock Koch, Serena Auñón, Dorothy Metcalf-Lindenburger, and Dr. Kate Rubins—currently aboard the ISS, and the first person to sequence DNA in space.
After lunch, we're given a guided tour of the museum, led by aerospace engineer and volunteer docent Michael Crandall. Underneath a suspended display of the Saturn V test rocket, which is enormous, we are told a brief history of America's space program, from Alan Shepard to the Space Launch System, or SLS, a rocket currently being designed that may one day send humans to Mars.
The second mission simulation is much more my speed. I act as a scientist on the ISS, and my job is to flip a few switches and conduct simple chemistry experiments with household items like glue and borax. Since our team knew what to expect this time around, we fare much better on the mission. Davis rates us eight out of 10.
Later, I spend some downtime back at the museum, checking out exhibits on Archimedes and women in space. Even though the summer tourist season is winding down, there are plenty of people around. I see a Muslim family and a Mennonite family, tourists from Japan, and a gaggle of kids from Costa Rica who have just arrived for Space Camp. Beyond the wonder of the space program's technological achievements, being around so many curious and engaged people of all different backgrounds is my favorite (and perhaps the most American) part.
When I chat with Pat Ammons, the Space & Rocket Center's director of communications, she tells me that my sentiment is a common one. "The most important thing we teach at Space Camp—for children and adults—is the importance of teamwork," she says. "We have to work together to accomplish anything big, and that's a good lesson for every day and for the human race. What could we accomplish if we valued everyone's contributions and worked together toward a goal?"
On our final day, both teams reassemble to launch rockets we had built the night before, and play a Jeopardy-style quiz game to review everything we've learned. After that, graduation! One of my teammates, the guy who wanted to live his childhood Space Camp dream, wins the "Right Stuff" award for enthusiasm, and Columbia wins Outstanding Team. We receive a group photo, patches, pins, and a certificate for attending. I am officially a Space Camp graduate (again). I hold that title proudly, right alongside a long line of women who eventually became astronauts.