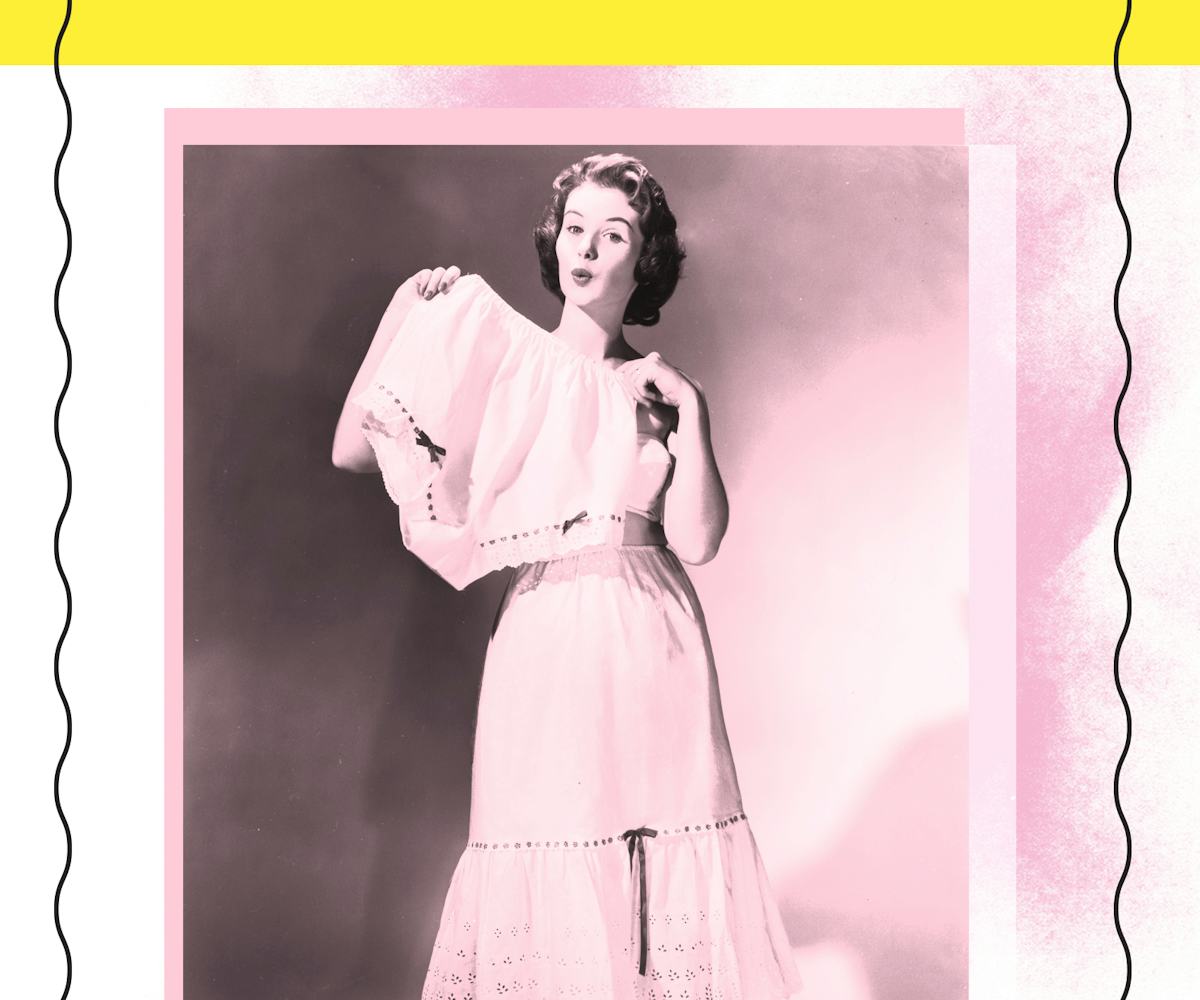 Photo via Getty Images
How To Wear Underwear Like A Grown-Up
The time has come to accept the inevitable: you're growing up. Embrace it! Becoming an adult can be daunting, but not when you have guides as easy (and, let's face it, as cool) as the ones in our new Adultify series. Now, you won't ever have to utter that cringe-worthy term "adulting" when you accomplish something, like doing your laundry—you know, basic, responsible grown-up activities—because you'll know these truths to be self-evident.
There's plenty of things we do that can (and should!) make us feel like the responsible adults we are: flossing, paying our bills on time, getting a good night's sleep, washing our face before we go to bed, drinking lots of water, forcing ourselves to listen to voicemails, and so on. All of these are great (maybe not listening to voicemail, but what are you gonna do?), but they're not exactly what you'd call the most exciting aspects of being an adult. They're more the type of tedious tasks that give being an adult a, if not bad, at least boring, name. But never fear because there are fun parts about adultifying your life. All of which is to say: Are you ready to throw out everything in your underwear drawer? 
The underwear drawer tends to be the most neglected part of our wardrobes. While we're busy figuring out what to buy in order to present ourselves publicly to the world, the scant things we wear closest to our bodies get overlooked or thought of as only worth investing in if they're for special occasions. But the thing about being an adult is that you realize every day is a special enough occasion to wear something that fits well, feels comfortable, and makes you feel great. (An added bonus is that your mother can rest easy, knowing that should you get hit by a bus, she would not be embarrassed by what you're wearing underneath your clothes.) So let's get to clearing out the clutter in your undie drawer, and paving a path toward lingerie maturity, shall we?
Out With the Old
First things, first: Get rid of basically everything. Your underwear drawer is a great place to practice Marie Kondo's "life-changing" method of tidying up, clearing out, and only keeping the things that spark joy in your life. Because, seriously, if there's one part of our wardrobe that should definitely give us sparkling feelings of joy, it's our underwear. What this means practically is that it's time to suck it up and get rid of all the underwear that you only wear grudgingly, when you haven't done laundry in two weeks; get rid of the bras with holes and/or wires sticking out; say goodbye to the panties that you'd be humiliated for someone to see you in. A good rule of thumb is that if there are stains, it's time for the garbage. You'll be surprised at how much you're going to get rid of, but that's okay. Underwear should be refreshed far more often than other wardrobe items; it's totally fine to get brand-new everything every couple of years or so. And while you're throwing out that thong with the unraveling lace edge, don't forget to scour your underwear drawer for all the other stray things it tends to collect (personally, I always wind up throwing my sunglasses and old concert tickets in there—why??), because once you start restocking your delicates, you don't want anything else to live in your lingerie drawer other than your lingerie.
Figure Out What You Really Need to Buy
The thing about underwear is everyone tends to buy it based on what they need in the moment. So we all have that one nude thong to wear with the skirt that begs for undie invisibility or the seamless black bra that only comes out when we wear a tight black turtleneck or the boy shorts for that dress that tends to blow up with even the hint of a breeze. There's nothing inherently wrong with thinking of underwear as being problem-solvers, but what this usually leads to is a drawer full of things that you can only conceive of wearing on those occasions. The best thing to do is sit down and make a list (how adult!) of what it is that you tend to wear on a daily basis and what you want to wear on special occasions, and prepare to restock accordingly. Do NOT feel obligated to buy things because you think you "need" them or because they're "staples." Articles about wardrobe-building always involve talk about the must-have items, and they usually involve things like T-shirt bras or whatever, and maybe for some people, a T-shirt bra is a staple, but for others, T-shirts are an excuse to not wear a bra at all. The point is, only you know what's essential to you, so figure that out and then prepare to venture out and restock accordingly. (NB: But maybe seriously consider now trying out period panties, like Thinx, if you want, because those seem like not a bad thing for most of us to try out at one point or another in our lives.)
Get Fitted
Perhaps the most adult thing you can do regarding your underwear wardrobe is get a proper fitting before restocking. This has become well-worn trope at this point, but if you haven't been fitted, you're probably not wearing a properly sized bra. Luckily, just about every lingerie store has someone on staff who can measure you so that you'll never deal with straps-sliding-off-your-shoulder syndrome again. Boutiques like Brooklyn Fox are great places to visit for their qualified on-site fit specialists, as well as for the fact that they stock a huge range of bra sizes, from A to H. 
While bra sizes are usually pretty standard, it's important to remember with panties that sizing does vary with brand, so checking things out in person is always a good idea.
Get Ready to Handwash Those Delicates
There's no point investing in good underwear if you're just going to throw it in the washing machine and high-heat dryer and ruin it. It might seem arduous, but, unless you're only dealing with strictly cotton underthings, it's time to discover the joys of handwashing. And when I say "joys," I'm actually being pretty serious, because once you start handwashing, it becomes an almost meditative and therapeutic experience. This can be aided by using really luxe detergent, like Tocca's Cleopatra Laundry Delicate, which has a lovely grapefruit-cucumber scent. Just remember never to use water that's too hot, and to either lay bras flat to dry or hang them from their gores (the center area between the cups). And if you do want to venture into machine-washing, use a mesh delicates bag, like this one from The Laundress. This should prevent straps from tangling and hooks from snagging.
Keeping Everything Fresh
Okay! It's time to restock your underwear drawer with all your new goodies. And you've long since cleared out the detritus that made its way to the far corners of said drawer. Good for you. But before putting anything back in, consider how you're refilling it. Rather than an underwear free-for-all, invest in some drawer dividers (either plastic or fabric-covered; never wood since it can snag), which you can find anywhere from Ikea to California Closets. And then make sure everything stays smelling fresh and pretty with some scented drawer liners, like these from The Laundress, which smell of lily of the valley, jasmine, sweet musk, and sandalwood. 
Extras: Things to Buy That Aren't Underwear But Also Make You Feel Adult
And so, now that you've got your undies-and-bras situation sorted out, use this time to invest in a few other loungewear pieces, like cashmere boyshorts from Catbird or this gorgeous kimono robe from the St. Cecilia Hotel in Texas or this delicate chemise from Brooklyn Fox. The point is, being an adult means treating yourself to feeling and looking good not only in the public sphere but in the most private one as well, that of your home and your body. It's the ultimate sartorial self-care. And nothing's more grown-up than that.