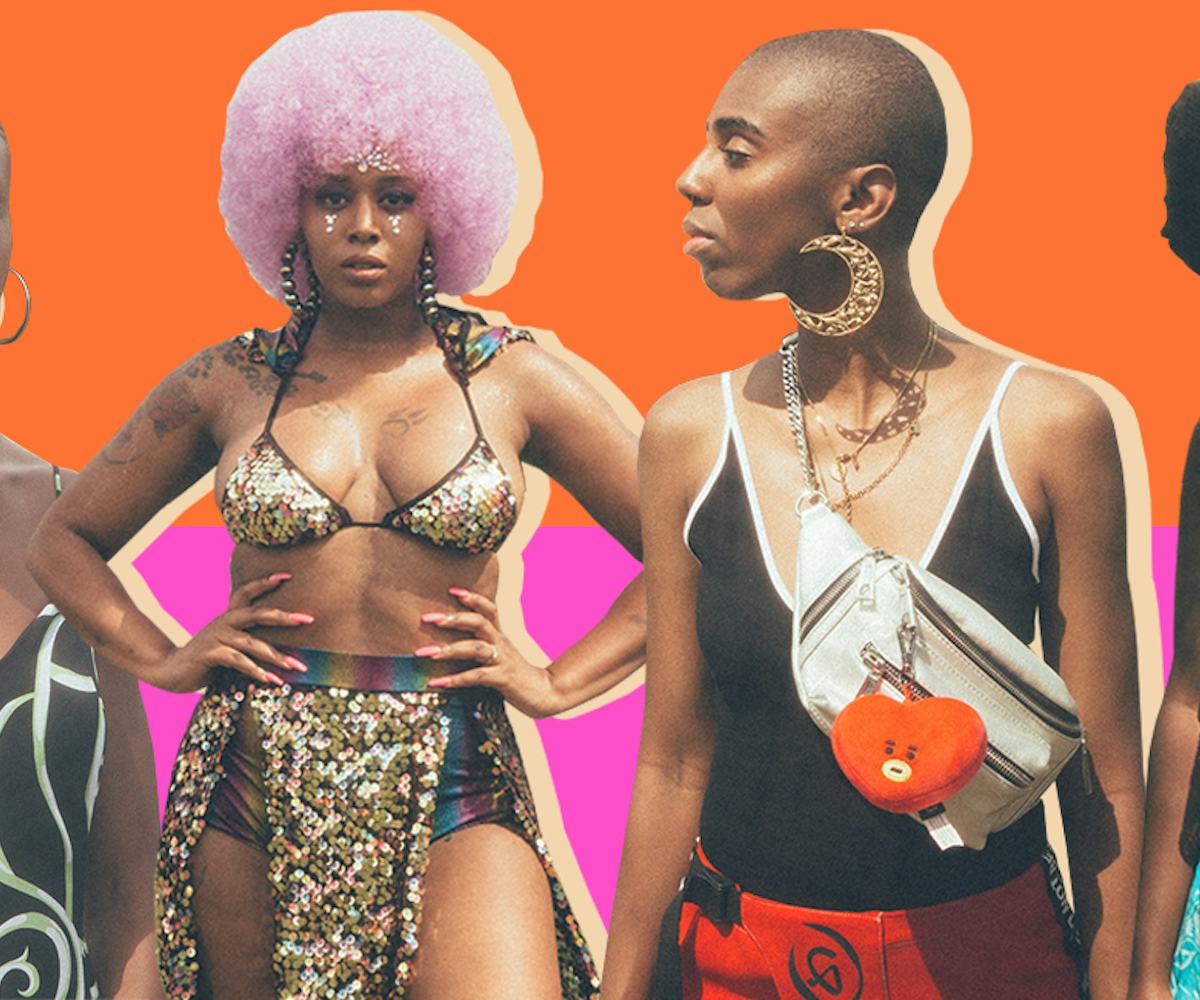 The Loudest, Proudest Looks From Afropunk
The best festival street style out there
People spend the whole year waiting for Afropunk. It's one of the rare, inclusive festivals where you can truly be yourself, without judgment. It's not a place to blend in, but rather one where you go to stand out—specifically with your fashion choices.
We've been documenting street style at the Brooklyn-based festival for a couple of years now, and it impresses us every single time. This year, we decided to also ask some of the best-dressed attendees what Afropunk means to them and to tell us a little bit about what they're wearing.
Check out the looks and read their words, ahead.
Hair that's business in the front…
… nostalgic party in the back.
Charlene Lewis, inspired by Janelle Monáe's "Make Me Feel" video, turned her necklace into a face chain.
Alfred Walfall says that he wanted to show off his toned body and revel in a little self-love this year. As for the hat, he saw a similar one on Instagram a couple of years ago and was drawn to the style.
Ashlie Garnett got the memo that bike shorts are in. She bought her sunglasses from a man selling them on the street.
Alyssa Ifrenta brought her aqua pants from her home in the Bahamas and paired them with matching liner on her eyes and lips.
To these two, Afropunk means black empowerment, a space for black positivity, and open-mindedness.
Singer and poet Jamila Woods says she made it a point to wear black designers for this year's Afropunk. As for what the festival (during which she performed) means to her, she says: "Afropunk is a safe space for me as an artist to feel free to experiment, free to be myself, free to celebrate blackness and see that reflected back at me, which doesn't happen often."
Mattie Michelle found her Philistine dress for just $20 at Buffalo Exchange.
Her accessories also shine.
This attendee points to Afropunk as a way for African-Americans to get together and escape everything going on around them in the world right now.
It's Nautika Boroughs' second year attending the festival, and she opted for a psychedelic, knit bikini top and corduroy pants. She says of Afropunk: "I just feel like it's the time to celebrate the alternative blackness. There's more sides to being black. It's not one-dimensional."
Who says cotton candy hair and glitter don't mix?
Avant-garde fashion isn't only on runways or in magazines, here it is right on the streets of Brooklyn.
The detailing is not to be overlooked. This attendee tells us that he bedazzled the corset using a tweezer: "Every single bead I put on myself."
JaQuam Mitchell's outfit is made out of blue foil. "You see the gathers and the volume? It's to be fluid, like water," he says.
Crystal Anderson's skirt is made by Emily Ridings, who competed in the Parsons School of Design competition this year. "She handmade it for me in Kentucky and shipped it over," she tells us. "It's just art."
Fishnets, distressed denim, pink harness, oh yes.
Ruffled pants and a cinched corset is our new favorite vibe.
Mila Koren says the bondage rope—which she created herself—is her favorite part of her outfit. "It represents me embracing [myself] as a woman and not caring about what people think," she tells us.
Never enough color or baby's breath-adorned hair.
Shae Roberts says, for her, Afropunk means "individuality, dope style, and dope music."
"I've been to a lot of festivals, but Afropunk is a space for black people to be honest. The vibe is really communal and loving. And it encourages people to be themselves," says Glynn Pogue.