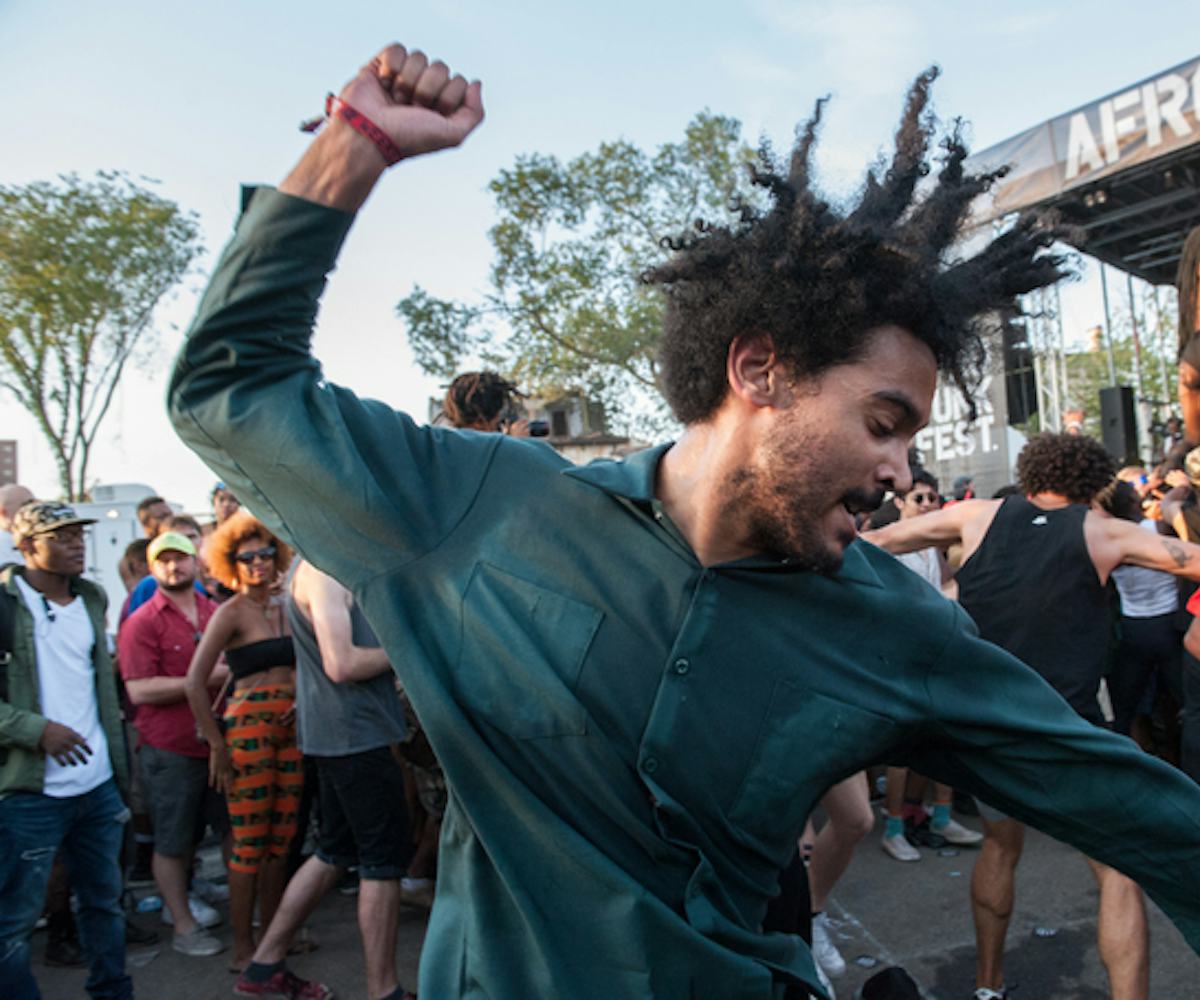 Photo by Stephanie Keith/Getty Images.
Looking For The Punk That's Gone Missing From Afropunk
In its 12th year, the festival is moving even further away from its DIY roots
There were four stages constructed in Brooklyn's Commodore Barry Park for this year's Afropunk festival. Four elevated platforms where black people of all shapes, shades, sizes, with varying hair textures, musical interests, and fashion sense swarmed during the two-day music extravaganza. The Pink Stage was advertised as being "dedicated to punk acts big and small" before the weekend kicked off. It's where bands like Ho9909, BURN, Pay To Cum, The 1865, Rebelmatic, and other punk or punk-adjacent acts performed. This was their designated space. It was situated past the food trucks, under an elevated highway, and attached to a skate park; this is all to say that it was not centrally located. If you weren't seeking out an artist performing there, it remained out of your line of vision and definitely out of the way of foot traffic. It would be polite to call the space intimate, but it would be appropriate to call it isolated.
Yet the little enclave is where you could find Creature, the lead singer of Rebelmatic, for the bulk of the festival. This was his second time playing Afropunk, even though he's been attending for more than a decade, ever since the festival was just "a band in the parking lot." He mostly stayed at the Pink Stage during the two days because the acts playing there are what spoke to him the most. He had the chance to chat with fans and take pictures; it was the community feel that he wanted. But, still, something about the location felt a little… off.  
"When I saw the setup, I was like, 'Oh god, this is what we're doing? You're putting us in the back of the bus? Oh, wow. Oh, shit. Great, super, nice, this is awesome,'" he tells me. "But I guess we should be happy that we're even on the bus." 
It's no secret that Afropunk has long been shedding its punk roots. Questions like "Is Afropunk Fest No Longer Punk?" and "Has Afropunk Abandoned Its Origins?" have been posed for years now, particularly since 2015, the year the festival went from suggested donation to charging $70 for a weekend pass. It was the beginning of the end, as many declared, a sign that perhaps Afropunk was losing its credibility and uprooting its indie foundation. Afropunk was becoming commodified, which wouldn't necessarily be a bad thing—you need money to sustain a movement—if it wasn't gradually displacing the people it was created for.
"It shifts every year, but now it's kind of like a clear divide," Creature says. "And I'm cool with you not liking what we do, but at least get a chance to get exposed to it. You might like it."
Not all of the more "niche" bands were assigned to the Pink Stage. Louder Than Quiet, a hard-core metal band from Washington, D.C., performed at the more prominent Red Stage Sunday afternoon. "If you wanna mosh pit, do your thing. If you wanna bounce, do your thing. If you wanna get hyphy, do your thing," lead Rico Schuler declared before their set. Those gathered, the 20-something girl in heels and overalls, the middle age man with dreadlocks and a backpack, the afro'd girl in a see-through mesh shirt and blue lipstick, myself, watched as those interested did all those things, and more. 
"I fuck with y'all," Rico said toward the end of the set, which included guttural screams, crowd surfing, and a dope yet unexpected cover of Chaka Khan's "Ain't Nobody." "They fuck with us, too," guitarist Ali Rezghi said in response. "Y'all fuck with us?" Rico asked the crowd to a chorus of cheers. It felt like a special moment. It felt like Louder than Quiet won over some fans that day. Who's to say if other punk acts could've done the same, had they been given the access.
In 2003, James Spooner released his documentary, originally titled Afro Punk—The Rock And Roll Nigger Experience. It told the story of black punks across the country and included interviews from fans and artists like Carley Coma from Candiria and Angelo Moore from Fishbone. The film turned into a message board online that eventually evolved into a meet-up which graduated into the juggernaut event we know today. But the Afropunk of 2005 was a lot different than the one of 2017. "I went into making the film because I had a message," Spooner tells me now. "I never expected to make any money, and I went into doing all of the concerts and stuff because I wanted to spread that message. When I would get to the end of the month and I could pay my rent, that was awesome, but that wasn't the first thing on my mind."
The days when the festival consisted of hundreds rather than thousands and took place in local venues like CBGB and The Delancey, those are the times Spooner longs for. He recalls a time when he made a T-shirt that read: "Afropunk, where the bands are the fans and the fans are the bands." The environment he wanted to curate didn't include a VIP space or a place where only the musicians could be (though, in the festival's defense, there still isn't any media- or artist-only area), Spooner misses the days when he could watch a band, and then invite said band back to his house for dinner. 
"And I guarantee nobody in that audience is hanging out with Solange or whoever else is playing afterward… and no one would expect to," he says. It's a different time. "I grew up where my favorite bands, I could write them a letter and, a week later, I could be staying at their house. And that's the punk that's missing from Afropunk."
Spooner made the decision to walk away from the festival in 2008. Today, he makes it a point not to visit the website or to Google what's going on with it. Instead, he channels his energy into his family and his work as a vegan tattoo artist in L.A. "I try to stay away from it because it's triggering to me," he says. He ultimately broke off with Matthew Morgan—his co-founder, who now runs the festival with partner Jocelyn Cooper—because he didn't like the brand it was turning into. "I think that the thing that I brought to the collective vision was the restraint. I was holding back. I was constantly like, 'No, we can't have that band. No, we can't have that sponsor if they're requesting this of us.'" 
He knows it sounds idealistic, but that has always been Spooner's DIY mindset. It still is. When I ask him what he wishes Afropunk looked like now, he says: 
My version of the festival? You probably wouldn't even be covering it. It would just be a community of people who need it—and who aren't even welcome there anymore or don't feel comfortable there anymore—listening to bands who need the exposure and people with zine tables and people with pamphlets to hand out and whatever. Nobody would be charged a vendor fee. It would be fucking punk rock.
Don't get him wrong, he still appreciates all that Afropunk is doing for black people. He just wishes it was done better. "I'm glad that there's an avenue for these artists to perform and anything that allows black people to take a day off from the stress of everyday life and enjoy themselves in a way that's not destructive," Spooner says. "But, the fact that it is called Afropunk and there isn't any representation of its roots in a very tangible way, I feel like it does a disservice to a lot of people who need it. It does a lot of disservice to a lot of artists that need it."
Solange headlined Pitchfork, Panorama, Broccoli Festival, Essence Fest, and FYF Fest this year alone. She doesn't need it. There are limited spaces where black people can see punk bands led by people of color. There are even fewer spaces where they can see them all at once in the span of two days. The bands that cater to that audience, they're the ones that need the bigger stage, they deserve that exposure. 
Afropunk is a community; you can feel it in the smiles, nods, and compliments exchanged on the grounds. And it's necessary, especially now. I've never felt more at home, more comfortable in my blackness, more seen than at Afropunk. The website describes the festival as being "a safe place, a blank space to freak out in, to construct a new reality, to live your life as you see fit while making sense of the world around you. But, as Afropunk grows, as it continues to become mainstream and commercially viable, it's becoming more and more unclear who the "you" in that sentence is. 
"It's like you creating something that was formed for your expression and the people who made fun of you and were like, 'What the hell are you doing?' now they're at the party… it's your house party, and now you find yourself outside," Creature says of the shift. "They kicked us out of our own fucking house? No, no you're still here though. You're in the house, you're just in the yard… it's alright though, we'll bring you drinks."