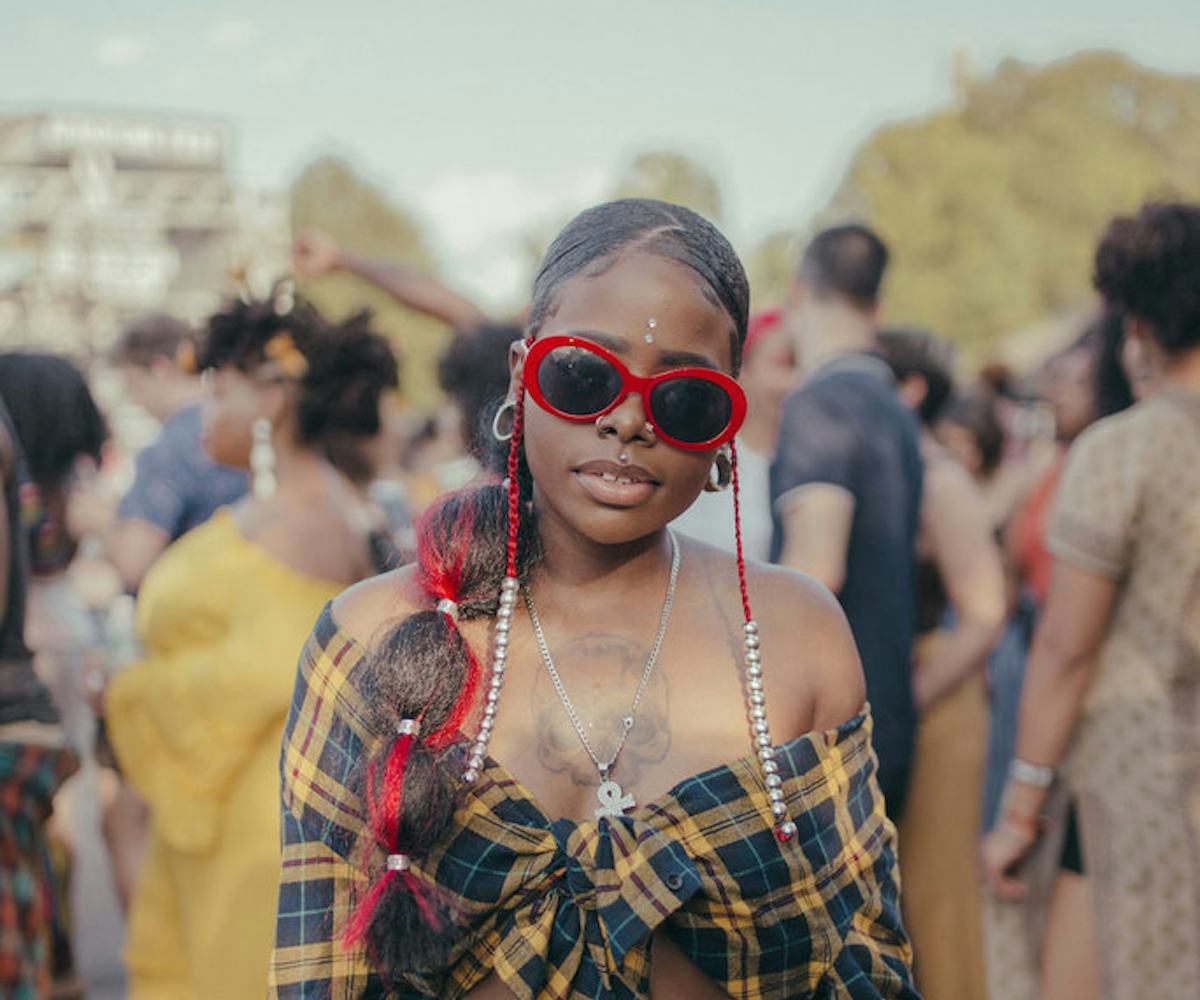 Photographed by Elizabeth Wirija
The Best, Most Extravagant Looks From Afropunk
The sounds of SZA, Princess Nokia, and Solange act as a soundtrack to the festival grounds-turned-runway
If you come to Afropunk solely for the music, you're doing it all wrong. The fashion is just as—if not more—important than seeing all your favorite acts.
Concert-goers poured into Commodore Barry Park in Brooklyn, New York, this weekend decked out in their grandest getups. Some people clearly took months to put together their looks, while others had outfits that seemed more hastily assembled. Whatever the timeline, the looks, accessories, and hairstyles that come out of the black-centric event are some of the best festival looks of all time; it's eye candy for the keenest of people-watchers. 
As proof, we captured our favorite march-to-your-own-beat moments from the festival. New York Fashion Week might not officially start until September 7, but it feels like it unofficially kicked off this past weekend at Afropunk. Check out our favorite looks, below. 
A tribe we'd very much like to be a part of.
We can just feel the pride emanating from this radiant woman and her vibrant matching dress and headwrap.
An ode to TLC's "Creep" silk pajamas, now with new and improved accessories.
Stop, drop, and try to roll up to the festival in a print pairing that's better than this one.
See! It is easy being green!
This trio knew what they were doing when they planned their coordinating looks.
Loving this unexpected corset look and the pink, lace-up platforms.
A brocade piece is made all the more special when accompanied by gold accents worn on the neck, nose, and around the waist.
Here's an unexpected fashion tip: Slap some lollipops on your knees to make your gold number extra sweet.
Friends that push back on societal expectations together, stay together.
A patriotic trio we wouldn't mind seeing in the White House.
NYLON's Taylor Bryant and Tina Vaden (left and center) came to work, but also work-it-out in their Studio One Eighty Nine outfits. 
Festival attendee Akua Shabaka won't let the sun steal her sartorial shine today or any day.
Cotton candy hair makes an otherwise simple outfit stand out.
Bay Li, the lead vocalist for The Skins, commandeered the stage with her voice—and the festival with her barely-there style.
Baggy jeans, one-shoulder top, and exposed belly. We know you know what all these things have in common.
Welp, if you got it, flaunt it.
Forget your "plaid is only for fall" assumptions.
Ditto your leather ones!
There's a lot to take in here, but might we steer your attention to the afro-sporting Ken doll worn as a necklace. The creativity of Afropunk attendees knows no bounds.
Art Hoe Collective founder Gabrielle Richardson glows in all white.
This is the coolest take on the statement top trend we've seen yet.
The more prints, the better.
Guess we were right about that Kangol comeback.
There are no words to explain our love for both of these DIY fashion moments. Are you taking notes?
Artist Louise Chantál puts a dainty spin on the whole millennial pink thing.
May we all be as confident and stylish as this queen when pregnant.
Freeing the nipple is just the norm at Afropunk.
McKensi Scy seems to like flowers and, well, we like that she likes them.
A Canadian tuxedo done right.
A militant hat paired with velour pants. We just found our fall inspiration.
We love when friends coordinate outfits while still managing to add their own personal flair.
A simple slip dress that you can take from festival to the after-party.