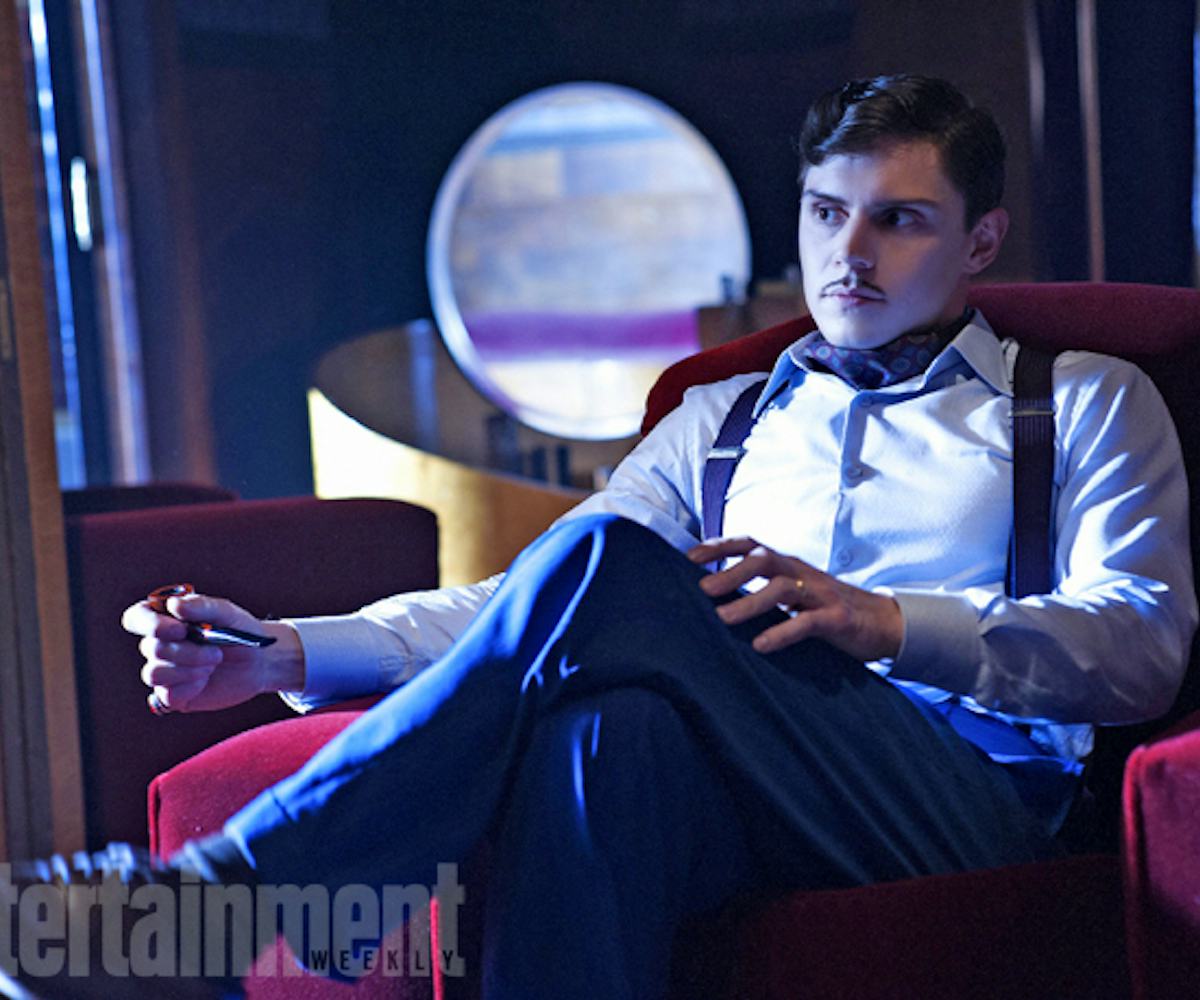 Photo courtesy of FX, 'Entertainment Weekly'
your first look at the 'american horror story: hotel' characters in costume
+ some serious season details
Historically speaking, American Horror Story has kept a tight lid on its upcoming seasons, clouding them in mystery and speculation. But for the series' latest installment, Hotel, creator Ryan Murphy and the cast, which—if you somehow didn't already know, includes Lady Gaga and Naomi Campbell—have done precisely the opposite, revealing character names and details. Now, instead of just dropping hidden clues, they're going so far as to share photos of the entire cast in costume, and reveal an inter-series connection. 
Last year, Murphy told Entertainment Weekly that all of the series will connect in some way. "We're just beginning to tell you how they're connected," he said. "They're all very separate, but there's clues every season that we're now telling you how the different worlds are intertwined." Now, in the publication's latest issue, Murphy says, "We do go to the Murder House for one episode." In addition to the visit, Marcy, the realtor from season one, appears in Hotel, acting as Hotel Cortez's agent. 
Get ready for a whole, new slew of conspiracy theories, and then click through the gallery to find out about the season's characters.
As the owner of Hotel Cortez, The Countess (played by Lady Gaga), who "sustains on a healthy diet of sex and blood," kills her victims with her chain glove.
Donovan (played by Matt Bomer) is The Countess' lover of 20 years—until she meets male model Tristan.
LAPD detective John Lowe (Wes Bentley) moves into the hotel to investigate the Ten Commandments Killers' murders.
Ramona Royale (played by Angela Bassett) teams up with Donovan to get revenge against her former lover, The Countess.
"She's kind of outlandish," Naomi Campbell says about her character, a Vogue editor named Claudia. "She thinks she's indestructible and that nothing's going to hurt her."
Donovan's over-protective mother, Iris (Kathy Bates), works in the hotel.
Enter Tristan (played by Finn Wittrock), the male model who captures The Countess' attention.
James March (played by Evan Peters) is the former owner of the hotel that appears in the series' flashbacks. He built the hotel to "cater to his specific needs, which tend toward the dark evil," says Peters.
Gabriel (played by Max Greenfield) is a Hollywood junkie who has an, er, intense experience at Hotel Cortez.
"She's selfish," says Sarah Paulson of her junkie character, Hypodermic Sally. "She will put a stiletto in your face if it means she can get what she needs. But she's also like a broken rag doll."
Gaga covers Entertainment Weekly.