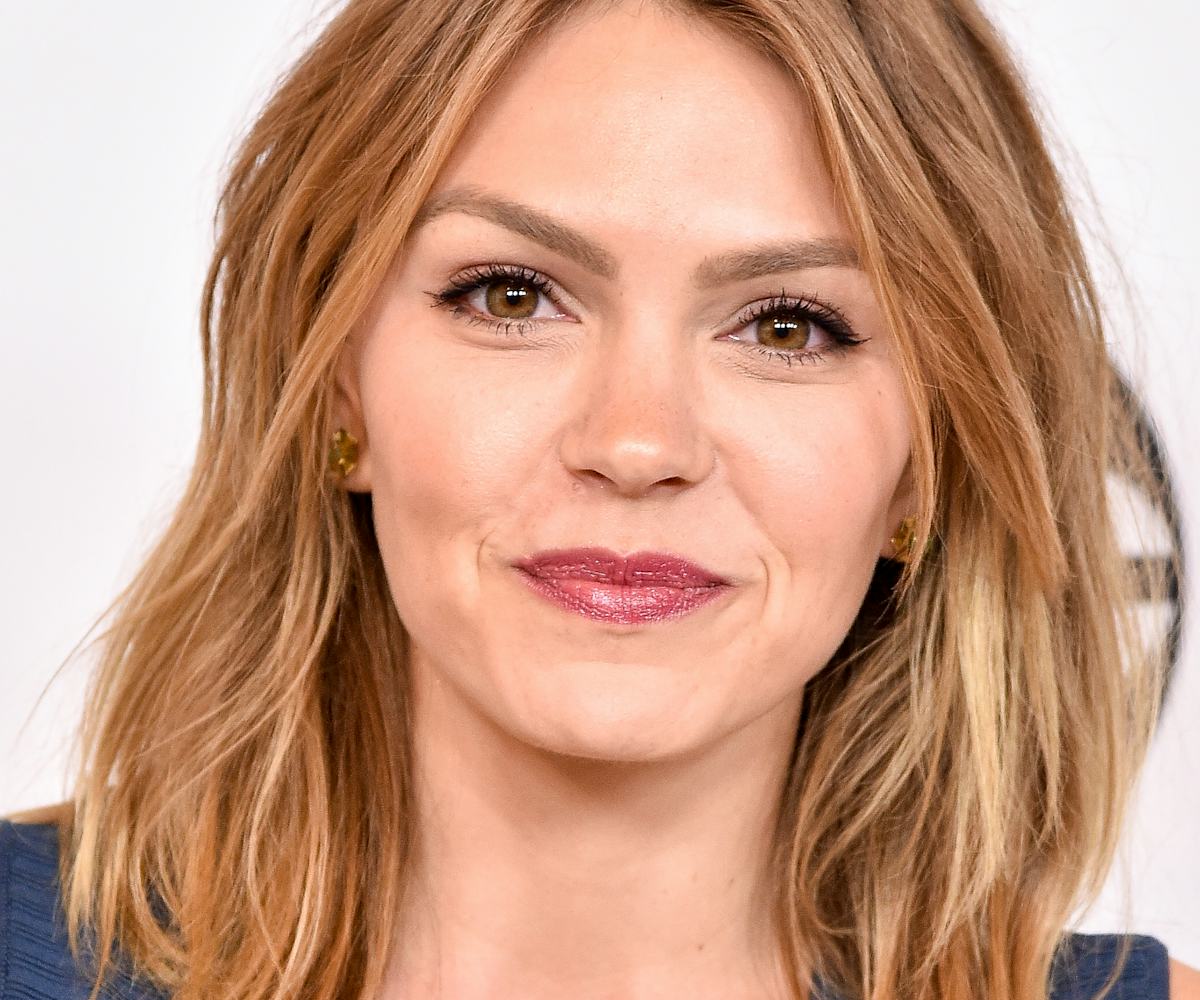 Photo by Mike Windle / Getty Images
Aimee Teegarden On The Rarity That Was 'Friday Night Lights' And Her Juicy New Drama 'Notorious'
Premiering tomorrow night on ABC
When Aimee Teegarden was 16, she was cast in Friday Night Lights, a drama about a small Texan town and the high school football team it worshiped. The show defied low ratings on its way to a five-season run, and in the process became one of the most beloved TV series in recent memory. That means, to many people, Teegarden will always be Julie Taylor, daughter of Kyle Chandler and Connie Britton's iconic couple, Eric and Tami Taylor. But even if FNL fans haven't moved on, Teegarden certainly has.
Tomorrow marks the premiere of her new show, Notorious, ABC's juicy drama about the dicey relationship between cable news and the criminal justice system. Inspired by the real-life friendship between celebrity lawyer Mark Geragos (defender of Michael Jackson, Winona Ryder, and Chris Brown) and former Larry King Live producer Wendy Walker—the two serve as producers—the show is a legal drama wrapped in a media world expose, with Teegarden playing Ella Benjamin, an ambitious young lawyer. We recently spoke to the actress about shadowing Geragos for research, what made Friday Night Lights so special, and the strange powerlessness of being an actor. 
What can you tell us about your character?
The show is a behind-the-scenes look at how contrived and manipulated the media and justice system can get. So the series explores the boundaries of integrity and gut instincts, and how far certain people are willing to go to stay on top. I play Ella Benjamin, an attorney at the G&G law firm, she's a young lawyer that's eager to make it to the top, she's a straight shooter. She isn't afraid to fight for what she believes in. Then, throughout the series, we kind of dive into her colorful past.
The show is getting comparisons to Shondaland shows. Is it as sensationalistic?
I don't know if it's sensationalistic. I think, the interesting thing about our show is that it's based off real people like Wendy Walker and Mark Geragos and their real working world relationship. Even when I've had the opportunity to be in the writer's room, where Mark and Wendy will come in, and Mark will pitch a story idea of just like one of the clients he's had recently, and you could not put that story in a script and keep it believable—like their real life is crazier than fiction. The interesting thing about our series is we kind of go and explore behind the scenes of what all of that looks like, and how the final product is so different than what we as consumers see in the media.
I saw on Twitter that you got to shadow Mark Geragos to prepare for your role. What was that like?
I did. I had never been in a court building before, I had never been into a lawyer's office, besides like an entertainment lawyer. Portraying this character on TV, I really wanted to get what a real day-to-day was like for an L.A. attorney. I sent him an email, and he was like, "Great, what are you doing tomorrow? Do you want to come down to the criminal courts building? Meet at 7am, I've got a case." So, I went down to L.A., went to the criminal courts building, and saw him go through that whole thing, and I spent about two weeks following him all around Los Angeles, and then we went to New York and met with an extortionist. I mean, I got to see things that you just, once again, wouldn't believe them as real life.
What are you going to be doing the night of the premiere?
I think the cast is having a little live tweet party, and so it depends I guess on what the work schedule is like for that night. We'll probably do it at someone's house or at the studio, but ideally, we'll probably get as many of the cast members who aren't working that night to be able to join the party.
How does it feel to have no control over whether or not the show finds an audience?  Is it at all frustrating or scary?
Yeah. I mean, I think there is that thing that sort of comes along with being in this industry on any level. As an actor, you do as much research as you possibly can, you create these characters, you rehearse, you shoot, and then you kind of just have to, you know, let it go. It's one of those things, it's like your creation, your baby, and then you kind of just got to send it out into the world and know that you gave 110 percent, and if it doesn't find its market or audience, you kind of have to let that go and not let that shadow your next project.
You were fairly young when you were on Friday Night Lights. Did you realize back then how good you had it, to be on a show that so many people liked and that lasted that long?
I was 16 when I booked the pilot for Friday Night Lights. That was my first pilot I had ever done. At that time, they were making a lot more pilots every year, and I remember someone saying to me, "Oh, that's your first one. You'll have to do at least six to seven before anything gets picked up." I had no idea what I was really stepping into. That show was just—it's alchemy. It's everything happening when it needs to happen and the right pieces sort of fall together. And Kyle Chandler, I remember, he used to say to us, "You kids, you have no idea how good you have it. You have no idea." So I think, at the time, we all kind of just really tried to enjoy it as much as possible, and it was just such a special show and it was an amazing time in my life.
Have you watched Kyle's show Bloodline?
I started watching Bloodline, but it's another one of those late night things. When I'm off from work and I watch something like Bloodline or Game of Thrones right before bed, I wake up in the middle of the night thrashing and screaming, and so I feel like I need a good chunk of time set aside where I can watch it during the daytime and then go do something fun afterwards.
Is it weird seeing Kyle play someone else's dad?
There's a little bit of that, but Kyle is such an amazing actor, and I'm so happy that he's doing so well.
If you hadn't been born in Los Angeles and grown up around the industry, do you think you'd still be an actor?
I think it probably would have happened, but I think it probably would have happened a lot later in life. I was very lucky, honestly, that I was raised in L.A. Both of my parents are not in the industry, so there's no way that they would have facilitated me going to auditions and things like that when I was so young. As far as the proximity of where auditions and jobs were versus where I grew up, I was really just lucky to have a family that was supportive. My dad would, after work, take me to auditions and classes and same goes with my mother.
As a native Angeleno, what advice would you give to someone who's just moved to L.A.?
L.A. is so interesting. I think the great, wonderful thing about L.A. is whatever you're looking for, whether it be a type of food, a culture, a type of activity, it's all here. You go a couple blocks in one direction, and there's some amazing Thai food; you go another couple blocks that way, and there's an amazing taco stand. There are so many different areas around L.A. So, I think, if you come to L.A. for the first time, kind of just get out there, walk around, take the metro, get on some public transit, meet some people—there are so many really cool pockets. I think a lot of people have a bad idea of what L.A. is, but I think that's mostly when people stay in the middle of Hollywood, and that's not really what I would ever consider L.A.