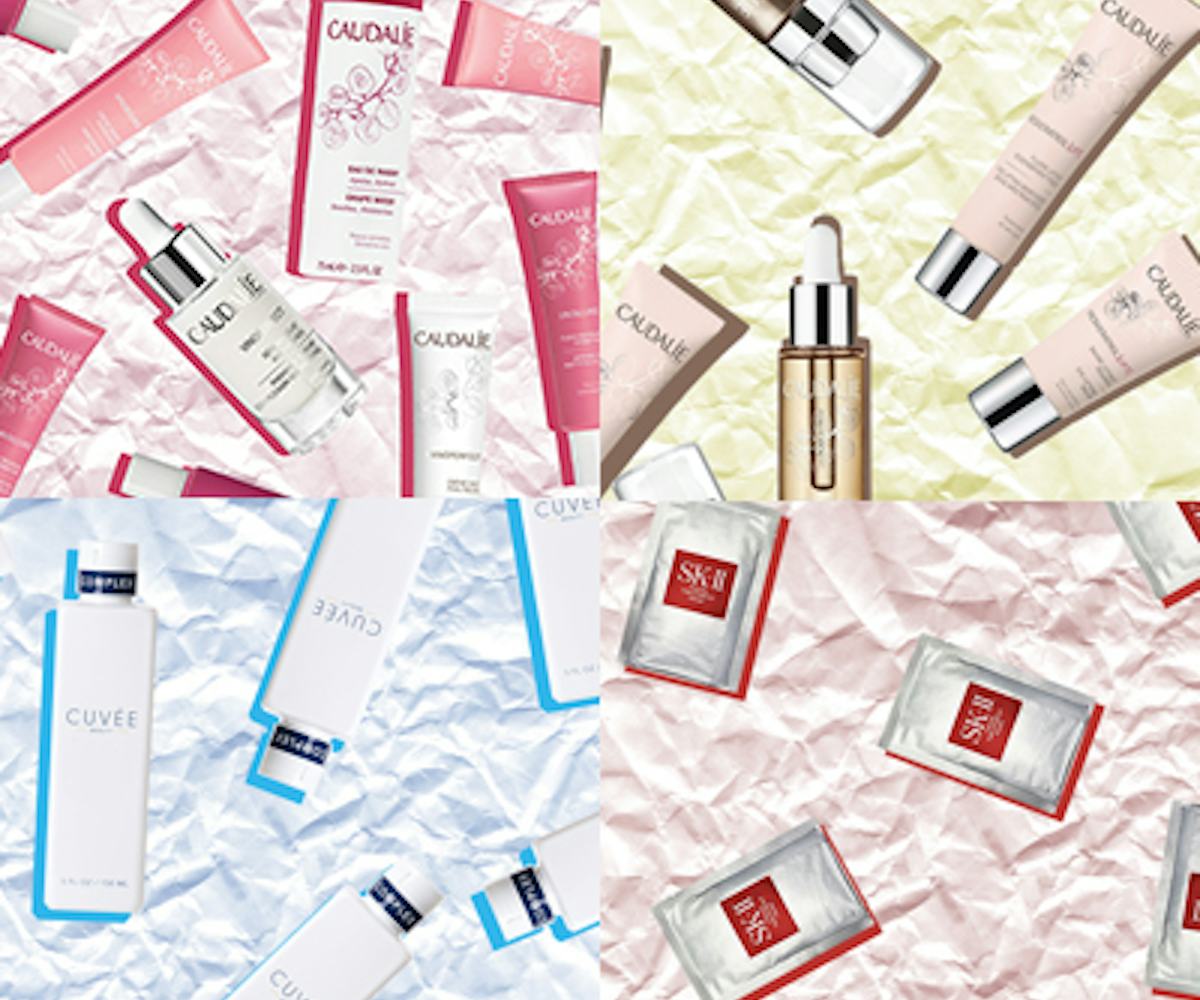 Boozy Beauty: Alcohol-Inspired Products For Your Next Happy Hour
The fashion and beauty industries often work in threes: The first time you see something, it's an incident, the second time is a coincidence, the third time is most definitely a trend. So when a third beauty product, featuring alcohol I am more used to seeing in a glass at my local bar on a Thursday night than in a serum bottle, landed on my desk, I stopped to think. Was alcohol-infused beauty the next big It Thing in the pampering realm?
Never the one to be swayed by momentary trends and fads, I admit that my interest piqued. Was there a way to indulge in boozy behavior without the risk of a dreaded hangover and bloat the next day, and with the added bonus of radiant skin and shinier hair? After diving in and drinking (research up) like a fish, I must say, I was surprised to find that there was a number of brands—with alcohol-influenced histories and, more importantly, science to back up their claims—that left me happily buzzed.
Whether you're looking for hair of the dog for your dehydrated locks or wanting to soak up sake for an intoxicatingly beautiful complexion, now is a prime time to pick your, well, poison. Find out which brands are legitimate industry game changers and which products pack a beneficial punch, and enjoy responsibly while clicking through the gallery, below.
Wine
Founded on a vineyard in the south of France, Caudalie is proof that it's always five o'clock somewhere. After discovering the amazing antioxidant powers of grapes and grapevine polyphenols during the grape harvest in their family vineyard of Château Smith Haut Lafitte, Mathilde and Bertrand Thomas launched every beauty fanatic's and oenophile's dream in 1995. "The grape seed polyphenol helps protect your skin from free radicals which is huge. We also use resveratrol, which is from the stalk of the vine and is the number one anti-aging molecule. Then we also use viniferine, that comes from the sap of the vine, to brighten, lighten, and even the skin and eliminate dark spots," says Régine Berthelot, treatment manager at Caudalie Vinothérapie Spa, of the brand's signature ingredients. "So you have protecting and hydrating properties with the grape seed polyphenol, you have firming properties with the resveratrol, and brightening with the viniferine."
"Grapes and grape polyphenols have antioxidant properties," confirms Elizabeth L. Tanzi, M.D. FAAD, director of Capital Laser and Skin Care in Chevy Chase, Maryland. "Antioxidants are compounds that help reduce the damage to skin cells caused by unstable molecules, or free radicals, found in the environment—usually sun, pollution, and stress." With product formulas free of parabens, phenoxyethanol, mineral oils, sulfates, synthetic coloring, and animal ingredients, Caudalie extracts unique substances from the vine, such as the soothing organic grape water, full of vitamins and minerals, anti-oxidant and nourishing grape seed oil, rich in vitamin E and omega-6, purifying grape marc that protects skin against free radicals, and moisturizing Vinolevure, that strengthens, protects, and hydrates the skin. "We love these ingredients because they're natural, but they're effective. You don't have to go through chemicals to find great results in the skin," says Berthelot.
I began my Caudalie regimen with the Vinoperfect collection. Promising to brighten, lighten dark spots, and even my skin tone, I tested the Radiance Serum and Cell Renewal Night Cream. The serum comes in the most lightweight formula, full of viniferine, and can be applied under or over makeup. I used it religiously day and night underneath my regular moisturizers, within days noticing an overall improvement in the appearance of my skin. The night cream seemed to have worked overtime too, contributing to my almost-acceptable morning aesthetic by reducing the appearance of my pores and adding an "I slept eight hours last night" radiance to my face before makeup was even applied.
The Vinosourse line, featuring four hydrating products, invites you to take a "bite into a grape packed with water and sweetness." Made of organic grape water and created to moisturize, soothe, and nourish parched skin, the formulas are lightweight and luxurious, emitting heavenly scent, like all Caudalie products I have ever tried. "The scents are based on the natural ingredients," explains Berthelot. "It's the natural plant extracts, instead of perfumes so they work into your skin instead of sitting on it." 
The biggest surprise for me came from Caudalie's Grape Water which I didn't know I needed in my life prior to testing the product—and which I most likely won't be able to live without going forward. Spraying it over makeup throughout the day, I used the bottle to touch-up and refresh my skin between work and events. The mist formula has a barely there scent and serves double-duty to hydrate my skin on the go and awaken my spirits."The grape seed water hydrates and soothes the skin, so it's a really great way to treat it in a very gentle way," says Berthelot. "Because sugar, from the grape, bonds with water, it's going to help to hold the water in. All the other sprays, when you spray the water on your skin, when the water dries, it evaporates, and it pulls the moisture that's in your skin, so it actually dehydrates your skin. Here, the grape water holds the water in and prevents it from evaporating."
Pictured: Caudalie Grape Water, $13, available at Sephora; Caudalie Vinoperfect Radiance Serum, $79, available at Sephora; Caudalie Vinoperfect Cell Renewal Night Cream, $59, available at Sephora; Caudalie Vinosource Moisturizing Sorbet, $39, available at Sephora; Caudalie Vinosource Moisturizing Matifying Fluid, $39, available at Sephora; Caudalie Vinosource Moisture Recovery Cream, $39, available at Caudalie; Caudalie Vinosource Intense Moisture Rescue Cream, $39, available at Sephora.
While Caudalie's products might be all-natural, they are anything but ineffective when it comes to results. For those looking to combat wrinkles and replump their skin to youth, natural anti-aging molecules, such as resveratrol from the grapevine stalks, are known to exert a stimulating effect on genes and prolong cell life. "Unstable molecules, when they bump into healthy cells, can damage them. Antioxidants will absorb and neutralize free radical molecules so they can't do damage to the skin cells," says Dr. Tanzi. Caudalie's Resveratrol Lift line, containing resveratrol and micro hyaluronic acids, works to recontour, firm, and lift skin. The light, hydrating texture of the Face Lifting Moisturizer blended into my skin, without any heavy residue that anti-aging cream typically leaves on the oilier parts of my face, with a flattering matte effect, while the Lift Eye Lifting Balm reduced my morning undereye puffiness and smoothed out the mini wrinkle lines.
The most luxurious of Caudalie's products, Premier Cru, is the brand's standout "global anti-aging" line. "In Bordeaux, for example, there's about 3,000 wines. Only five wines are named Premier Cru because they have to be the best of the best," says Berthelot, referring to the collection as the gold medal of skin care. "Mathilde wanted a line that would represent that for her skin care, and so global anti-aging means that she's combining the grape seed polyphenol to protect and hydrate, the resveratrol to firm and lift, and the viniferine to brighten and lighten the skin. The three patents work synergistically together and have multiple effects." The Elixir was a must-try with a best-of-both-worlds half-oil, half-serum consistency, leaving behind hints of rose and oak for me to enjoy throughout the morning.
With such a luxe facade, it's hard to believe that the brand is also ethical in the creation of its products. Environmental commitments are at the heart of Caudalie, highlighted by the packaging made of recycled paper and vegetable dye, as well as the donation of 1 percent of global sales to help protect the environment whether planting more trees in the Amazon, setting up a fair-trade partnership with the women of Burkina Faso to produce shea butter, or helping animals in Asia. "It just makes it a good feeling to know that you're helping nature, people, animals, everything," says Berthelot. "Mathilde really was able to find the great balance between natural, effective, and glamorous."
Here's one cocktail that you won't feel guilty getting an extra round of.
Pictured: Caudalie Premier Cru The Eye Cream, $99, available at Sephora; Caudalie Premier Cru The Elixir, $99, available at Sephora; Caudalie Resveratrol Lift Eye Lifting Balm, $62, available at Sephora; Caudalie Resveratrol Lift Face Lifting Moisturizer, $66, available at Sephora.
In addition to offering products, Caudalie can also host oenophiles at their Vinothérapie spas, located in exceptional locations around the world including the original vineyard in the south of France and at the iconic Plaza hotel in New York City, and boutique spas, housed inside Caudalie stores around the globe. Treat yourself to one of the many facials or body treatments, featuring grapes and vine, like the red vine barrel bath or Crushed Cabernet Scrub. And yes, the treatment does employ actual Cabernet grapes. "Crush Cabernet is one of our best seller body treatments because it uses grape seeds, which are great for exfoliation," says Berthelot. "We also use brown sugar, which exfoliates but also hydrates the skin because sugar bonds with water. Sugar compared to salt is not going to dehydrate your skin. We also use honey, which is very soothing and healing for the skin, and grape seed oil." 
If you don't happen to live close to a Caudalie spa, Berthelot says that there are easy ways to recreate the experience at home using the products. "Creating a relaxing spa atmosphere is essential to creating a mini at-home experience. First indulge all the senses… burn candles that are soothing and relaxing to you, dim the lights, and turn on music that will transport you," she says. To get your body and legs smooth and ready for bikini season, Berthelot suggests using the line's Crushed Cabernet Scrub a couple times a week, followed by a contouring concentrate. "The contouring concentrate is an essential oil that is based in grape seed oil, but it has lemon, lemongrass, juniper, geranium, and cypress that's going to help in eliminating water retention and also help firm and tone the skin. It's a great anti-cellulite, slimming regimen."
Want to go a step further to reap the benefits, and make your own DIY grape scrub to use as a body exfoliant? Berthelot has a recipe for that too.
Purchase grape seeds, which should be easy to find on Amazon, and blend with a quarter cup of organic brown sugar. Next, blend in grape seed oil and add honey. You can then add a few drops of essential oils for their therapeutic properties and indulgent scents. I would suggest lemon, lavender, or rosemary. Afterward, warm the mixture in the microwave for 20 to 30 seconds, and then massage into your skin before stepping into the shower. Massage the body upwards in small circles and focus on the joints. The most indulgent step is after you rinse, to apply a nourishing body cream to damp skin. You are guaranteed to feel relaxed and pampered.
Follow the procedure with a glass of red wine as they do at the Vinothérapie's spa. You deserve it after all the hard work.
Pictured: Caudalie Crushed Cabernet Scrub, $38, available at Sephora; Caudalie Nourishing Body Lotion, $30, available at Sephora; Caudalie Divine Candle, $48, available at Caudalie.
Champagne
What happens in Vegas, doesn't always stay in Vegas, and it's a good thing. After Rachel Katzman got her hair soaked in champagne during a birthday weekend in Las Vegas, she couldn't help but notice the incredible body and feel of her waves. Fast-forward three years to earlier this month, and Cuvée Beauty launched. "Cuvee is a French term that in Champagne-making, it is the best of the best first pressed grapes that are pulled," says Theresa Ma, CEO of Cuvée Beauty. "So, we kind of adapted to that being the best of the best. We come from the viewpoint that hair care is an extension of skin care, and that great hair, healthy hair, shiny hair must start from a healthy scalp."
Made up of six unisex hair-care products, the line features a shampoo, conditioner, complex, and three styling products all containing a "very, very special Cuvée Complex, "a unique blend of Champagne grape seed extract, white truffle, and platinum ferment extracts combined with resveratrol, ceramides, plant proteins, and botanicals. Ma says of the ingredients:
The Champagne grape seed extract is an antioxidant, so it's highly protective towards environmental damage, as well as aids in strengthening your hair and making it stronger and shinier. Ceramides are great conditioners. They nurture the hair. Resveratrol is an antioxidant. Again, it's highly protective and helps your scalp balance its natural ecosystem in renewing the hair. Plant protein nurtures and reinforces the hair's natural structure. The white truffle is awfully hydrating and very soothing. It helps in creating a better texture.
Free of parabens, sulfates, and phthalates, the products work on all hair types and are safe to use on chemically treated and dyed locks. Upon testing the products, packaged in sleek, minimalist packaging that will also happen to look great in your bathroom cabinet, I instantly noticed the intoxicating scent of Champagne and figs. "We developed the fragrance in partnership with a fine fragrance house that is located in Grasse, France, the area that is worldly renowned for fine fragrances," says Ma. "We looked for a scent that really spoke to us and that we really felt translated the feeling that the brand was about." 
Pictured: Cuvée Beauty, Shampoo, $35, available at Cuvée Beauty; Cuvée Beauty, Conditioner, $38, available at Cuvée Beauty; Cuvée Beauty, Cuvee Complex, $45, available at Cuvée Beauty.
While washing my hair, I noticed how much lighter the formula was compared to my usual shampoo and how much gentler it felt on my scalp. Following the brand's instructions, I next applied the complex. Promising to protect and strengthen my hair as well balance the ecosystem of my scalp and prevent future damage caused by daily styling, environmental pollution, chemical treatments, and sun exposure, the product felt reminiscent of body lotion and went on smoothly and weightlessly. It left my hair feeling very natural post-rinse and me wondering whether I did anything to my hair. Ma confirms that this is the experience of most clients when first starting to use the product. "The perfect analogy is like people taking vitamins. We know they work, but it's not immediate in that you can't see it right away or feel it right away. But you have just nourished your hair." I followed the complex with the restorative conditioner that also felt weightless and soft on my hair. 
After the final rinsing, I left my hair to air-dry and waited for results to appear. Aside from leaving my hair more voluminous, pleasant smelling, and easy to brush through (a major feat given that my hair falls below my waist and I usually have to tear a brush through it to untangle it while wet), I could instantly see the difference in my ends, which, again due to the length, are notoriously dry and brittle. My ends looked less fried and felt softer than even after a professional hydrating treatment at the salon. After a few washes, I definitely observed a "multivitamin" effect. My hair felt silkier, stronger, and more nourished with each wash, it looked shinier and more vibrant—there was suddenly subtle bounce and movement that followed my every step too.
While I tend to leave my hair usually product-less and free to do whatever it pleases, the line additionally features three styling products—protective treatment, styling balm, and texture spray—for those wanting to continue to keep their hair bubbly after the shower. "We looked at what is it that gives you that great hair day, and generally, for most, it's about using tools to help you create the look that you like or want," says Ma of the multipurpose products that can all be used on wet or dry hair. 
The protective serum, which comes in a spray form, can be applied prior to blow-drying or straightening hair and will protect your locks against heat and breakage, give light hold, tame frizz and flyaways, and detangle strands without weighing them down. It also offers UV protection so you can spray it on before heading to the beach to protect your color from the sun's rays. For an effortlessly lived-in, tousled look with slight body and definition meant to mimic "that second-day hair 'every day,'" the texture spray was created. Use the product, which feels nothing like a hair spray, to create a slight hold or to enhance waves for a night out. The balm is perfect for creating more complex styles. It gives an exceptional hold without the crunch, stiffness, heaviness, and grease of heavy styling products and promises to provide hair with body and fluffiness instead of flattening it out. Apply prior to styling hair to protect from heat, tame frizz, and block humidity. 
Pictured: Cuvée Beauty, Texture Spray, $42, available at Cuvée Beauty; Cuvée Beauty, Styling Balm, $42, available at Cuvée Beauty; Cuvée Beauty, Protective Treatment, $45, available at Cuvée Beauty.
Sake
When I first started out in magazines in Boston, almost a decade ago, I was sent on an assignment to test the then-relatively unknown brand SK-II that had just set shop at a local department store. It was then, as my face was given the whole SK-II treatment, that a specialist told me the story of the special ingredient that is Pitera. Back in the '70s, as scientists were searching for a key ingredient for a new skin-care line, they came upon a Japanese sake brewery where they noticed the youthful hands of the elderly workers which, despite the manual labor and mature age, were incredibly soft and smooth. Upon returning to the lab, research began, and soon scientists found that the secret was in the fermentation technique that created the liquid that nourished the skin of the workers who were in close contact with the process. Years of study and more than 350 different kinds of yeast later, and the scientists were able to uncover the ingredient that would lead to the birth of the brand's signature Pitera that is found in every SK-II product.
Pitera is a clear, nutrient-rich liquid that's created through a natural fermentation process. A blend of vitamins, amino acids, minerals, and organic acid, Pitera works to nourish, clear, and improve the skin, creating a radiant, blemish-free, and smooth complexion. The ingredients work together to not only improve the texture, firmness, and age resilience but to enhance the skin's natural surface rejuvenation process that helps skin perform at its finest. "Pitera not only moisturizers, it plumps the skin, improves barrier function, tone, texture, and lessens the appearance of wrinkles," says New York dermatologist Dr. Patricia Wexler. "It also increases allantoin, which is soothing to the skin, giving brighter, more even, and better pigmentation." It, therefore, should come as no surprise that the two queens of supernaturally brilliant complexions, Cate Blanchett and Kate Bosworth, consider themselves fans.
The iconic product at the forefront of the brand and my first introduction to the brand back in Boston was Facial Treatment Essence. It contains over 90 percent of Pitera, the highest concentration of any of the products, and works to gently exfoliate the face and improve the skin's renewal cycle. After cleansing my face, I patted the formula onto my face and neck using my fingers and followed with serum and moisturizer. The lightweight formula, which feels almost like water, quickly absorbed into my skin leaving me wondering whether I applied enough; my skin, moisturized and nourished with no excess residue, respectfully disagreed. While the effects were not visible immediately, I noticed a definitive change in my skin's appearance over the course of two weeks. My face's texture was smoother and more radiant, my blemishes and spots less visible, and skin firmer. Dr. Wexler confirmed that I was not imagining the effects of "the miracle water." "The Facial Essence is 90 percent Pitera, and the rest is humectants and hyaluronic acid," she said. "Most users report an improvement in tone, texture and, radiance as well as [a decrease in] fine lines."
Combating dry skin following a transatlantic flight, next I tried the Facial Treatment Oil, one of the brand's newest products, described as a balance between oils and Pitera. Subbing my regular moisturizer for this oil, I used it following the Facial Treatment Essence. The formula was more lightweight than most facial oils that I've used in the past and unexpectedly smelled lavender-like. Following the instructions, I dropped 5 to 7 drops into my palm and massaged the oil into my face. The oil left my face instantly hydrated without the extra sticky layer that some oils tend to leave behind even after a night of sleeping in them. Not only did the product provide long-lasting hydration to my parched skin but it also soothed the mysterious red patches that tend to accompany my skin post-flight.  Dr. Wexler confirmed that I used the oil at a good time: "The Facial Oil should be used to moisturize dry skin, especially from cold, dry weather, stress. It's also good to note that most oils are also well-tolerated by sensitive skin."
Pictured: SK-II Facial Treatment Essence, from $99, available at SK-II; SK-II Facial Treatment Oil, $150, available at SK-II.
In a time of an overabundance of face masks flooding the beauty market, it is rare for any one product to continue reigning as king. Yet, year after year, SK-II's Facial Treatment Masks continue to come out on top as leaders of the pack (pardon the pun). The 100 percent cotton mask, dripping with a high concentration of Pitera, promises to drench the skin with a fusion of beneficial ingredients that work to revitalize, comfort, and provide intense hydration. And boy does it deliver. During the aforementioned transatlantic flight, to the disdain of my seat neighbor, I applied the mask on my face. The generously soaked mask, which I fitted over the curves of my face, was a welcome relief to my overheated face. After 10 minutes, I removed the mask—the dryness and oxygen-deprived dullness instantly disappeared in favor of an even skin tone and supple texture. Suddenly my entire face was looking alive and not that of jet-lagged traveler following their sixth hour on the plane. "The mask is not meant to exfoliate, but to deliver maximum strength Pitera for softness and radiance," says Dr. Wexler. Pro tip: If your face is feeling extra puffy, inflammated, or in need of additional relief, put the mask in the fridge and apply cold on the face.
The mask has become a cult favorite not only among users and celebs, like Blanchett and Bosworth, alike but among runway makeup artists as well. Makeup pros like Gucci Westman and Pat McGrath are known to prep models' faces with SK-II masks prior to makeup application during Fashion Month, a time when most models walk several shows and are at their most dehydrated. For a full pampering experience, follow the application of the mask by the Facial Treatment Essence and SK-II Mid-Day Essence Spray that helps lock-in moisture and that you can reapply over makeup over the course of the day.
Pictured: SK-II Facial Treatment Mask, $17 each, available at SK-II.
Beer
Tap this: While on the search for a safe and natural shampoo for the family, which included their teenage daughter who was switching over from shampoos with kid-friendly ingredients, Brad and Sarah Pearsall grew concerned with the harmful additives they were faced with. "Everyone worries about underage drinking, but no one seems to think about underage shampooing! When our daughter turned to conventional hair care for adults, the ingredient list was full of questionable chemicals," says Sarah. "So we set out to create a 'have your cake and eat it too' shampoo, which turned into a 'have your beer, and shower with it too' shampoo!" When Brad shared his frustrations with his mother, she suggested he grab a beer. Not to drown his sorrows but to pour on his head. It turns out back in college in the '60s, Brad's mother and her friends used to rinse their hair with beer to get body and shine after learning that Jackie Onassis Kennedy used that trick to create her voluminous bouffant.
Brad was intrigued by the idea of bathing his head in a shower of beer; Sarah, understandably, not so much. As any woman, who has countless times been spilled on at college parties back in the day, at first, Sarah wasn't into the idea of the "malted miracle" on any part of her body. "I can't recall whether I rolled my eyes first or made the international sign for vomiting by pointing my fingers to my open mouth," says Sarah. "Wrinkling my nose, I said, 'I don't want to smell like a fraternity house on Saturday morning.'" But when Sarah mentioned this idea in-the-brewing to her mother, she was promptly informed that it wasn't all effects of beer goggles, and that while in medical school in the Philippines back in the '50s, her mother too had practiced beer rinsing as means for luscious locks. In 2010, BRÖÖ, an all-natural hair-care collection infused with craft beer, launched.
Free of sulfates, parabens, phthalates, silicones, dyes, and artificial fragrances, BRÖÖ promises to get "you in a lather without the chemical hangover." The brand features three lines: thickening, moisturizing, and invigorating, a sick-pack containing malt and freshly hopped craft beer along with other natural ingredients. 
So does beer actually make you, erm, your hair, better looking? Turns out hoppy locks are happy locks, and that ingredients found in a brewsky, like barley and hops, are brimming with properties that make for shiny, healthy, and strong hair too. "During the magic of the brewing process, thousands of natural chemical reactions occur, releasing B vitamins, proteins, and minerals that are super-beneficial for the hair," says Brad. And this is not a new idea. "Beer and apple cider vinegar have been used in hair for years," says Janine Jarman, owner of Hairroin salons in New York City and Los Angeles, and who lists Ariana Grande and Katy Perry as her clients. "It's safe due to the fact the products share similar pH levels to our hair."
Pictured: BRÖÖ, Thickening Craft Beer Shampoo, $7.49, available at Target and Conditioner, $7.49, available at Target.
Scott Yance, owner of Scottfree Salon in Milwaukee and a New York Fashion Week hair stylist who has worked with celebrities like Jessica Szohr and Bethenny Frankel, frequently whips a beer rinse for his clients. The recipe calls for a quarter cup of beer, quarter cup water, and two tablespoons of apple cider vinegar ("to cut the alcohol scent"). "Work all the ingredients into wet hair and leave it on for a few minutes. Rinse through your hair every other week for clean, shiny, and voluminous locks," Yance says.
Yance warns: Like your body, your hair too can experience the negative effects of dehydration after having one too many. "If you tend to have more naturally oily hair, it can be beneficial, but anyone with dry hair needs to avoid it," says Yance. To avoid damage and dry tresses, he suggests using beer only once or twice a month, along with daily oral biotin (Yance sells his own proprietary Scottfree Salon Biotin for clients who would like an extra boost of the vitamin powerhouse) and vitamin B.
With that in mind, you can count on BRÖÖ to reap all the beneficial parts of a brew, without the dehydrating side effects. While malted barley brims with vitamin B, protein, and minerals, helping nourish, repair, and protect hair, hops are used for a lot more than just adding a bitter flavor, and, in fact, have natural preservative properties and are chock-full of oils that help fortify and soothe the scalp. "The essential oils in the hops are extracted in the brewing process, when the flowers are heated in water, with the barley," says Brad. "Those same oils are great for the hair and skin because they are filled with antioxidants and toning/astringent properties." BRÖÖ's finishing touch: caffeine to stimulate hair follicles for optimal hair strength and health. "Caffeine is great for waking hair and scalp up just like our coffee! It gets scalp blood flow moving, and gives hair volume and movement," says Jarman.
Like Sarah, I was very skeptical of dousing my head in a liquid better suited for a Super Bowl party than one's hair. I started off with the Thickening shampoo—intended to lift, amplify, and volumize limp tresses—which, over the course of several washes, it does. Involuntarily closing my eyes and preparing for the worst, I poured the creamy formula into my palm. The scent was completely unexpected: smelling anything but your frat-party special, the pour gave off an intoxicatingly pleasant citrus base with a subtle mix of orange, grapefruit, and… vanilla present. The Moisturizing and Invigorating samples were equally astounding (in the best way possible), carrying notes of lavender and geranium and mint and rosemary, respectively. The Moisturizing duo, featuring actual shea butter, instantly hydrated my parched locks and helped maintain moisture for the next few days without making my hair fall flat (a result of most hydrating-labeled hair products I've used in the past). The best surprise came from the Invigorating set: Leaving a slight tingle from the peppermint that's infused in the formula, it felt like the energy kick that the doctor prescribed for a Monday morning.
Pictured: BRÖÖ, Moisturizing Craft Beer Shampoo, $7.49, available at Target and Conditioner, $7.49, available at Target; BRÖÖ, Invigorating Craft Beer Shampoo, $7.49, available at Target and Conditioner, $7.49, available at Target.