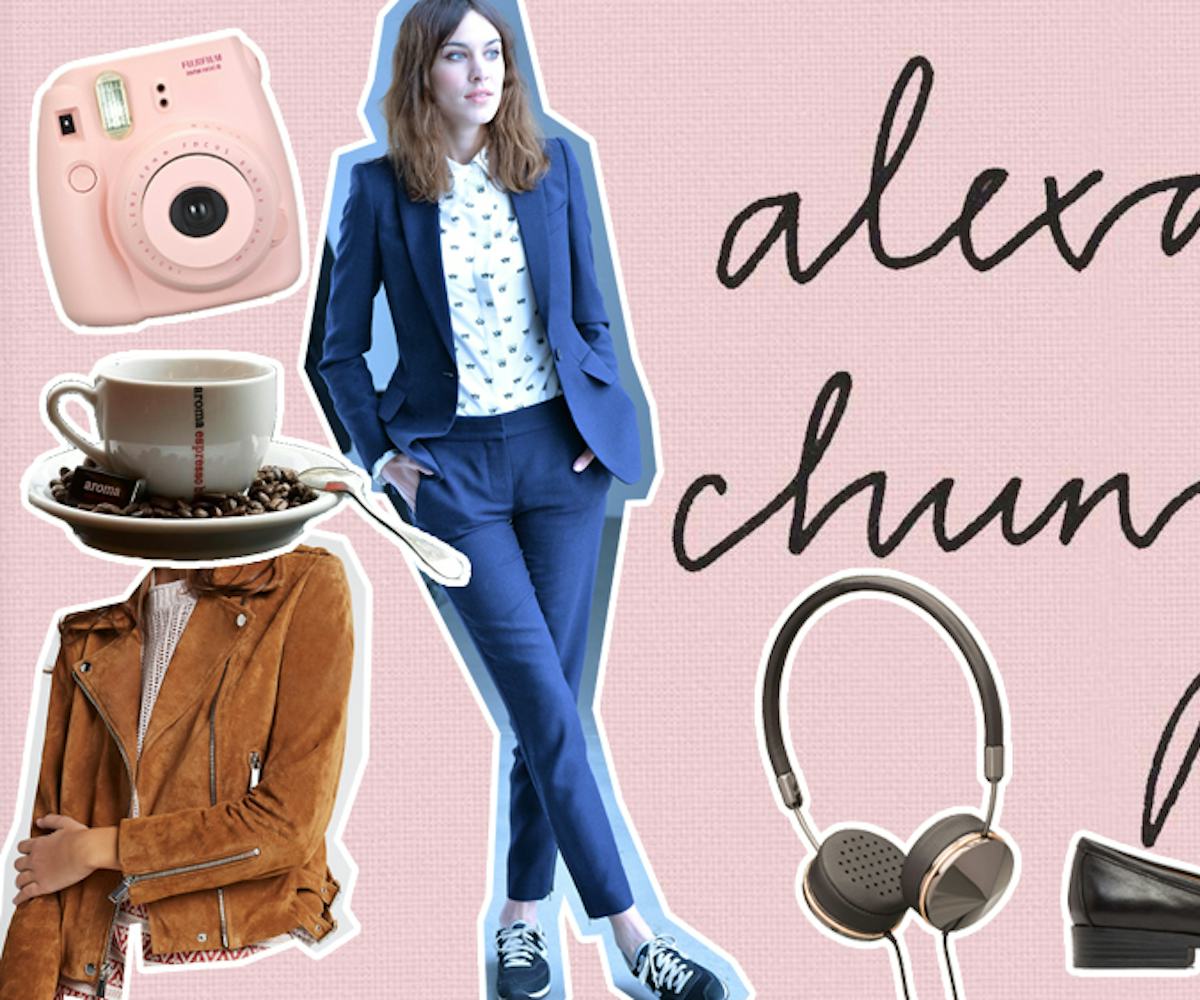 Photo courtesy of Fujifilm; Aroma Espresso; BCBGeneration; by Larry Busacca/Getty Images for Mercedes-Benz Fashion Week; Frends; Penguin Books; Ballantine Books.
The Complete Guide To Alexa Chung-ifying Your Life
Very British, with a taste of New York
Eternal It girl Alexa Chung has been a role model for many—and for a while. Her effortlessly cool British style starts trends. People turn to her for what's new, what's hip, and what's coming next. Her vibe enviable, and luckily, totally recreatable. Let's just say you won't catch her walking down the sidewalk in 9" platforms, a billowing cape, and a headpiece. That's a whole other kind of iconic. That's power. Chung's power is subtle, refined, and applicable to the everyday. 
One weekend pouring over her street style snaps, her book, and other outlets provides enough material for anyone to Chung-ify their life. That perfect British-meets-New York vibe isn't a lofty dream. All it takes is the right flats, sophisticated casual basics, tunes, and coffee. Try it out in the gallery ahead.
Step 1: Spend a weekend devouring Chung's book. It's filled with all the inspiration you need to channel your inner Alexa.
It by Alexa Chung, $18.98, available at Amazon.
Step 2: Buy a covetable statement jacket. You want something that can go with blue jeans, a button-down, a tee, black jeans, etc. This is the layering piece; drape it or put your arms through the sleeves—just make sure you rock it.
BCBGeneration, Zippered Suede Moto Jacket, $348, available at BCBGeneration.
Step 3: A dressy-casual button-down is refined and can be gussied up or down, depending on your mood.
BCBGeneration, Chambray Western Button-Down Shirt, $118, available at BCBGeneration.
Step 4: Ask any London or New York girl what their wardrobe staple is, and they'll probably tell you black skinnies. It's a necessity.
BCBGeneration, Seamed Ankle Skinny Jean, $118, available at BCBGeneration.
Step 5: Sure, heels are fun, but flats like these take those black skinny jeans to a classy level without the pain.
BCNGeneration, Jo Mens-Inspired Flat, $62.30, available at BCBGeneration.
Step 6: Instagram and iPhone photography is great, but nothing beats physically holding your filtered image of flowers, windswept hair, what-have-you. Plus, when your camera can match your copy of It, why look anywhere else?
Fujifilm, instax mini 8 Instant Film Camera in "Pink," $59.99, available at Best Buy.
Chung once told Harper's Bazaar she goes to Aroma to get coffee, so, like, go there and get a cappuccino. 
In that same Harper's interview, Chung explained her love of horoscopes and knowing the language of birthdays. This here book combines all of those, so you, too, can fall in love with horoscopes and birthday languages. 
The Power of Birthdays, Stars & Numbers: The Complete Personology Reference Guide by Saffi Crawford, $16.45, available at Amazon.
When you're a part-time DJ, you should never be without music. Might as well listen in style.
Frends, Layla Gunmetal & Rose Gold, $149.95, available at Frends.