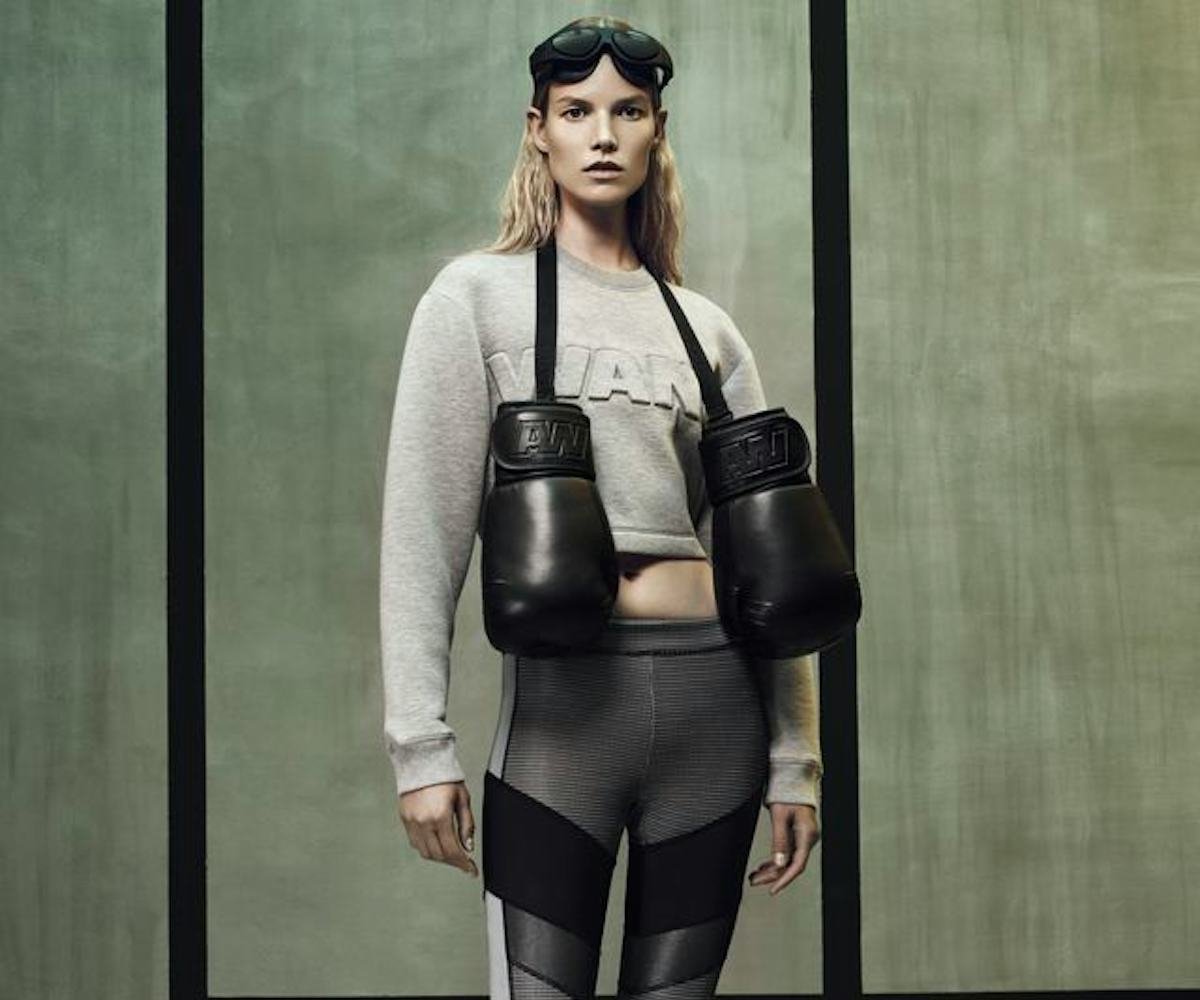 all photos courtesy of h&m
alexander wang tells us about his almost sold-out h&m collaboration
aka the collab of the century.
H&M has launched some of the coolest collaborations in recent years, parterning with the likes of Versace, Lanvin, Karl Lagerfeld, and, most recently, Isabel Marant. Next up, they've tapped their very first American designer: Alexander Wang, who has been celebrated for reinterpating and recontextulizing the urban uniform ever since launching his label in 2005. His own collections often blend imperfection with finely tailor silhouttes and refined structures, and his parternship with H&M is no different. It features streamlined performance wear and accessories for men and women alongside a yoga mat, boxing gloves, and a referree whistle ring. Knit crop top and brand leather leggings immediately remind us of the designer's sport Spring '15 collection and line of basics, T by Alexander Wang. Before the capsule collection went live today, Wang told us all about the collection.
How would you describe the look and feel of the collection? I've always been inspired by the functionality of performance wear and the advancements in fabrics and technical details. We've utilized interesting bonding, welding, and foam injection treatments that feel quite modern. These pieces are made to be worn every day on the street, but can also be fully functional at the gym, like the branded compression knit crop top or performance T-shirts with camouflage text. I love how functional details keep the body warm while also having an elevated aesthetic and quality.  
Why were you interested in doing this collab with H&M? Did you look at their past partnerships for any inspiration? I wanted to relook at the nature of their collaborations and do something different. H&M has done a great job with previous archive-based collaborations, but I wanted to design new pieces exclusively for the collection, I didn't want to cater to just one type of customer, so I chose a genre of clothing—performance wear—that, no matter if you shop mass [market] or high luxury, has no price discrimination. I've admired H&M's past designer collections, so when they approached us, I was very excited and honored to take part as the first American brand to join their roster. It's not just the products and their desirability; it's also the way they communitcate the collaborations and stage the events. 
What was the biggest challenge for you in creating this collection? It's been an absolute pleasure working with the H&M team and [creative advisor] Margareta van Bosch. She must be one of the most energetic and open-minded people. Margareta was immediately on board to push things forward and to experiment with fabrics and techniques. She has a great sense of humor, too!
Check out our top 10 picks from the collection in the gallery. Then check out the entire collaboration here.
Alexander Wang for H&M Top with Perforated Pattern, $149.  Now sold-out. 
Alexander Wang for H&M Parka with Down Vest, $299. Now sold-out. 
Alexander Wang for H&M Dress with Perforated Pattern. Now sold-out.
Alexander Wang for H&M T-Shirt Dress, $59.95. Now sold-out.
Alexander Wang for H&M Bustier, $34.95. Now sold-out. 
Alexander Wang for H&M Leather Boots, $199. Now sold-out. 
Alexander Wang for H&M Suede and Leather Shirt, $129. Now sold-out. 
Alexander Wang for H&M Anorak, $199. Now sold-out. 
Alexander Wang for H&M Short Scuba Top, $59.95. Now sold-out. 
Alexander Wang for H&M Sports Bra Medium Support, $39.95. Now sold-out.