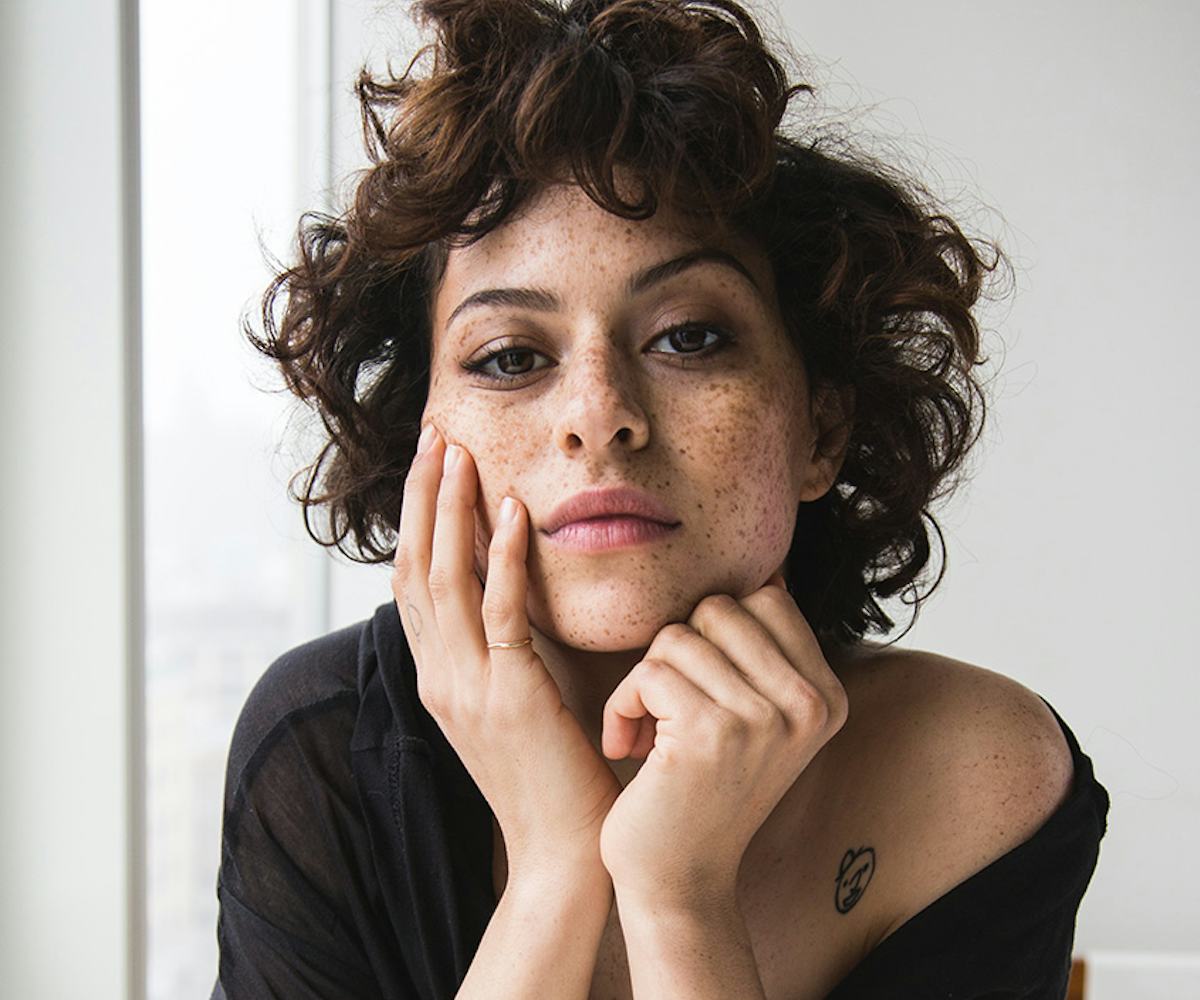 Photographed by Sunny Shokrae
inside alia shawkat's weird and wonderful mind
You may know her as Maeby Fünke from Arrested Development or Ilana's doppelgänger in Broad City, but there's much, much more to Alia Shawkat. Redefining the term "triple threat," Shawkat is an actor, musician, and artist—and, yes, all of her work is just as rad as she is. In the gallery, she spills on her beauty routine, acting projects, music, and her illustrations.
Related Articles:
Tallulah Willis Talks Art, Self-Empowerment, And '90s Lipstick
You have amazing curls. What do you do to maintain them? I use Oribe shampoo and conditioner, and I have a really great hairstylist named Sabina Yannone—she has curly hair, too, so she knows how to maintain mine. The cut is really important. I put mousse and some oils in it so it doesn't get frizzy—my hair is very reactive to temperature. I just mess with it and curl it around my finger to get the shape. And I do a lot of fluffing—the bigger the better.
Who are some of your ultimate curly-hair beauty icons? There's this one photo of Naomi Campbell from a magazine that I based my haircut off of—it's probably a wig, but those old-fashioned '50s big bouncy curls are what I love.
What's the best advice you can give to girls who have curly hair? I used to straighten my hair all the time, like nonstop, because I always wanted silky flat hair, but now straight hair is so boring to me on my face, and it doesn't feel like me. My biggest advice is that you just gotta rock it. It takes time, but don't try to make it something it isn't, you know? Let it be wild and it'll look cooler. 
I like that you don't cover up your freckles, but do you ever wear face makeup? I do, a little bit. I always tell makeup artists not to cover them. It's really the reason why I get the job. [Laughs] I still forget I have them—sometimes I'll see girls with freckles and think, "Oh, wow." Then I'm like, "Wait, I have those." It's just like with everything, as you get older, you learn to love it. 
What's your normal makeup routine? I just got into the makeup company Hourglass. They have this shimmery, iridescent powder that I use on my cheeks. Then, I use tinted moisturizer and sunblock. Also, another good thing about having freckles: If I have a pimple, nobody notices because it just looks like a freckle. [Laughs]
Speaking of curly hair, you were recently on Broad City playing Ilana's curly-haired doppelgänger. How did that happen? I was a fan of the show, and some people actually think that I am Ilana, so I thought it'd be funny to do something with that concept. I was in a group text with Ilana and Abbi and they said, "Yeah, we came up with an idea, like a doppelgänger romance thing." I was like, "That sounds hilarious," and they were like, "Are you interested?" I said, "Yeah! Go for it!" And however long later, we were shooting.
Was it weird shooting a romance scene with Ilana? I didn't think about it that much because of the person I was doing it with. We hit it off right away, and she's a good kisser, so it was fun.
What else do you have coming out this year? Nasty Baby (directed by Sebastián Silva) and The Final Girls (Todd Strauss-Schulson) are coming out now!
So tell me about your art. When did you start drawing? About seven years ago. I was dating someone in New York, and I wasn't really happy about acting at the time—I was bitter. I just started drawing and I made his huge piece at first—bigger than anything I've ever done—and it just started coming out.
How would you describe your style? Graphic cartoons, like Robert Williams—he's my favorite artist. I think they all have a sense of humor to them, like some commentary.
How did you come up with the name Mutant as your artist pseudonym? There's this tag artist here in L.A. and I saw that word and loved it right away. Mutant is my word. 
And you're making music, as well, right? Yeah! My friend Nick Thorburn, from the bands The Unicorns and Islands, he and I have been making music together for a little while, but we both always end up getting busy. Just recently we started recording stuff together again. We have five songs that we've recorded and we just made up another one the other day. I'm hoping by the end of the year we have an album done.
So, obligatory Arrested Development question. What are some of your favorite memories? It was always fun. Just fucking around and chilling with people who are so funny and so smart. It was the best. 
Are you guys going to film more episodes? I don't know. There's always talk about it, but it's nothing official. The last season we ended with a cliff-hanger, so I definitely think that they're thinking of more, but there are no deals happening. I hope we keep making it for the rest of our lives.