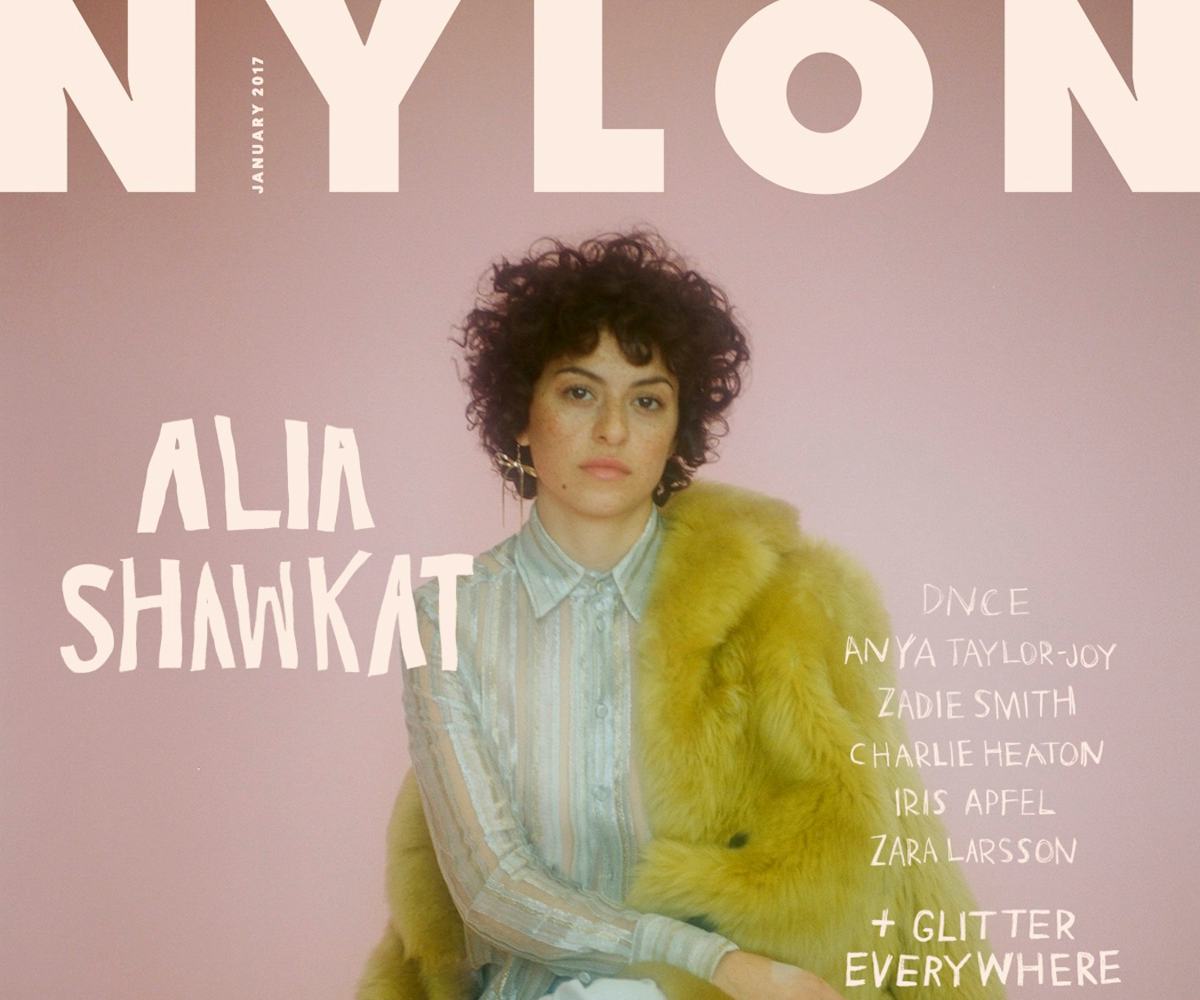 Photographed by Carlotta Guerrero. Styled by JAK.
Alia Shawkat is Our December/January 2017 Cover Star
After 'Arrested Development,' a role on a promising new show is thrusting her back into the spotlight
The following feature appears in the December/January 2017 issue of NYLON.
About six miles outside of Hollywood sits a quirky concrete mini mall called Little Tokyo Galleria. On this bright Sunday afternoon, its indoor-pool-like acoustics amplify a varied din, making it almost impossible to hear Alia Shawkat as she leads me up two escalators to a vegan restaurant she likes to patronize after spending an evening downtown drunk or stoned. The entrance is so nondescript it's hard to tell it's an entrance at all. I fumble for a bit until the 27-year-old actress pulls aside some drapes to help guide my way. Inside it's quiet, save for some vaguely flamenco-sounding music and the soft, ASMR-like voice of our hostess. "Are you guys okay with vegan food?" she whispers. We reply in the affirmative. Shawkat is dressed in a button-up blouse, black T-shirt, and khaki shorts, her freckled face framed by her signature curls, her eyes seeming to bear the world-weariness of a much older woman. We're led to a table covered with sheet paper near a big window. Our view: a semi-vacant mall flooded in fluorescent lighting.
"You know, what I just remembered about this restaurant is that it's always a challenge to order," Shawkat says quietly after we're asked a second time by the hostess whether we're okay with everything on the menu being vegan. A few minutes later she returns to find out if we have any allergies. "No, we don't," Shawkat replies. The hostess walks back to the kitchen. After a few more trips back and forth asking similar questions, Shawkat quips, "What if she comes back again and is like, 'Can I take your order?'" She smiles and hands me a pen to draw on the table paper.
Click through the gallery to read the rest of this feature.
Coat by Emporio Armani, top by Bally, pants by Levi's, shoes and earrings by H&M.
NYLON's December/January 2017 issue hits newsstands November 29, 2016. Buy it now or subscribe.
Absentmindedly I begin to sketch a triangular, nondescript flag. "I'm not sure why I drew a flag," I say. "It doesn't have to have a reason," Shawkat assures me while expertly applying droplets of sparkling beet sangria to the world of cavorting puffball demons she's drawn. The hostess has dropped off a sangria-sake concoction for her to try, and Shawkat is putting the improvised pigment to good use, crafting skilled doodles that betray a background in fine art and a CV that includes gallery showings in Mexico City and Paris. "Your piece should be about this restaurant," she says with a laugh. "It's becoming a David Lynchian experience."
Like my flag drawing and our odd yet delightful setting, Shawkat's résumé defies logic. She's portrayed a tough Palestinian girl in Amreeka; a rebellious, cousin-loving daughter on Arrested Development; the mayor's kid on Portlandia; and Ilana Glazer's lesbian doppelgänger in Broad City. Over the summer, her charming personality, wry humor, and natural beauty landed her New York Fashion Week modeling gigs for Opening Ceremony and Rachel Antonoff. In November she appears as Alexander Hamilton opposite Aubrey Plaza's Aaron Burr on Comedy Central's Drunk History.
"She's a reminder that you can exist in the entertainment world and remain authentic," says Plaza of Shawkat. She recalls with fondness a time the two wandered around a studio lot super high after taping a segment of Getting Doug With High in 2015. "The whole point of that show is that you get stoned on camera with Doug Benson and talk about things," Plaza says. "But we thought that you get stoned and then you do the show."
Dress by Rodebjer.
Another recent project, the Michael Showalter-produced Search Party on TBS, is her first starring television role, and just might be the one that makes her a household name. In the show, her character, Dory, goes down a rabbit hole looking for a missing acquaintance from college while her cohorts seem unbothered by the young woman's disappearance. Part dark comedy, part psychological thriller, Search Party is an intense exploration of identity.
"She seems like this innocent wallflower," Shawkat says of her character, "but she's actually, in a way, the most egotistical of the group. She just expresses it differently." The project inspired Shawkat to take a deep dive into what it truly means to be a narcissist—an exciting venture for someone who cites Psychology Today as her favorite magazine. "I was reading this story that was talking about how everyone throws around the term, but the truth is that narcissists are not these ostentatious, loud people—they're actually a lot more quiet. But they truly believe that nobody understands them, that they're greater than everybody, and that nobody is giving them the time of day, so they kind of turn inward about it," she says. "Dory is quiet, like, 'I'm the innocent girl, I'd do anything for other people.' But deep down she's holding that over people's heads."
The way we pathologize others, or try to define them, is in tandem with the ways we pathologize and define ourselves, Shawkat adds. "With cell phones and [social media] profiles, everyone's defining themselves so much more on a daily basis. Like, who are you on a Tuesday at 9 a.m.? You're changing all the time. Why are we trying to define ourselves so much?" she asks. This tendency to self-define and distill our personalities down to 140 characters, two-sentence online bios, and Facebook statuses is alien to Shawkat because she likes being mysterious and inaccessible. "I get overwhelmed by it," she says of social media. "I don't like that a bunch of people can contact me at once. That said, I'll download Instagram, binge on it for 15 minutes, and then delete it again. I'll do that once every couple of months."
Coat by Thakoon, turtleneck and pants by LRS Studio, shoes by Giuseppe Zanotti Design.
Shawkat also relishes what anonymity she has left after more than a decade and a half in Hollywood—especially the fact that there still remain some who question, "Who?" upon hearing her name. "I started acting when I was nine, and I did really good work, but I never blew up," she says. "So I'm not exposed to too much attention, and it's nice." She self-identifies, somewhat sarcastically, as "weird" and "ethnic"—it's what she's heard from casting agents her whole life, usually with the word "too" preceding it. "They were like, 'Our lead girl can't have curly hair,' and I was like, 'Umm…,'" she says. "I just wasn't right to play the easy-breezy, giggly girl that the guy falls for and the whole movie is about."
The other roles she was sent out for were "sassy teen" reinterpretations of her Maeby character from Arrested Development. "I got really bitter," Shawkat says. She moved to New York, met her first boyfriend, and only went on a few auditions. Casting agents would report back that it seemed like she didn't want to be there. "And I was like, 'Yeah, I didn't,'" she admits. "And they were like, 'Well, you better figure out if you want to or not.'"
She took a year off and started painting. She traveled. She disengaged. "It's funny to see friends you knew when you were younger on the cover of a magazine," she says. "It's funny that this is for the cover of a magazine."
Top and skirt by Electric Feathers, boots by H&M, earrings by Vita Fede, necklace by Gabriela Artigas.
Born in Riverside, California, to a mother of Irish, Italian, and Norwegian ancestry and a father who emigrated from Baghdad, Shawkat describes a childhood of home-cooked meals, piano lessons, sports, "all the classic shit," plus some mixed messages: "My mom's like a Cali girl—verbose, intelligent, a very spiritual person. Ever since I was a kid we communicated as if I was an adult, sometimes too much." On the other hand, her father is quiet, calm, and very action-oriented. "All of a sudden, he got religious when I went through puberty," she says. "Me becoming a woman was challenging for him. Fear kicked in, and he was like, 'These are the rules,' and my mom and I were like, 'Say what?'" Naturally, she rebelled. A lot. "When I started smoking pot, it was a whole thing, and I would sneak out of the house," she says. "My older brother was kind of a nerd and just wanted to play video games, and they'd encourage him to go out, while I was getting in trouble for it. I'd be like, 'That's fucking sexist, and this is ridiculous.'"
The mild culture clash at home was exacerbated by a healthy dose of adolescent insecurities. She recalls feeling a long-delayed rush of familiarity as a young adult visiting the Middle East for the first time, landing at Jordan's Queen Alia Airport. "I was like, 'Fuck, yeah! Finally.' There, my name is like 'Tim Roberts' or whatever, really basic. I just felt so welcome."
She had traveled to Jordan to work on the film May in the Summer, and quickly befriended the Lebanese, Jordanian, Palestinian, and Israeli crew members. "Everyone was so amazing and open, and we became very close," she says. "Here, we get into political conversations at parties or whatever, but there, it's on a different level. One person lived in a Palestinian refugee camp. People have died in their hands, they've fought on the streets for their country, to be like, 'We exist.' They have a very different way of communicating about things. [In the States], it's very much like, 'Well, did you read this article?' And everyone's like, 'No, but I read this article.' Everyone's competing for intelligence. There, it's so much more about 'What is life, what is the value of life, what's important?' It's beautiful and emotional to be around."
Sweater and dress by Emporio Armani.
Shawkat's father's arrival in the United States is a classic immigrant tale: Young and idealistic, with only $200 in his pocket, he found his way to California to work for his uncles and cousins, who just happened to own The Body Shop, Seventh Veil, and Girls Girls Girls, three of the biggest strip clubs in L.A. He started out as a barback. Shawkat's mother, a law school dropout, worked as a waitress at The Body Shop.
"They were friends for a while, and he was kind of professing his love to my mom, like, 'I will marry you,' but not speaking English very well," Shawkat says. "My mom had graduated from Tulane. She wasn't upper-crusty, but they were from very different worlds. And she was like, 'Abdul, there's no way on earth I'm going to date you.' That's his first name. He calls himself Tony now. But then they fell in love and decided to start their own business. And they already knew the strip club industry so well."
Shawkat's maternal grandfather, Paul Burke, who'd starred in a number of crime series in the '50s and '60s, had retired in Palm Springs, and it was there where her parents decided to start their own strip club. They worked hard and waited until they were financially stable to have children. First came Paul (named after Burke), then Alia, and then six years later, Sharif.
Shawkat maintains that her father's work never interfered with their home life. "It wasn't a social thing for him," she says. "My dad was just a business guy. He was always home for dinner. He'd go to the office during the day and do paperwork and make phone calls. It was never integrated into our lives at all. There was no seedy quality about it or anything. My aunt is the manager. My uncle takes care of the bar."
Turtleneck by Désiréeklein, dress by COS.
When Shawkat turned 21, she was finally allowed into the club. "It was the first time it affected me in a different way, where I just became more aware of, not any past memories boiling up about my father or anything, but more how I've felt about it my whole life," she says. "I don't judge strip clubs. I'm not like, 'These poor women.' They're doing their job and it's a living."
Around this time, she filmed a short documentary that encapsulated these new feelings. "I go to strip clubs for fun. But a lot of my girlfriends don't want to go. It's a weird environment. I understand that, and I'm not going to force anyone to go, but I find it reverse feminism to be like, 'There's them and then there's us, women who disrespect their bodies and women who don't.' Why can't they be strong? I have sex with a lot of people, but I'm very strong and independent about it. I own myself doing it. So that all came into play when I was there, seeing these girls who were my age and younger, asking myself how my father running the club affected the way I viewed sexuality and femininity and attention."
Even more than she is strong and independent, Shawkat is tremendously self-possessed. And according to Mae Whitman, the actress's close friend since childhood, she's always been that way. "I'd already been cast for State of Grace, and they were testing girls up against me to play Hannah," recalls Whitman of meeting Shawkat during auditions for the show. "I think Alia was 10 and I was 11, and all these girls were vying for my attention and I was just eating it up. And I remember there was this girl in the corner of the room sitting with her mom, dressed very stylishly for a 10-year-old, and she was just, like, not giving it to me at all. It was like cat syndrome, where I wanted the attention from her the most, but she wouldn't give it to me."
Top and pants by Breelayne, shoes by H&M.
Shawkat's also a lot of fun to get in trouble with, says her Arrested Development co-star Michael Cera. At an intimate Randy Newman concert, he dared her to yell, "We love it" at the end of a song. "It was just a joke to make her laugh, but she did it," he says. "And it was so wildly inappropriate. It was like a bomb went off. I shrunk in shame in my seat, but I was proud of her, too."
In a nutshell, Whitman says, "She's definitely, by far, the coolest person that anyone's ever met."
It's taken a while, but the industry at large is finally starting to catch on to Shawkat's cool brilliance as well. For Shawkat to notice it herself, all it took was a little 2009 movie called Whip It. Once she learned about the film, which follows a couple of Texas misfits who find relief from their small-town misery through a roller derby league, she knew she wanted in. "I worked so hard on it. I killed the audition. I was like, 'If I don't get this, this is it for me,'" she says. It turned out to be one of the best shooting experiences of her life. "Just mind-opening," she says. "And slowly but surely, I started to become passionate about acting again."
This renewed passion shines in Search Party, which Shawkat not only stars in but also co-produces. Chalk it up to half having matured a bit, half caring about the show a whole lot, but Shawkat found herself much more involved than she's ever been in every aspect of the project. "Before, I used to be like, 'Oh yeah, I have that one scene tomorrow. It'll be chill,'" she says. "I wasn't as engaged and now I am."
Top by Désiréeklein, bodysuit by Bassike.
She's also quick to admit that her period of disengagement had a lot to do with her own insecurities, on top of her reluctance to be just another cookie-cutter starlet. "There are some actresses, people I've known on a social basis, where when they become famous, they drop a little weight, their hair gets brighter, and their makeup and style just gets a little more tamed and sleek," she says. "And I'm not trying to be like, 'I'm better than that,' but it just hasn't come. I'm still dressing myself for everything I go to. The energy I put out is what comes back, and I like to keep it as simple as possible. Like, if I have to go to a stupid red carpet event, instead of making it stressful, my friends and I have drinks before and listen to music, and then I'm like, 'Do I look all right? All right, let's see what happens.' But having an aversion to it can be just as bad—like, what am I trying to prove? If it helps the show get seen, the whole crew have jobs, and I get to do the show again, that sounds great."
Shawkat takes a sip of sangria and tugs on her blouse, revealing the letters "AY" on the black tee underneath. The letters also appear in tattoo form on two of her fingers. "It's a—one of my good friends passed away this year, Anton Yelchin," she says when I ask its origin. "His friends made these really cool shirts and sweatshirts and we all got tattoos." She rolls up her sleeve to show me another Yelchin-inspired tattoo on her arm that says "lurker." "He was an amazing guy. He's still very much with me every day," she says, her eyes welling up. "I don't want to talk about it."
The hostess returns, thanks us for stopping by, and laments the establishment's overall lack of customers. "I'm gonna come back here every day now," Shawkat says as we gather our things to leave. "What are the odds that she comes back and is like, 'Here's my number if you want to hang out'?"
The interview is technically over, but neither of us is in a hurry to part ways. We wander the mini mall a little more, get frozen yogurt, and eat and walk until we reach the lot where her car is parked. We hug and wave goodbye.
Suit by Emporio Armani, earrings by Vita Fede, necklace by Gabriela Artigas.
Photo assistant: Grace Pickering. Hair: Terri Walker at Jed Root using Oribe Hair Care Dry Texturizing Spray. Makeup: Sandy Ganzer at Jed Root using Lancôme Grandiôse Liner. Manicurist: Christina Aviles at OPUS Beauty using Dior Vernis. Special thanks to Alicia Cervillo.