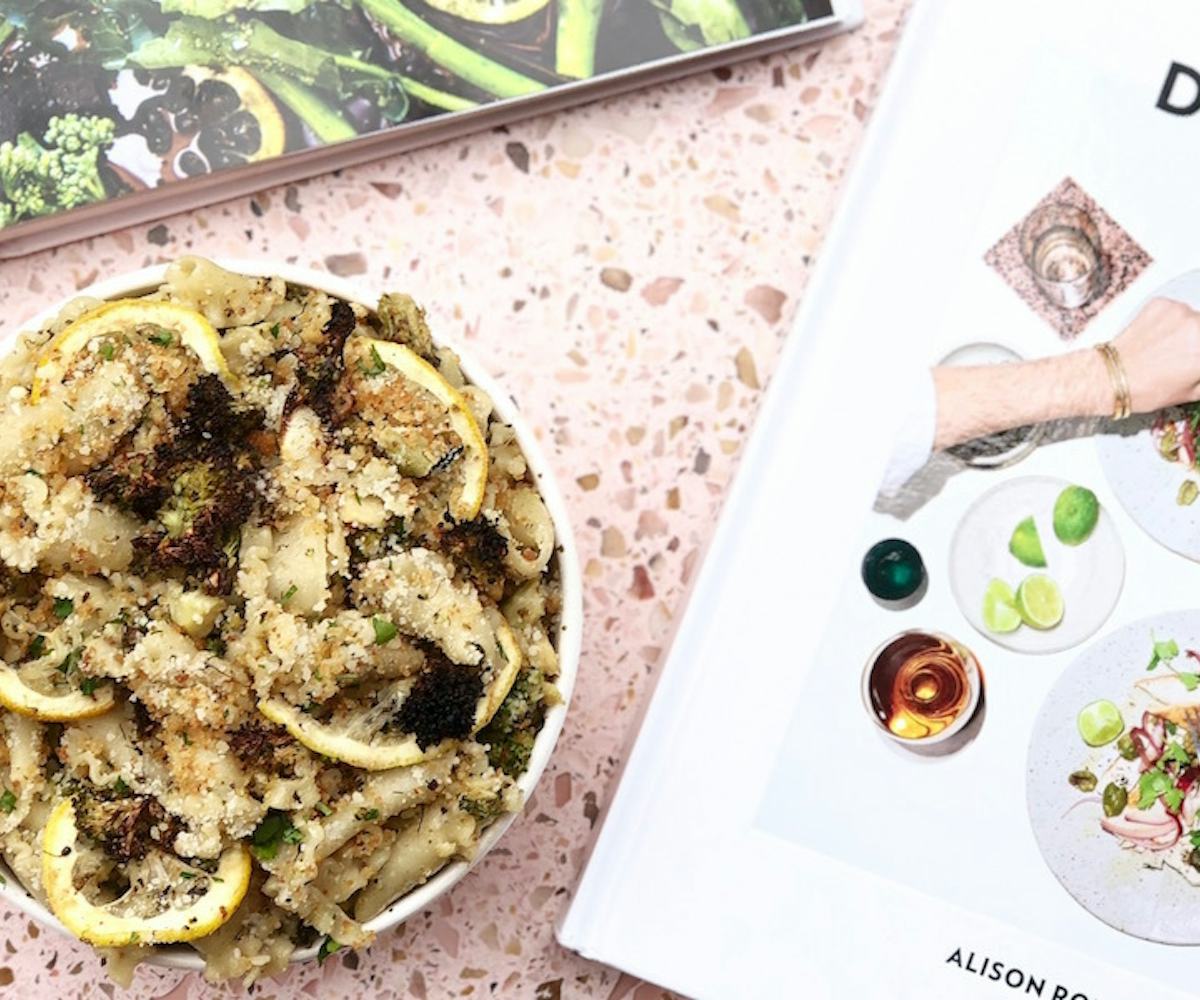 Photograph courtesy of Sosta.
Watch Alison Roman Prepare A Dish That Isn't Her Viral Cookies
The 'Dining In' author teamed up with Ali LaRaia of The Sosta
When Alison Roman, former Bon Appetit and BuzzFeed food editor, published her excellent cookbook, Dining In, the savory-loving food writer didn't expect her salted butter-chocolate chunk shortbread cookies to be the one recipe to go viral. But it did, eclipsing even the extraordinary cumin lamb chops, clam pasta with chorizo and walnuts, and slow-roasted citrus salmon.
It makes sense, then, that when Ali LaRaia, the chef and co-founder of The Sosta was looking for a "Guest-Chef" series collaborator for April, she was instantly drawn to Roman. The Sosta is also no stranger to being an internet sensation: The pasta-focused fast-casual restaurant, located in downtown Manhattan, turns out highly Instagrammable servings of freshly made pasta served in millennial pink bowls and features a giant neon sign that translates to "Let's Eat, Baby." Plus, LaRaia is a fellow cookie aficionado, who, prior to opening The Sosta, had a cookie business. Having collaborated with the likes of Top Chef's Gail Simmons and Tasting Rome's Katie Parla for the past few months, The Sosta has been working to highlight female culinary talent and give those without their own restaurants a place to showcase their creations. (Athena Calderone of EyeSwoon, Chef Carla Hall, and Esther Choi of Mok Bar are next on the lineup.)
After brainstorming together, LaRaia and Roman came up with "Alison's Campanelle"—a vegetal dish for which LaRaia specifically created the ruffled-edge type of pasta which, according to Roman, she "nailed"—featuring charred broccoli (a vegetable that's "always in season"), lemon juice, and parmigiano-reggiano and topped with fresh breadcrumbs ("I am obsessed with them and put them on everything," said Roman). 
Watch as the two prepare the dish in the video, and try it ($13) for yourself at The Sosta this month.