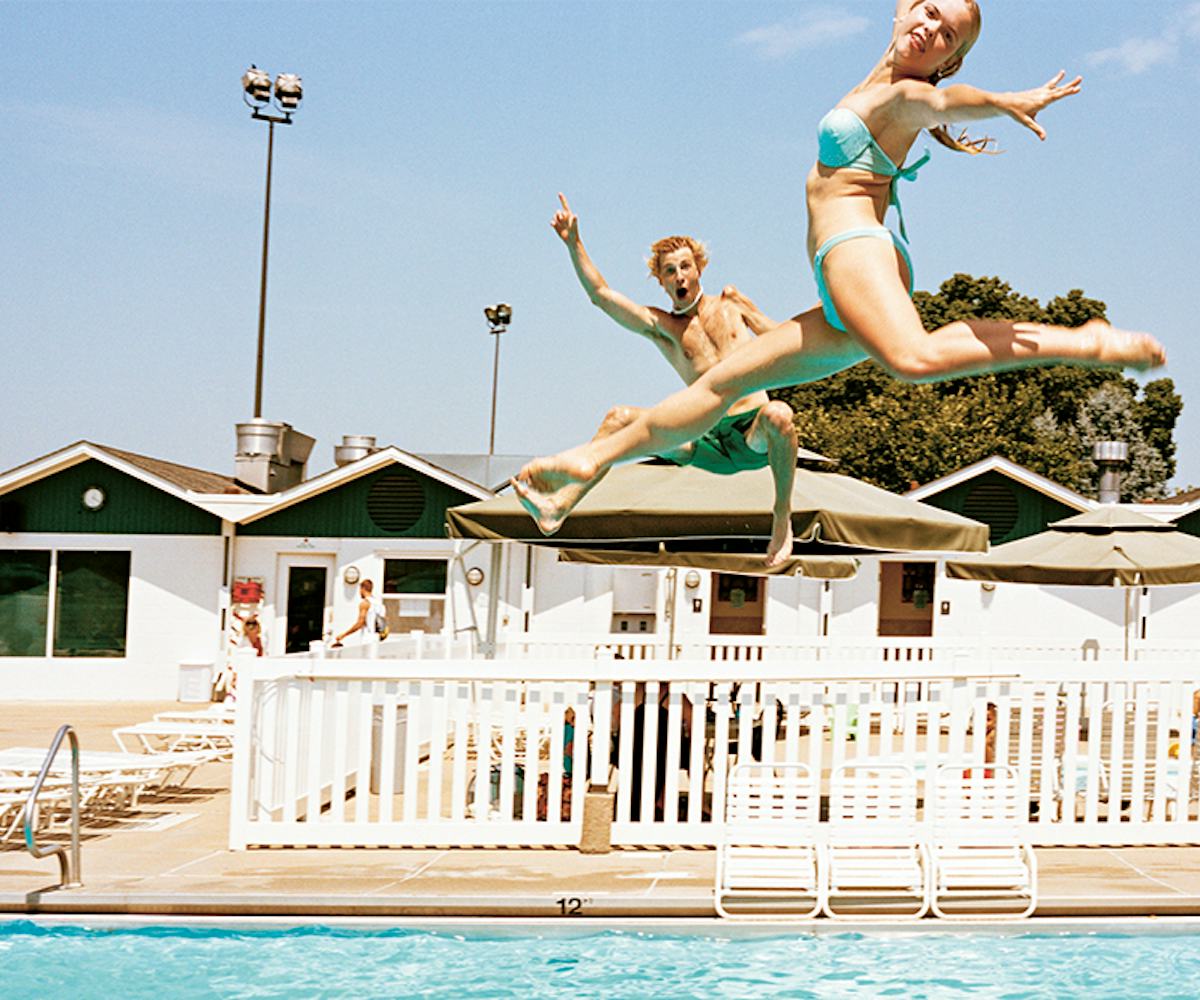 photo by SEAN THOMAS Courtesy of teNeues. © Bruce Weber.
all-american
bruce weber's latest journal is full of patriotic inspiration.
All-American Volume Thirteen: Born Ready
opens with photographs from the 2013 NBA finals. Dwayne Wade jumps. LeBron James clings to the ball. The epic photos are accompanied by a sparsely worded poem by Sherman Alexie, entitled "Why We Play Basketball."
That's the jarring title card that introduces the cinematic photographs in Bruce Weber's latest journal, set to be released this Friday, November 15. What comes after is a series of homecomings, new meetings, and dirt biking dudes worthy of appearing in Weber's Abercrombie and Fitch ads. Bruce Weber's name has long been synonymous with Americana, from his photographs of Lara Stone, Daria Werbowy and Kate Moss at a babe-licious summer camp to his chronicles of city and country life that have appeared in countless magazines, but
All-American Volume Thirteen
reminds us of Weber's gift of capturing every day life outside of the fashion sphere. 
With his wife, Nan Bush, Weber rounded up photographers from all countries and ages, including Poppy de Villeneuve and Sean Thomas for the latest edition of his journal founded in 2001. In between the guest contributions are Weber's own iconic photos--Volume Thirteen took Weber to Los Angeles to capture Father G, a Jesuit priest help former gang members to get their lives back on track, to Miami, where he shot collector and traveler Micky Wolfson, to Montauk, for a portrait of gay Rights activist Edie Windsor, and to Massachusetts to get his feet dirty with motocross racers. After flipping through the book, you'll feel an overwhelming  sweep of patriotism and nostalgia, especially during Sean Thomas' photo essays from his homecoming to Ohama, Nebraska where he captured teens at prom and the young love story between two high schoolers Frank and Nicole. Consider your heart strings tugged at while you check out our favorite photos from the book in the gallery below. 
Pre-order your copy of All-American Volume Thirteen: Born Ready by Bruce Weber here. 
Courtesy of teNeues. © Bruce Weber.