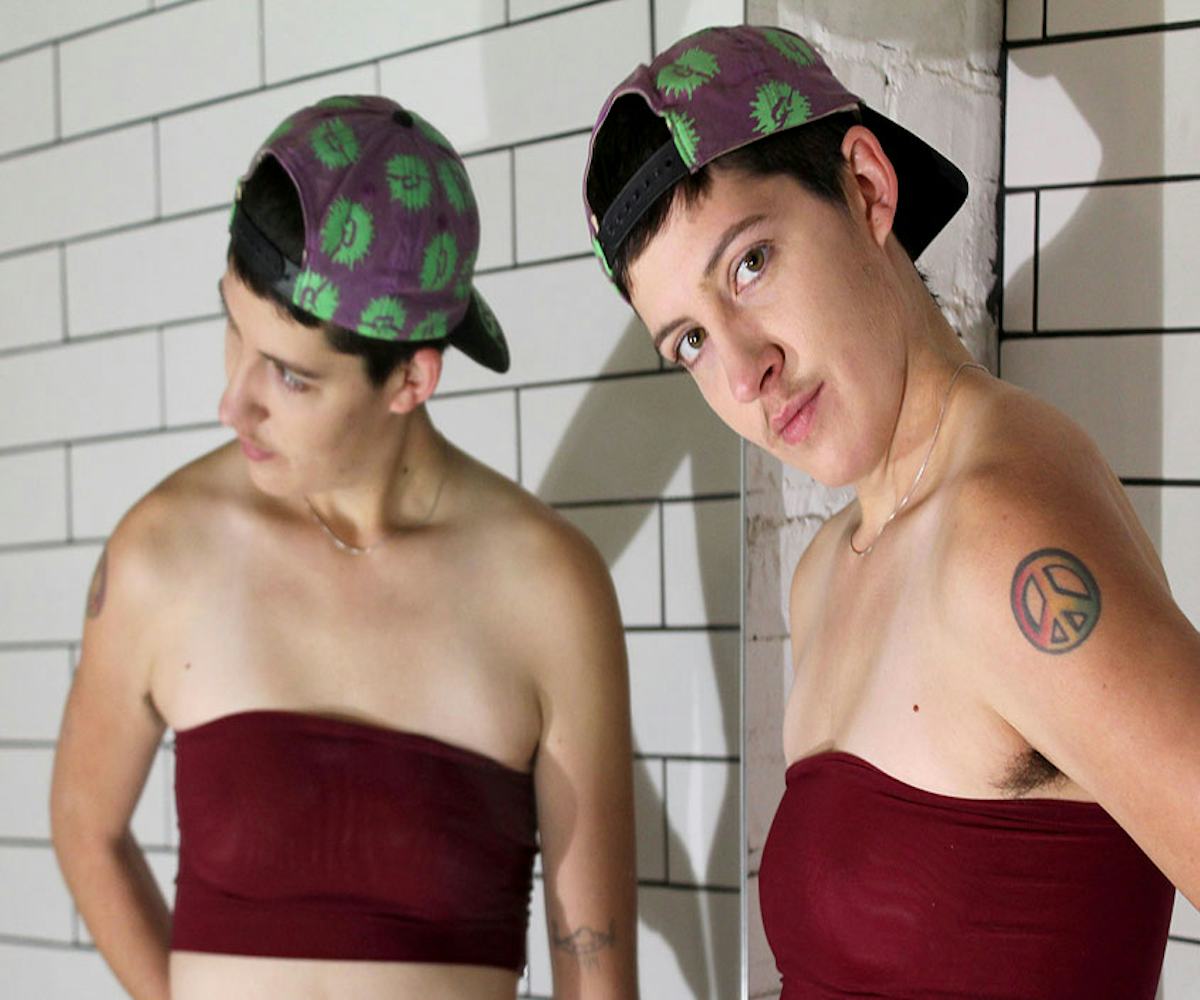 Photo by Mark Allen Concepts
Agender Apparel Brand All Is Fair In Love And Wear Is Ready To Launch
A few months ago, we were introduced to All Is Fair in Love and Wear, our new favorite agender apparel brand. Founder Peregrine Honig recognized a gap in the market for transgender people in transition, which inspired her to create pieces. "It came to my attention that many young trans/non-binary persons, especially transmasculine individuals, resort to DIY binding, often using Ace Bandages or other similar materials," Honig told us in an email. "The problem is these materials don't breathe, they don't allow for proper respiration, and often these young people are suffering permanent damage to their skin, ribcage, and lungs."
Honig extensively researched binders that are currently on the market, but found that they were either "unappealing," "ineffective," or "uncomfortably fetishized." "I was inspired to take my experience in the lingerie industry, and my vision as an artist, to produce safe, comfortable, and effective modification garments and in doing so, also construct a storefront space that doubles as a safe place for all individuals," she added. "A place where we can discuss key trans issues and find solutions together by creating a community based on respect and empathy." 
Now, All Is Fair in Love and Wear is set to launch its first collection. The line features three styles of transmasculine garments (binders) and three styles transfeminine garments (gaffs). Swimsuits are also in the works. The official campaign stars models Dani and Jenna—who is also a Navy Veteran and construction worker. In this video, photographer Mark Allen spoke to them both about their personal trans experiences, passing privilege, preferred pronouns, and unspoken rules.
All Is Fair in Love and Wear's space on 116 W. 18th Street in Kansas City will open on January 6, 2016. Panel discussions, transmeets, art exhibits, and other events are also being planned around the opening. Products will be available to purchase in store and online in early spring 2016, with an estimated price range of $75 to $125. 
Watch the official All Is Fair in Love and Wear promo video, below!