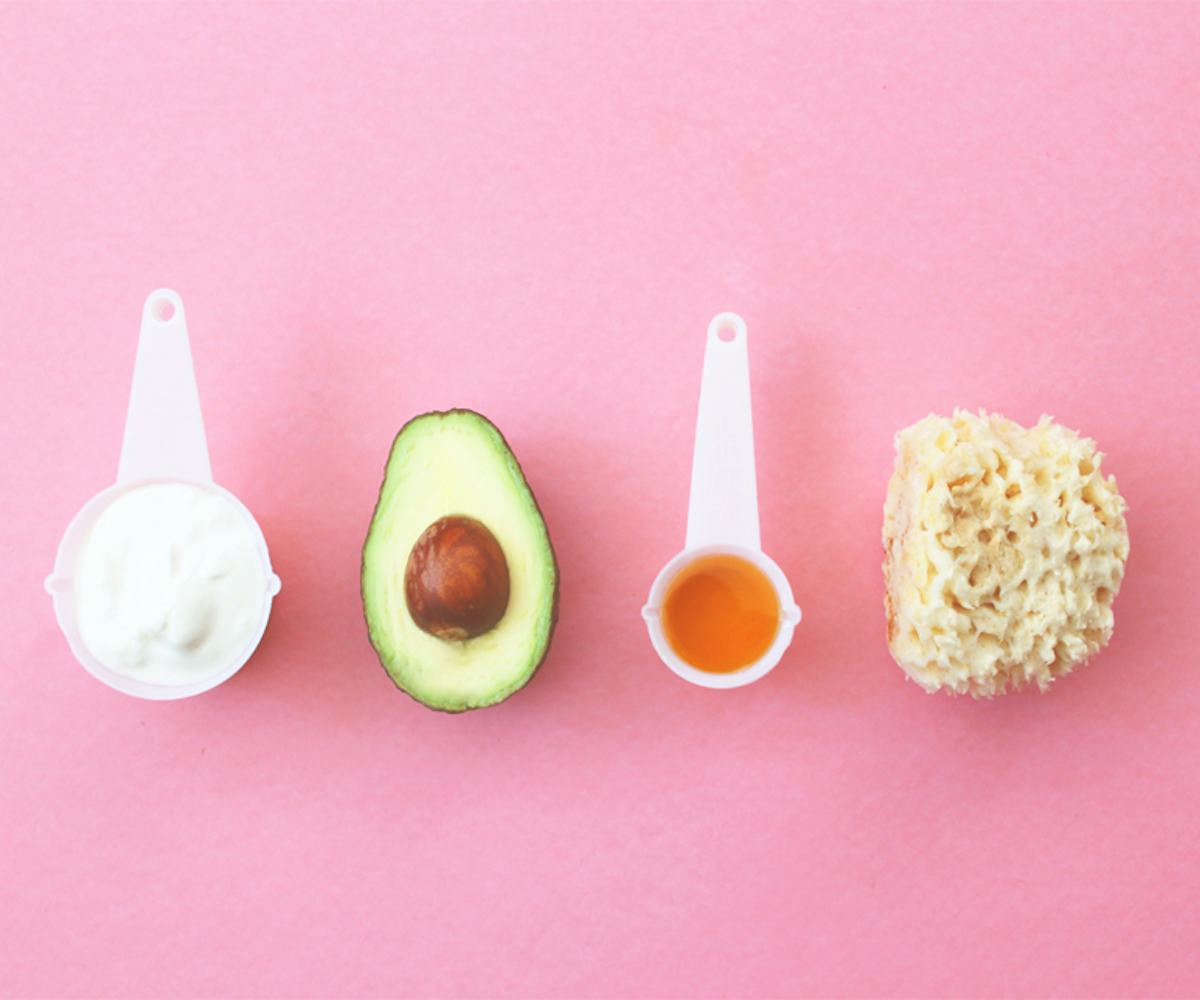 Photos by Liz Riccardi
beauty from the grocery store
DIY skin-care recipes with ingredients you can eat!
Here's a fun fact: The FDA doesn't approve cosmetics. Meaning… that $200 tincture that promises to turn your face into an eternally youthful, forever luminous flower petal might have some real weird things in it. Not to mention the fact that it might not work—because no one is really checking.
As it turns out, sometimes the best things to put on your face aren't the things you can barely afford, but the products you've already purchased—to eat. Yes, your skin care can be bought in the natural section of your local grocery store, and there's only minimal assembly required. So, why not keep it simple, cheap, and effective?
We tapped celebrity facialist Joanna Vargas for her favorite DIY recipes, using fruit, yogurt, and other goodies you can grab while you're stocking up on almond milk and frozen broccoli. (Of course, if you're allergic to any of these foods, or if you think you might be, please consult a doctor before putting them on your skin.)
Ultra-Soothing Ointment
Combine 1/2 cup of chamomile tea with one teaspoon rosemary, one tablespoon of milk, and three slices of cucumber. Apply to anywhere that feels irritated for twenty minutes. The cucumber will cool your skin and calm it down, and the other ingredients have anti-inflammatory properties as well. 
Hydrating Mask
Combine 1 1/2 cups yogurt, 1/2 avocado, and 1/4 cup honey. Gently apply it to your face with a sea sponge and leave it on for about twenty minutes. Your dry winter skin will thank you. 
Brightening Treatment
Combine 1/2 cup yogurt, 1/2 cup mashed strawberries, and 1/4 cup honey. Apply it all over your face and neck for about ten minutes to reveal brighter, perkier skin.  
At-Home Facial
Combine 1/4 cup of yogurt, three tablespoons of warm honey, and two tablespoons of oat grass juice or wheat grass juice. Apply to your face and leave on for however long you'd like. The yogurt will exfoliate and sooth, while the honey hydrates, and the juice will help stimulate lymphatic drainage. In other words, this does all the things. 
Calming Mask
Mix 3 tablespoons of olive oil with half an avocado. Smooth it over your face, and leave it on for 15 minutes. Rinse it with tepid water. Your skin will be hydrated, softer to the touch, and soothed, as this mask has anti-inflammatory properties.