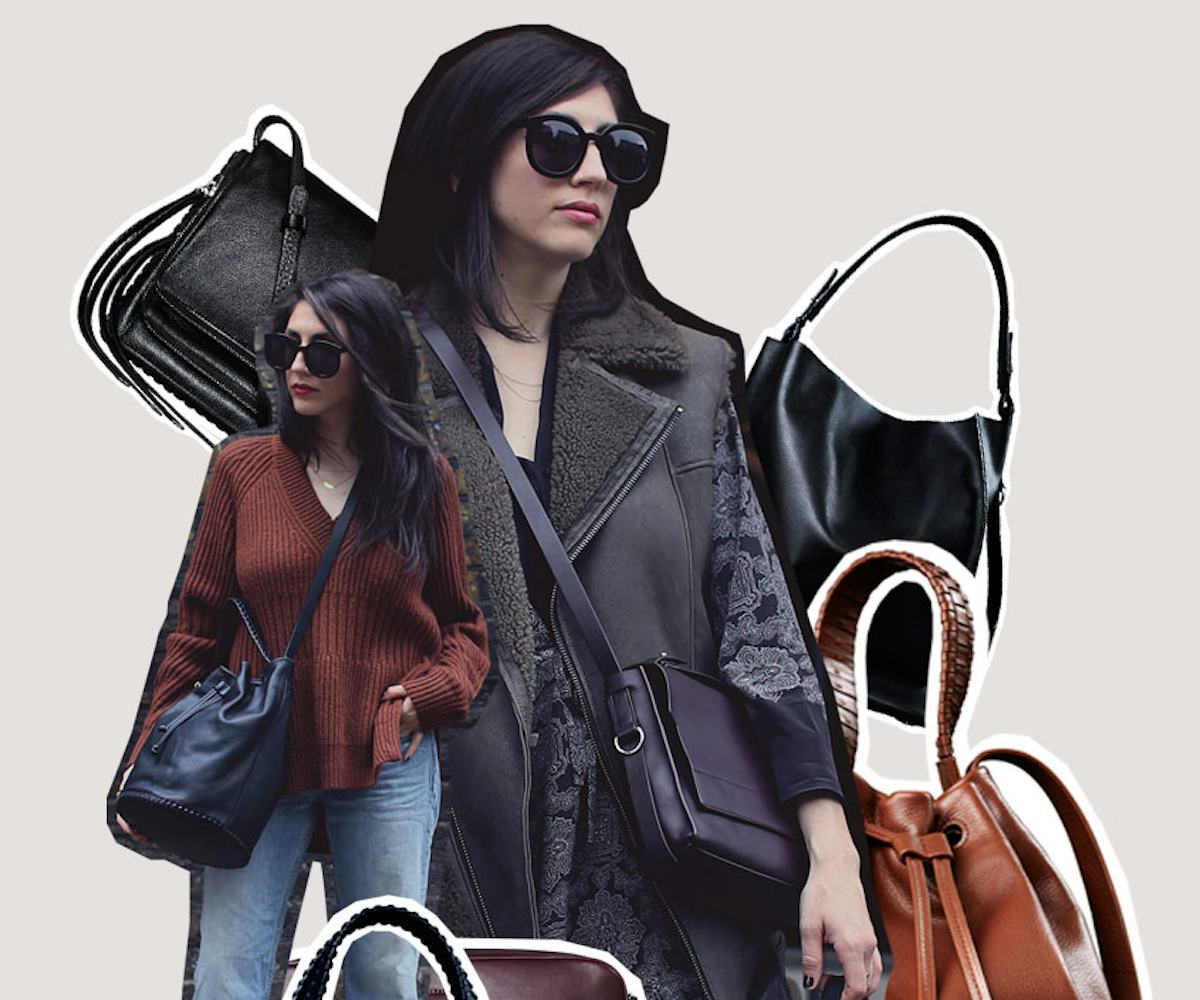 Photographed by Kitty Riddell
AllSaints Launches A Full-Range Handbag Collection
inspired by the streets of East London.
A sense of place can take many shapes. For AllSaints creative director Wil Beedle, the neighborhood of East London, where he shows up to work every day at the brand's studio, brought to life the label's debut full range of women's bags, dubbed the Capital Collection. As an AllSaints fan and Anglophile, I took a trip to the U.K. to experience firsthand how this handbag launch became a love letter to East London, past, present, and future.
East London is a place that is changing rapidly in terms of community, craft, and attitude, according to Beedle. And being there you can really feel the history meeting the modern as the area evolves. It is this sensation that Beedle brought to the bags. "The shearling factories in our neighboring Fieldgate Street with which we once collaborated have moved on; the Whitechapel photo studio in which we first discussed this collection has since been demolished," he explains. "The collection incorporates the nostalgia and romanticism of East London as much as the endless possibilities within its newly created skyscrapers." So, it was only natural that he named the collection's sub-families after streets situated within the 'hood: The Paradise, The Club, The Fleur de Lis, and The Darling.  
This Capital Collection also represents a major step in the evolution of AllSaints itself. Though the brand has worked with leather for more than 21 years and is practically synonymous with a flawless motorcycle jacket—trust me, you know the one—this is its first real foray into bags. As he dreamed up the designs, Beedle considered the iconic jacket, but did not want to simply create a handbag equivalent of it. Instead, he designed these bags "to juxtapose that hardness with something feminine and fluid." Despite their expertise, Beedle and his team still faced design and production challenges on their quest to refine and elevate leather, but "this is what we do," he says. That explains why understated labels are another signature of the offerings: embossed logos appear in hidden places rather than calling out for attention. For Beedle, the luxe materials of suede and leather should be what draw you in, not the brand recognition itself.  
Of course, quality fabrication aside, the gorgeously neutral, autumnal color palette doesn't exactly hurt the appeal, either. Other details of the bags are just as thoughtful: a removable cross-body strap to take a clutch from work to play, or a superficial zipper that adds edge but also expands the bag to fit those sad sensible shoes you try your best not to have to wear. Beedle made sure the bags should do what bags are meant to do: be transitional, multi-functional and multi-purpose. I guess that's why I can't seem to put mine down.  
Allsaints, Paradise North South Tote, $348, view at Allsaints.
Allsaints, Club Bucket, $298, view at Allsaints.
Allsaints, Fleur De Lis Chain Crossbody, $198, view at Allsaints.
Allsaints, Club Large Clutch, $278, view at Allsaints.