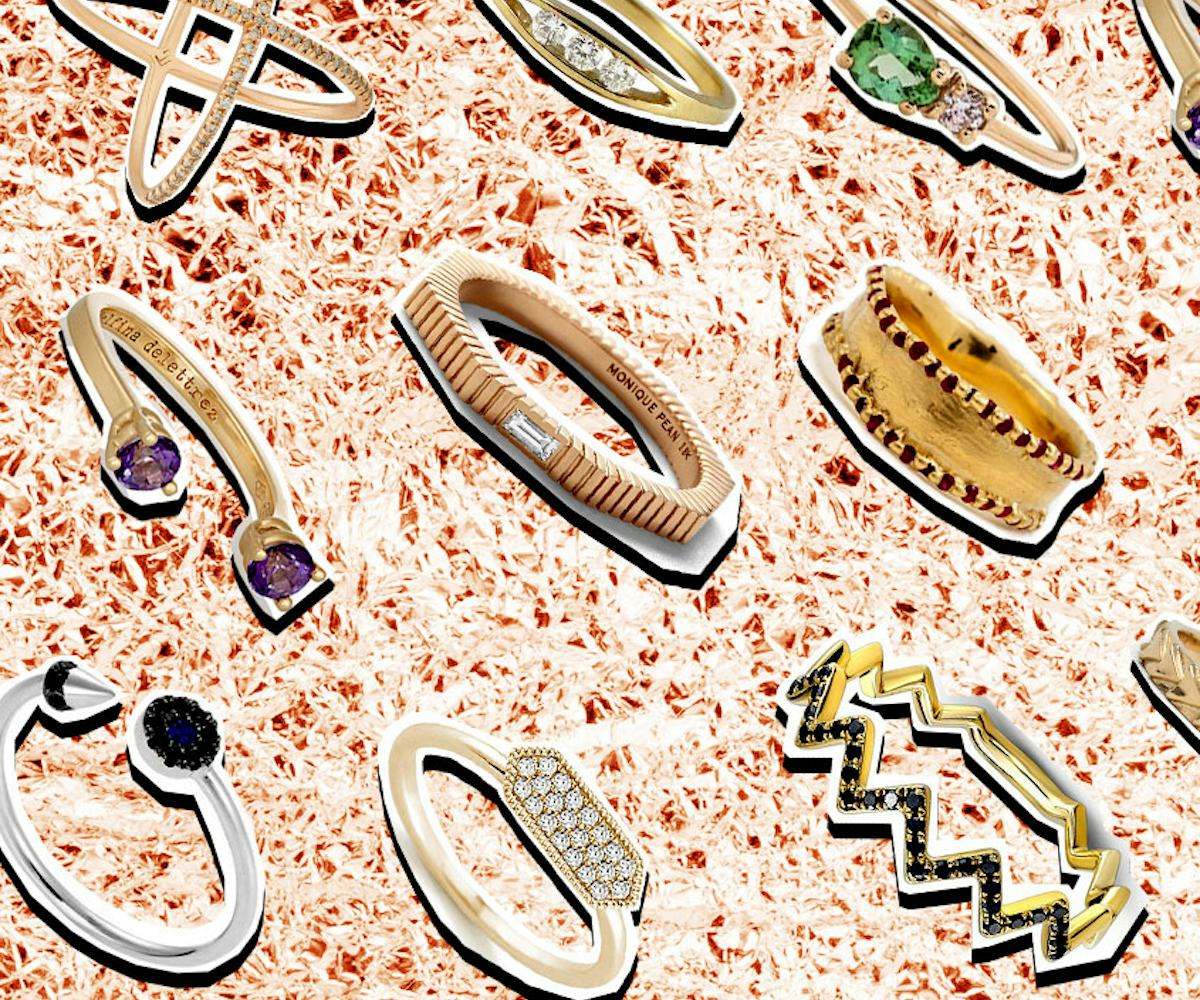 10 Alternative Wedding Bands To Lust After This Christmas
The holidays are a time for Internet browsing—especially for items you could never afford, would never need, or really never make sense to own. For some of you, wedding bands are included in that grouping. Doesn't hurt to look, or dream, right? Everyone loves some bling to wear around their finger, obviously. We know that the tradtional ring route is getting slimmer and slimmer, so we've mapped out our favorite rings for all you alternative girls out there to dream about (think: colored stones, thick bands, different shapes.) The sky is the limit, as long as you feel like it represents you—why not?
Eva Fehren, X Ring, $4,345, view at Barney's New York.
Mociun, Seafoam Tourmaline Cluster Ring, $805, view at Mociun.
Delfina Delettrez, 9-Karat Gold Topaz Phalanx Ring, $520, view at Net-A-Porter.
Polly Wales, Ruby Edged Pinched Eternity Ring, $4.743.13, view at Polly Wales.
Dana Rebecca, Cynthia Rose Diamond Ring, $660, view at Dana Rebecca Designs.
J. Lingnau, Athena Ring, $484, view atCatbird.
Ileana Makri, 10K White Gold Ring With Black and Blue Zircon, $288.13, view at Ileana Makri.
Anne Sisteron, 14K Yellow Gold Black Diamond Zig Zag Stacking Ring, $430, view at Anne Sisteron.
Monique Pean, Octagonal Band with White Diamond Baguette, $1,770, view at Monique Pean.
Jennie Kwon, White Diamond Float Ring, $575, view at Jennie Kwon Designs.