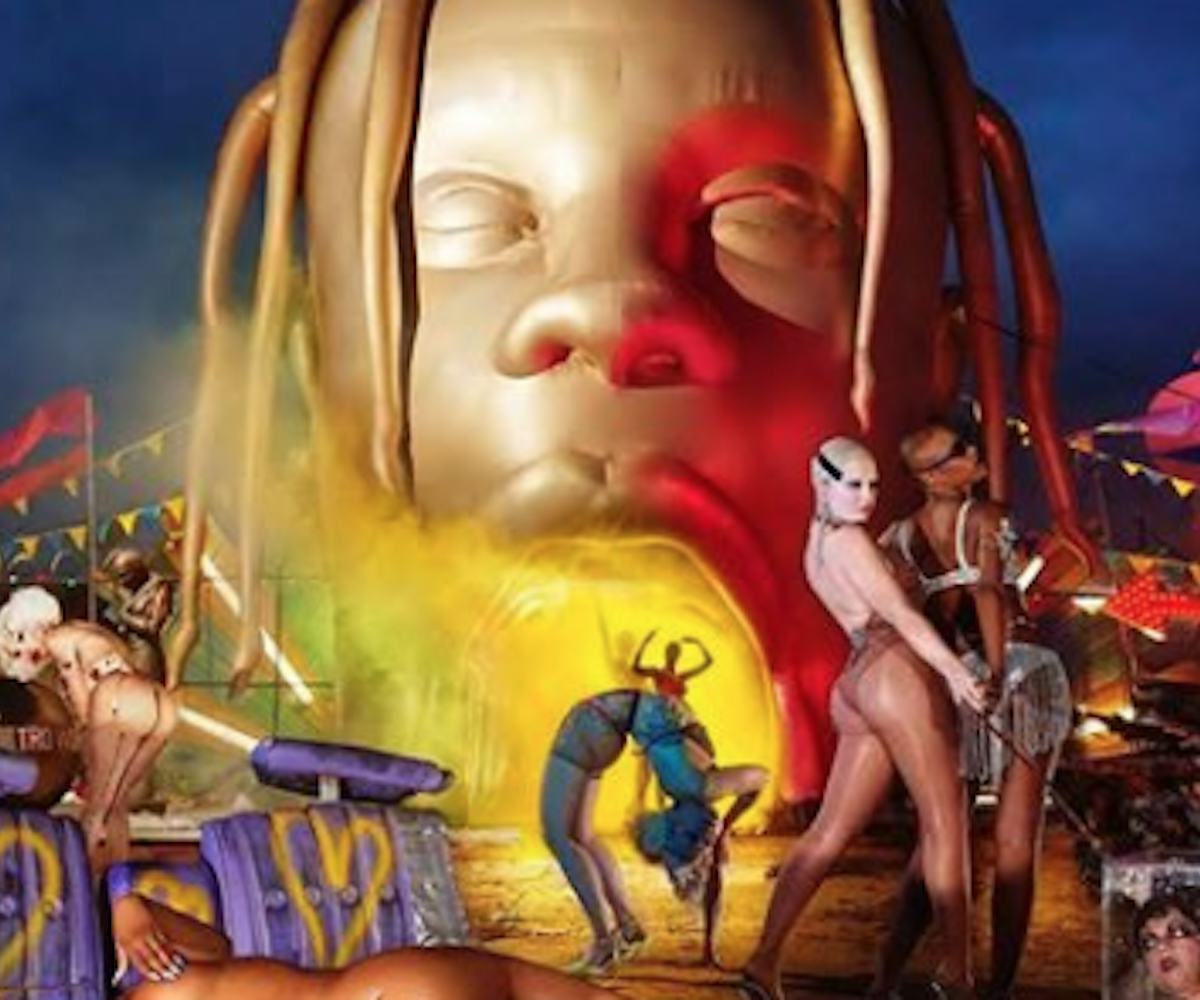 Photo Via @David_LaChapelle Instagram.
Travis Scott's Team Denies "Transphobic" Editing Of His 'Astroworld' Cover
Photographer David LaChapelle also speaks out
UPDATE 8/3/18 8am: Sources close to rapper Travis Scott have responded to the accusations of "transphobia" leveled against him—a criticism that surfaced after fans noticed trans icon Amanda Lepore was edited out of Astroworld's official album art. According to TMZ, the cover (sans Lepore) was exactly what Scott received from photographer David LaChapelle. In the wake of the backlash, LaChapelle also appeared to confirm this statement. As reported by MTV News, he responded to an Instagram commenter by writing, "No Amanda was taken out because she just upstaged every one lol." LaChapelle has yet to respond with an official statement.
--
Travis Scott is under fire for editing trans nightlife icon and model Amanda Lepore out of his album art.
Yesterday afternoon, Scott unveiled the carny-themed cover for his forthcoming record, Astroworld, via his social media accounts. A few hours later, photographer David LaChapelle also uploaded the album art to his own Instagram.
However, it didn't take long for fans to notice that Scott had removed Lepore from the background of LaChapelle's original photo—a decision that several prominent LGBTQ+ figures have lambasted as "transphobic," including RuPaul's Drag Race Season 10 winner Aquaria.
"Hi transphobia! I just saw transphobia gurl!" Aquaria wrote before slamming Scott's defenders, many of whom argued that Lepore may have been removed per "artistic preference," or because she was "blocking the iconic Travis statue." Calling bullshit on that rationale, as well as the argument that Scott couldn't be transphobic because Caitlyn Jenner is the grandparent of his child, Aquaria told their followers to "call shit like it is and don't blame art for ur transphobia."
"Maybe not even 'immediate' transphobia but specific exclusion of trans bodies," they clarified, "Shit's still transphobic if u think people won't buy your album because Amanda is on the cover looking flawless as ever."
Others also weighed in, questioning and condemning Scott's removal of Lepore.
And while Scott has yet to respond to the backlash, Lepore has plenty to say. "It was great being part of @david_lachapelle's incredible photograph of @travisscott's albulm [sic] cover but I'm curious why I'm not on the picture @travisscott posted," she wrote in her own Instagram post. "A girl can't help it... Too distracting for the eyes... Upstaged everyone in the photograph... Oh well........... I love @david_lachapelle and @travisscott."